I saw this "recipe" in the Family Fun magazine while at the Doctor's office and thought I'd give it a try. Anything to make dinner time fun, right? My kids LOVED it! And it was easy to make.
I took hot dogs and cut them into 4 pieces. Then I took raw spaghetti noodles and pushed them through the inside of the hot dogs.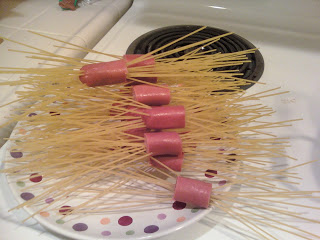 I put them in a pot of boiling water until the noodles were cooked and voila!
Squidlers
! They were fun to eat and my kids gobbled up a ton of them.