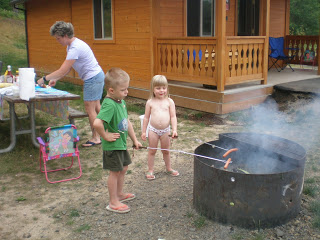 A couple of years ago I was looking for some place to take my kids that didn't cost very much money. The beach is our favorite destination but it's so expensive to stay there. I searched hotel prices and googled family destinations but didn't come up with anything that was within my budget. Then a friend said "why don't you take your kids camping?" Camping??? Me??? Alone with two kids???
The first thought that went through my head was that I didn't have the right gear to go camping. I don't own a tent and the thought of sleeping on the ground didn't seem very reasonable (or comfortable) with two small children. I dismissed the idea and continued searching for some where for us to go. You know… in a hotel.
After a couple of weeks of searching (and finding nothing!) I decided to google campgrounds around the Portland area. I quickly came across L.L. Stub Stewart State Park near Vernonia, Oregon. I was instantly impressed with the park and the amazing cabins that they have. Yes, cabins! I didn't have to buy a tent and we didn't have to sleep on the ground.
Look how cool the cabins are!

A memory that will stay in my head forever is the look on my son's face when we went inside our cabin. He looked around and then looked at me with a horrified look on his face and said "Mom, where's the TV?!?!" It was priceless.
There are tons of things to do there for kids. They had classes each morning at the ranger station. We took a class on Salamanders and one on bugs and another on wildlife. It still cracks me up when my daughter says "Mom, I gotta go scat." Because she learned that scat was another name for animal poop. That's my girl!

Here's Ellie with her Junior Ranger Badge that the kids earned. It was fun and easy and they loved it!!!

They have a large movie screen outside where they show movies at night. How cool is that?!?!
And don't forget about all the nature walks. And bring your magnifying glass to look at all the bugs!

In Vernonia (the city limits) there's a great water hole for kids to play in. It's shallow, maybe 2 feet at the deepest part. Deep enough to play and get cooled down in but not too deep that I have to jump in after them if they need me.

There's just something about being outside that's invigorating. Cooking outside and eating outside, taking walks or just sitting watching my kids discover new things. We've been back every summer and my son doesn't even care that there's no TV or no video games. We roast hot dogs and marshmallows on the campfire, go on nature walks and collect bugs and sit around the campfire and talk about how cool it is to be camping.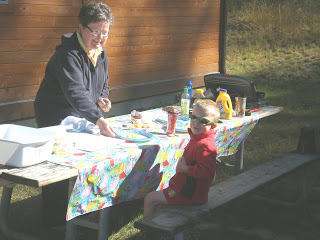 Now that's the way to eat breakfast!!!