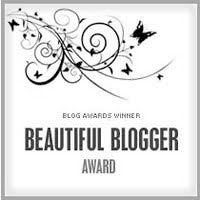 Whoo hoo! Jasey over at Crazy Daisy has given me the Beautiful Blogger Award. I am touched (and completely surprised.) I can't say thanks enough to everyone for stopping by my little spot on the web. I just love doing things with my kids and love passing along my adventures and creations. And I LOVE hearing all of your ideas as well. There's no point reinventing the wheel, right?!?!
Make sure you go visit Crazy Daisy and see all of her great creations!


The rules for this award are:
1. Thank the person who gave you this award.
2. Share 10 things about yourself.
3. Pass the award along to 10 bloggers who you have recently discovered and who you think are fantastic!
4. Contact the bloggers you've picked and let them know about the award.
Ten things about me…
1. Having my children has been the best thing I have ever done/accomplished! I thank God everyday for them and the joy they bring me.
2. My friends all tease me that I go to bed way too early. Hey, I'm a single Mom, I'm tired.
3. I would eat salad and french fries for dinner every night if I could.
4. I'm addicted to Vampire books. (I know!)
5. It absolutely cracks me up when my 5 year old daughter tells me that she just sprained her buttocks.
6. When I go to Chuck E. Cheese I love the games more than my kids. It's like Vegas!
7. People who sew amaze me!
8. Snuggle time with my kids is my favorite time of the day!
9. The best compliment someone could give me is that I'm a good Mom.
10. I was making Snoopy waffles and weird cakes even before I had kids.

10 amazing Blogs that deserve this fantastic award…
1. Christy
2. Homemade Mamas
3. Ma, What's For Dinner?
4. Random Thoughts of a SUPERMOM
5. The Pumpkin Patch
6. Stop and Smell the Chocolates
7. Secrets of a Super Mommy
8. No Apologies
9. Monster Mama
10. C.R.A.F.T.

Check out these fantastic blogs and say hi!

Thanks again!!!