Yep, you heard me right – Dough Boys. Have you heard of them? Up until a couple of weeks ago I hadn't. And boy was I missing out (and I didn't even know it!) I always thought camping = s'mores (which, by the way, I have made all summer long!) But nope, not anymore. Now camping = dough boys! Although I want to call them Little Balls of Pure Awesomeness Filled With Even More Awesomeness. But that title is a little long. But I'll get on with it =o)
A couple of weeks ago I was camping at our favorite spot to camp, LL Stub Stewart State Park in Vernonia. (Check out the post here.) The nice folks camping next to us were making these. I had no idea what they were and to be quite honest, they looked kind of strange from afar. But I had to go check it out. I mean seriously… campire, cooking, chocolate (I could smell it miles away.) So they filled me in. Immediately I called my brother and asked if he could make me some sticks (since we had another camping trip planned only two weeks after this one.)
When I got home I got a little antsy so I asked my wonderful neighbor friends to make me some too. (Well, I actually asked if they had a drill and Kevin offered to make them for me. How sweet was that?!?!)
So he got to work…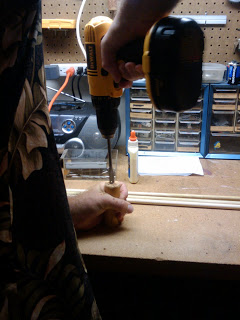 I don't think they were too difficult to make. You get the idea right?
Here's another picture of the stick. It's just a skinnier dowel inserted into a larger dowel.
And then we wrapped that bad boy up with Pillsbury buscuit dough.
And then we roasted…
and roasted…
and roasted…
You have to be patient with this. They need to cook for about 10-15 minutes and not get all burnt on the outside and still be doughy on the inside. Patience, patience, patience!But this is what they look like when they are finished cooking.
This is what I brought to fill them with: white chocolate chips, peanut butter chips, butterscotch chips, Hersheys milk chocolate bars, M&Ms, mini marshmallows and crushed up Heath bars. YUM!!!
Put whatever you like inside and let it sit a minute. The filling melts all together and you end up with a yummy, gooey pocket of deliciousness!
My kids LOVED them!!!
The buscuit dough was pretty darn delicious but I wanted to try it with cresent dough. It was definitely different. Cresent dough is more buttery so you have to really pinch the seams together so it doesn't separate and plop into the fire. (Does it sound like I learned the hard way with this one???)
What do you think?
I filled mine with milk chocolate and crushed up Heath bar. And it was DELICIOUS!!!
Next time we go camping I'm going to bring the buscuit dough and marinara sauce and mozarella cheese. Doesn't that sound good?
And a HUGE thank you to my awesome brother, John, for making us 4 of these sticks and to Kevin for making us 2 of them. We are so set for our next camping trip! This might be all we eat the entire time! =o)
I link up to the parties on my sidebar. Go check them out and see all the great creations!