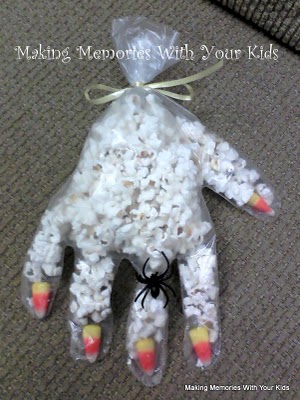 Ha, ha. Get it? I crack myself up sometimes. But maybe that's not a good thing because it usually means I'm tired and have had a hard day. I think it's both today.
Anyways… enough about that. Are these cute or what?! I first saw these last year when I was visiting my favorite store, The Decorette Shop in Tigard. Best store ever! My Mom introduced me to this store years ago and it has been a love love relationship ever since. Yes, love love. No hate for this sweet shop. (No pun intended.)
So my kids and I made a bunch of these to take to school for treats. Last year they went to a private school so they could take home baked goods in for treats. I loved that. I'm sad this year that we can't do that.
They are super easy to make and can be filled with almost anything. We chose popcorn because most kids like popcorn (and it was cheap.) Okay, that was really the number 1 reason we chose popcorn… it's cheap.
Take a glove. (We used the cheapo ones.) Drop a candy corn in each finger for the nails. Then fill with popcorn. Add a spooky Halloween ring and there you have it. Easy, right? But totally cute!
I'm linking up to the great linky parties in my sidebar. Come check them out!