If you haven't guessed by now, I love brownies. Well, maybe everything chocolate. But brownies are right up there with donuts. (Oh man, don't get me started on my love for donuts.) So when I saw this recipe over on Tiffanee's blog One Crazy Cookie I about flipped. The pictures looked so darn good. I just knew I had to make them.
My intentions were good. I was going to make them and bring them in to work for my co-workers. I love bringing in goodies. Sadly, after I cut into these and tasted them… they stayed home. I think I ate almost the entire pan! I know! How could I have done that? Well, make them and you will find out. They ROCK the brownie world! Don't they just look yummy?
What you will need:
* 1 box brownie mix (and the ingredients to make the brownies)
* miniature marshmallows
* 2 cups sugar
* 1/4 cup white corn syrup
* 1/2 cup milk
* dash salt
* 1/2 cup butter
* 4 Tbs cocoa or 2 squares unsweetened chocolate
Make the brownies according to the package. When they have about 5 minutes left to cook, remove them from the oven and cover them with the miniature marshmallows. Put back into the oven and cook for 5 minutes until the marshmallows are all melted. Heaven right? Now wait… it gets even better!
Let the brownies cool.
Here's the WOW part!
Put the rest of the ingredients in a saucepan and bring to a boil. Cook for about 2 minutes.
Add 1 tsp. vanilla and 1 3/4 cup powdered sugar and mix well.
The frosting will be runny which is what you want. You want to be able to pour it over the top of the marshmallows.
Place the frosted brownies in the fridge so the frosting can set. It makes it much easier to cut if the marshmallows are cold.

Now enjoy and try to not eat the entire pan like I did =o) (Good luck with that.)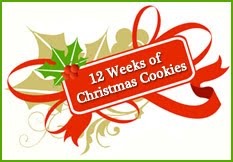 This is my first blog hop I'm participating in. 12 Weeks of Christmas Cookies. I'm all about that! Abby Sweets is hosting and has a list of all the bakers participating. (Including last weeks recipes! Come check the other recipes out!
Don't forget to check out the other linky parties in my sidebar!