Are you tired of cookies yet? Nah. Me neither. Who gets tired of cookies? I mean, really!
My son and I were on a search last weekend for a particular cookie that he wanted me to make. (That post will come later.) When we were googling we came across this recipe. It sounded so yummy we had to make it. See how I wrote had? Like it was a calling or something. But it kind of was. They were (I mean are) fantastic! =o)
Ingredients:
Brownie/Cookie layer
2 cups all purpose flour
3/4 cup unsweetened cocoa
1/2 tsp. salt
1/2 tsp. baking soda
1/2 cup butter
1 cup sugar
1 egg
1/2 cup milk
1 tsp. vanilla
Middle Layer
Mint chips, melted (we love these!)

Frosting
1/2 cup butter
1/2 cup unsweetened cocoa
4 1/2 cups powdered sugar
1 tsp. vanilla
* Cream butter and sugar together for about 2 minutes. Add the egg and vanilla and mix together. Add milk.
* Add flour, cocoa, salt and baking soda and mix well.
I used my Pampered Chef small scoop and placed them on an ungreased cookie sheet (or silpat. Because doesn't the silpat rock?!?!)

*Bake in a 350 degree oven for 9-11 minutes, until firm.
* Cook on a wire rack.
After they are cool, melt the mint chips and dip the tops of the cookies in the mint. We used white but it would be fun with any color. Green for Christmas!

* While the mint is hardening make the frosting.
Cream butter. Add cocoa and powdered sugar and vanilla. Add milk a dash at a time until it is the consistency you want.)
* Frost the cookies when the mint is hard.
They look pretty good, don't they?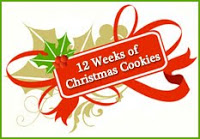 Now on to the blog hop! It's week 4 of the 12 Weeks of Christmas Cookies over on Abby Sweets. Come check everyone out and see all the amazing creations!
And don't forget to check out all the other great linky parties on my sidebar!