I know brownies aren't really cookies but when I saw these over at Buns In My Oven I knew I had to make them. I mean brownies AND cheesecake? That has my name all over it! I added a little something extra to her recipe… Heath toffee bits. Because doesn't everything taste better with Heath toffee bits!?!?!
And what better thing to make for week 5 of 12 Weeks of Christmas Cookies? Yep, you read that right. Week 5!!! That means Christmas is in 7 weeks! That can't be right. Holy cow!
Ingredients:
6 tbsp unsalted butter, cut into pieces (I used salted)
4 ounces bittersweet or semisweet chocolate, chopped
2/3 cup sugar
2 large eggs, at room temperature
1/2 cup flour
1 tbsp unsweetened cocoa powder
1/8 tsp salt
1 tsp vanilla extract
1/2 cup chocolate chips
8 ounces cream cheese, at room temperature
1 large egg yolk
5 tbsp sugar
1/8 tsp vanilla extract
Heath Toffee Bits
Preheat oven to 350 degrees. Line a 9×9 pan with foil and spray with cooking spray. I used my fantastic perfect brownie pan. Have you heard of it? It's awesome. It makes the perfect brownie. I guess that's where they got the name =o)
Melt the butter and chocolate in a double boiler (or use the microwave like I did, but be careful not to burn the chocolate) stirring until smooth. Remove from heat and beat in the 2/3 cup sugar and 2 eggs. The recipe says to sift in the flour, cocoa powder, and salt. Ummmm… sift? What is this word sift? =o) Stir in the vanilla and chocolate chips. Spread in the prepared pan.
In your mixer, beat together the cream cheese, egg yolk, 5 tbsp of sugar, and vanilla extract until smooth. Here's where you add the good part – Heath toffee bits. I added the entire bag because I love these little morsels of deliciousness!
Drop large spoonfuls of the cream cheese mixture over the brownie batter. Use a knife to swirl the cheesecake through the brownie mixture.
(Hey, I never said I was a professional brownie swirler.)
Bake for 35 minutes or until the batter in the center of the pan is just set. Remove from the oven and allow to cool. Lift out the brownies using the foil and cut into squares. (Or if you have the perfect brownie pan, boom, they are already cut into perfect squares!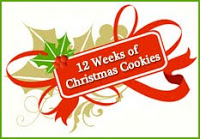 Now sit back and enjoy! And don't forget to check all the wonderful recipes in this weeks blog hop put on by
Abby Sweets
. What? You missed the previous weeks? Don't fret! You can check them out
here
,
here
and
here
. (I know that's just three. I was a week late in joining. )


And come check out the other great linky parties on my sidebar!