For week 6 of the 12 Weeks of Christmas Cookies blog hop we decided to make these bad boys. Their real name is Fudgy Chocolate Chip Toffee Bars. But we changed the recipe a little so we had to change the name. Where did I find this fantastic recipe you are wondering? In one of the million mini cookbook magazines I have. (I'm addicted.) This one was from the May edition of the Pillsbury Bake Off 100 Winning Recipes. Winning recipes! Not mediocre ones. Winning! So of course I had to buy it.
The cookies are easy to make and they are delicious!
Ingredients:
Bottom layer
* 1/2 cup butter, melted
* 1 1/2 cups graham cracker crumbs
* 3/4 cup of Heath toffee bits
Middle layer
* 1 bag semi sweet chocolate chips (next time I will use milk chocolate chips)
* 1 can (14 oz.) sweetened condensed milk
* 1 Tblsp. butter
* 1 tsp. vanilla
Top layer
* The original recipe calls for refrigerated chocolate chip cookie dough. I didn't have any so we made the Toll House cookie recipe on the back of the bag of chocolate chips. But I didn't add the chocolate chips. Instead we added a bag of Heath toffee bits. Yep, an entire bag!.
* 1/2 cups graham cracker crumbs
Topping to the top layer
* remaining bag of Heath toffee bits
* Heat oven to 350 degrees.
* Spray the bottom only of a 13 x 9 inch pan with cooking spray.
* In a medium bowl, stir the melted butter and graham cracker crumbs. Add 3/4 cup of toffee bits and mix well.
* Press mixture evenly in bottom of pan.
* Refrigerate about 15 minutes or until firm.
* Make the chocolate chip cookie dough according to the bag (leaving out the chocolate chips.) Add a bag of Heath toffee bits. Set dough aside.
* In a saucepan, heat chocolate chips, milk and 1 Tbsp. butter over medium heat, stirring frequently, until chips are melted and mixture is smooth.
* Remove from heat and stir in vanilla.
* Spread over graham cracker mixture.
* Add the remaining 1/2 cups of graham cracker crumbs to the cookie dough and mix until well blended.
* Crumble the cookie mixture evenly over the chocolate layer.
* Sprinkle with remaining toffee bits.
* Bake for 25 to 35 minutes or until golden brown.
* Cool completely, about 2 hours.
Doesn't that look tasty???


Now enjoy!!!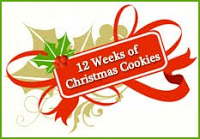 I'm also linking up to some of the great link parties in my sidebar. Come check them out!