Can you believe I haven't baked in over 2 weeks? I know! If you know me, you know how much that hurts me to even type that. Baking is therapy for me. But it's more than that. It's a time when my kids and I gather in the kitchen, laugh and create wonderful things to eat. It's a time when it's just us; no TV or distractions. We talk about the day or what we are going to do for the rest of the weekend. I get to teach my kids about family traditions and recipes as well as skills in the kitchen that will last them a lifetime.
One of the best parts about baking so much is that I have a freezer full of delicious baked goods. I love it. If I'm going to a friend's house I can pull out a couple of containers of cookies and make up a beautiful platter of assorted cookies. If I feel like taking treats to work, they are there. Or if I fall down the stairs (ugh) I have some morsels in my freezer that I can eat that will make everything better. (Sweets do that, you know?!)
We made these Candy Cane Blossoms before my fall. I'm thankful that we "thought ahead" so that I didn't have to miss week 10 of the 12 Weeks of Christmas Cookies Blog Hop. This has been so much fun participating in these past 10 weeks and I've found so many new blogs that I LOVE and now follow.
These cookies are so festive. I liked that about them! Don't get me wrong, I am a lover of all cookies! But Christmas time is my favorite and I love anything that reminds me of the season. And these did. The recipe came from the Hershey's Kisses package. How easy is that?! And the Hershey's Kisses are amazing! They are the Candy Cane ones. Have you seen them in the stores? If you haven't you have missed out. I used them last week also in my Shortbread Kissed Brownies. Yum!
Ingredients
* Hershey's Kisses
* 1/2 cup butter, softened
* 1 cup sugar
* 1 egg
* 1 1/2 tsp. vanilla
* 2 cups flour
* 1/4 tsp. baking soda
* 1/4 tsp. salt
* 2 Tbls. milk
* red or green sugar crystals
Directions
* Heat over to 350 degrees.
* Remove wrappers from candies (get a little helper for this). =o)
* Beat butter, sugar, egg and vanilla in large bowl until well blended.
* Stir together flour, baking soda, salt and add alternately with milk to the butter and sugar mixture.
* Shape dough into 1 inch balls.
* Roll in red or green sugar crystals.

* Place on ungreased cookie sheet and bake for 8 – 10 minutes or until edges are slightly browned.
* Remove from oven and let cool about 2 minutes.
* Press a candy piece into the center of each cookie and allow to cool completely. (Kisses will harden back up after they have cooled off.)
I thought they needed a little something more (do I always say that???) so I drizzled white chocolate over them. Pretty festive looking, don't you think? And the candy cane Kisses are amazing!!!
Now come join me and check out the other amazing cookies in this week's blog hop!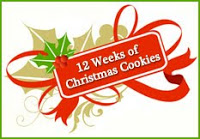 And don't forget to check out the other great linky parties on my sidebar!