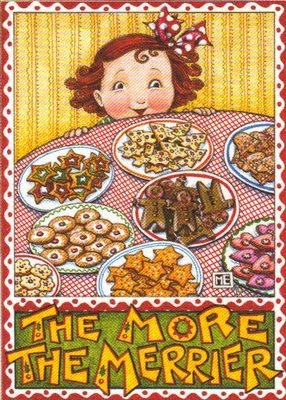 Christmas is going to be here in less that 2 weeks and I have nothing. No new craft ideas, no new recipes. I'm scrambling around trying to fit everything in before I implode from the stress of it all. I know, how sad is that, right? Work is so crazy right now. I work in a middle school and you might think this time of year is great and wonderful and stress free. But it's not. The kids that I work with are not excited about the holidays and it makes me sad. They don't want 2 weeks off from school because that means being home with people who aren't very nice to them. It means sitting in a living room with no Christmas tree and no presents because they have no money. So this week is always so hectic at work and depressing if I let it get to me. So I'm trying to not let it get to me. I have so many wonderful things to be thankful for.
My two best things that I'm thankful for are my wonderful kids. Love them to pieces! And to me, 2 weeks off from work means time that we get to play and cook and be together. We go fun places, we stay home and do fun things. We just hang out together and watch TV and giggle and I love it!
So when I was blog surfing today (I mean, working really hard) =o) I came across some great Holiday activities that I am going to do with my kids and thought I would pass along the great blogs that made these cute things. A huge thank you to them for coming up with such great activities! I hope you enjoy them as much as I do.
Silly Jokes Memory Game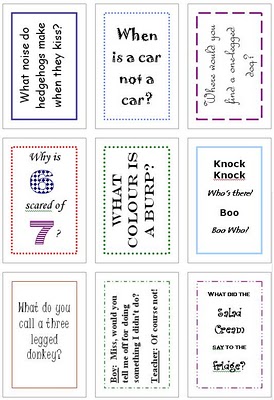 Christmas Crack Ups
Christmas Memory Game
Christmas Tongue Twisters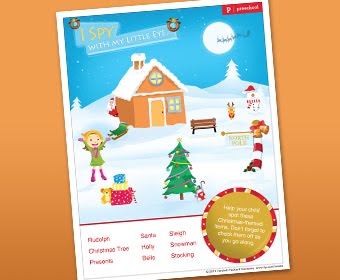 Lots of Printable Christmas Cards to color
Holiday Messages / Lunch Notes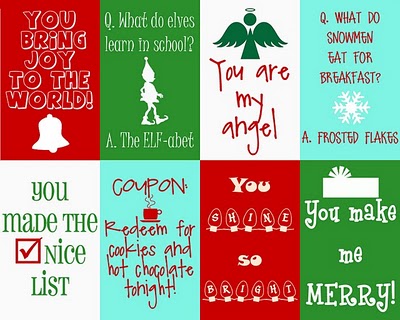 Christmas Mad Libs
(sorry, no picture for this one.)
Merry Christmas everyone! I hope your weeks are calm and peaceful! And don't forget to have fun along the way!