I can't believe the 12 Weeks of Christmas Cookies Blog Hop is over. Twelve weeks! I have had so much fun baking along with all of you. It's been great to see everyone's creations and find so many new recipes that I can't wait to try. I'm honored to have been a part of this great blog hop and want to thank Abby over at Abby Sweets for doing all of this.
For the last week of this great cookie extravaganza I decided to make another of my all time favorite holiday cookies, Pecan Tassies. I love those little pies of goodness. And that's really saying something because I don't like nuts in my food and I surely don't like pie. I know, what's wrong with me, right? But these just call me name and I love them.
So last year when my Mom called me and said she found a new recipe for Pecan Tassies I was skeptical. Change an already perfect cookie? Impossible. But then she told me that she put crushed up Heath bars in the tarts as well. Okay, at this point in the conversation I stopped being able to hear my Mom because a light went on in my kitchen and I started hearing angels singing. Seriously! If you know me at all you know about my obsession with Heath candy. So I got right on it and made them with Heath bits.
And I thought they were perfect before. I now have a new favorite recipe. They are awesome!!! The only complaint I have with this recipe is that it only makes 24 little "pies". 24! Like that'll last more than a day in my house! So I have to at least double (if not triple) the recipe. And no, it's not just me eating all of these. My son also loves them. Strange. Can't get him to eat soup or even a casserole but he'll eat these little mystery pies.
Ingredients:
* 1/2 cup butter
* 3 ounces cream cheese
* 1 cup flour
* 1 egg
* 3/4 cup brown sugar
* 1 Tbls. butter
* 1 tsp. vanilla
* dash salt
* 1/2 cup Heath bits
– Preheat over to 325 degrees.
– Beat the first 3 ingredients until well blended. Chill for about an hour.
– In a small mixing bowl, beat egg, brown sugar, butter, vanilla and salt until well blended.
– Roll the dough into 24 one inch balls.
– Place into ungreased mini muffin pans.
– Have you seen this handy, dandy gadget?
It's awesome. I bought it from Pampered Chef but I'm sure they have them other places. They work perfectly to smash the dough into cup shapes. (Have I mentioned my obsession with kitchen gadgets???)
– I gently pressed the dough around to make the side a little higher.
– Pour about a teaspoon of Heath bits into each muffin cup.
The Heath bits I found didn't have chocolate in them (drats) so I added 3 milk chocolate chips to each cup. I like the chocolate taste with the Heath.
– Pour in enough of the liquid mixture to almost fill the cups. Be careful not to fill all the way up to the top or else they will spill while they are cooking.
– Bake for 25 minutes.
– Remove from oven and allow to cool.
– Remove from pan and enjoy!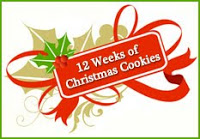 Come and see all the other great creations for our final week of Christmas Cookie madness!
And don't forget to check out the other linky parties on my sidebar!