When I found Manu's blog Dessert First I was thrilled. Not only because she makes amazing things but also because she lives in Brasil. I had the amazing experience when I was in high school to be a foreign exchange student to Brasil. I went the summer between my junior and senior year. I know it's totally cliche to say it changed my life… but it did. It was an amazing trip! And not just because Brasil is a beautiful country, the family that I stayed with was… hmmmm, what's even the word? Amazing? Fantastic? Awesome? I don't think any of these words really fits them. They were the best part of my experience and I will never, ever forget them. I stayed in Vila Velha, Espirito Santo. Here's where it is. Awesome, right?
Here's a picture of my

Brasilian

family.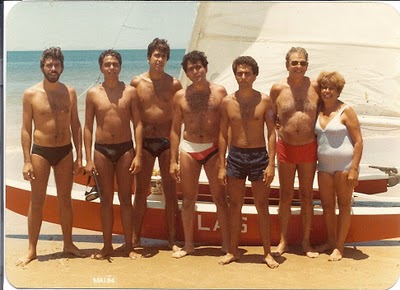 This was taken in 1984 (yep, I'm that old!) My parents and 5

Brasilian

brothers: Paulo,

Beto

, Ricardo,

Caique

and

Tunico

. The only brother who lived at home at the time was

Beto

. He was the best big brother. He taught me Portuguese and showed me all around. My

Brasilian

parents were amazing also. My Mom taught me how to cook and they took me all around the country to visit family and see the sites.
My pictures aren't very good. They pretty much downright stink. Remember it was 1984 and we didn't have digital cameras back then.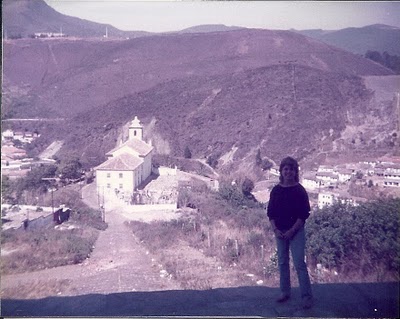 Here are some of the amazing places I was able to see while I was there.
So when I saw the recipe for

Brigadeiro

(

Brasilian

fudge) on

Manu's

blog I was thrilled. I immediately wanted to make it. Not only because I remember eating this amazing and yummy dessert but because it brought back so many great memories for me.
I had to convert the measurements because they were in grams. This was harder than you might think. (I'm not a math teacher) =o) But I think I did a good job.
* 1 can of sweetened condensed milk
* a little less than 1/4 cup of good quality dark chocolate chips
* a little less than 1/4 cup of good quality milk chocolate chips
– Add milk, chocolate and butter in a pan.
– Cook over medium high heat, stirring constantly, until everything is melted and mixed.
– Reduce heat to medium low and cook another 10 minutes (stirring frequently so it doesn't burn.) The mixture will be thick and needs to moved away from the bottom of the pan when you push it aside. (Does that make sense?)
– Let cool.

– Butter your hands and form into small balls. (Buttering your hands is important. It's super sticky!)
– Roll balls in sprinkles (This is a great job for little helpers) =o)
We used the traditional chocolate sprinkles and also some heart sprinkles since Valentine's Day is coming up. My daughter thought they looked very festive and

girly

.
Thanks for taking a stroll down memory lane with me. It makes me want to travel and return to

Brasil

. I can only imagine how much the country has changed in the last 25 years. But my heart tells me it's still amazing and beautiful and home to friendly and loving people. Someday I'll return and take my kids with me. At least that's my dream. And we all should dream, right?
Come check out the linky parties on my sidebar! =o)