In an emergency what do you do? Do you panic? Cry? Stress out? Eat chocolate? I eat chocolate. Does that make me strange or normal? I'm going to go with normal. So I thought I would make some Valentine's for some friends that were a little different but still had to do with chocolate. But for some reason everyone is on this low fat, I need to eat healthy thing right now. What's up with that?!
But how cute are these? It's chocolate but it's not out there in the open chocolate so for those who only eat it in an emergency, this is the Valentine for them!
Yep, you're seeing that right. The can is closed… and full of chocolate =o) Yum and clever!
I had a hard time finding these cans with the pull tabs with the bottoms that didn't have rounded corners.
Ours came from Mandarin orange cans (and pears, I think.) And I used my handy, dandy Pampered Chef can opener. It rocks. It takes the entire lid off the can, not just the inside of the lid (with all those sharp edges.) This can opener is a must if you are going to do this project.
Remove the bottom of the can and eat the contents =o) I mean, wash out the can. Remove the label and let it dry.
Decorate your can however you would like. You could do any theme. Wouldn't these be great party favors at a birthday party?

We made a fun tag to tie on the top.

Now turn over and fill with whatever you would like. Of course I chose Hershey Kisses. I love those things. These one's a re cherry. Yum.

Then we added some shredded, crinkly paper.

Now glue the bottom back on.
People look at them and wonder how we did it. It's magic, I tell them. Then they think it's really filled with chili or soup. Oh gosh, how many will get thrown away because they think it is filled with chili? Yoikes.
I'm linking to the parties on my sidebar. Come check them out!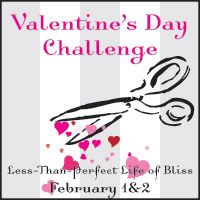 And the winner of the totally cool apron from Wives With Knives is Tiffanee! Congrats Tiffanee and thanks to everyone who entered!