I don't know how I got so lucky. When I started blogging I never dreamed people would actually read my posts. I can't believe how lucky I am. You all are so amazing and give me such great inspiration! I have been truly blessed with so many awards it makes my head swell =o)
I don't even know where to start but I'll try.
Thank you so much to an amazing blogger Manu over on Dessert First. She gave me this award.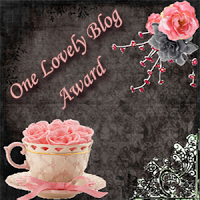 I just love her blog. She lives in Brasil which has a very special spot in my heart. I was an exchange student in Brasil when I was in high school so when I found her blog I was so excited!
Karie over at Level2Mommy also gave me the One Lovely Blog Award. We baked together in the 12 Weeks of Christmas Cookies Blog Hop and she made such amazing cookies!
Veronica from Life In The Thrify Lane gave me this award.
WOW! Her blog is great with a little bit of everything in it!
Ginger over at Support Blog For Moms of Boys also gave me the Stylish Blogger Award. You seriously have to check her blog out. I just love it!
Trisha over at My Hobbie Lobby gave me this award.
Seriously you guys, my head is starting to swell. Or is that my heart? I'm so dang honored! She also baked along with the Christmas Cookie Blog Hop and amazed me with her creations!
Krista over at While He Was Napping gave me this so cute award.
She has an amazing blog. I mean seriously, even the name is perfect! I love it!
Kat over at Everybody Loves Raymond… and Kat gave me the Happy 101 award as well. She has a super cute blog and her sense of humor is perfect!
And last but surely not least…. Ashley over at No Apologies thought of me when she was giving out this award.

I can't say enough about her blog. I love it! She's so dang crafty!
A huge thank you to the amazing bloggers who thought of me. It really does blow my mind that people actually read what I have to say. You guys all rock!
Now it's my turn to pass them on. Yeah!
Here are some blogs that completely amaze me and totally inspire me! I love reading what you have to write each week. Some of you absolutely crack me up while others give me faith and the encouragement I need to continue blogging. You all are wonderful!!!
Cathy over at Wives With Knives – this is my Mom everyone! She is the reason I started blogging and I love her posts!
Cheryl over at TidyMom. I just love all her amazing creations and she has great giveaways too =o)
Jami over at Ain't She Crazy. With a name like that, how could her blog be anything but awesome?!?!
Christy over at From Glitter to Gumdrops. I think we are sisters separated at birth! We are so alike!
Sue over at Munchkin Munchies. I don't even know where to start with her blog. I love it and look forward to reading her posts all the time!
Tiffanee over at One Crazy Cookie. Here's another amazing blog that I look forward to reading all the time! Amazing recipes and delicious treats!!!
Sarah over at The Pumpkin Patch. She took some time off for health reasons and I missed her posts so much! She's back now and I'm quite happy =o)
Lisa over at Sweet as Sugar Cookies. I found her blog during the Christmas Cookies Blog Hop and just love it!
Raina over at The Garden of Yum. Her blog is simply amazing. I just love all her humor and her fantastic recipes.
And last but surely not least… Kayla over at Small Town Life. I just recently found her blog and I'm loving it!
There are so many more amazing blogs out there but I couldn't add everyone =o) Thank you for all the inspiration!
As a small token of my appreciation I'm hosting a giveaway. (I love giveaways!) My Mom has graciously offered one of my readers one of her totally cool aprons. Her blog is Wives With Knives (is that the best name or what?!?!) Her aprons have her logo on it. Here's a picture…

(Picture courtesy of my Mom.)
How cool is that? I just love it. And it could be all yours! All you have to do is be a follower and leave me a comment telling me you would like to win. Simple as that!
Thank you again for reading my rants/posts/ramblings about my life and kids. And good luck!
Drawing will be held January 15, 2011. Make sure you leave me an email address if you don't have a blog so I can get a hold of you! Good luck!!!