It's almost here – St. Patrick's Day. I'm not super into St. Patrick's Day but as a Mom I try to celebrate (and educate) my kids about most holidays and special events. That's important, right?
I wasn't quite sure what to make for this special day. St. Patty's Day sugar cookies are always a hit in our house but I'm a little tired of sugar cookies after Valentine's Day. And my kids wouldn't go near corned beef and cabbage if I paid them. So we decided on Irish Potato Candy. There are two "traditional" types of Potato Candy and I thought they both sounded tasty, so we made both.

Irish Potato Candy
Adapted from: Cooks.com
2 (1 lb.) boxes powdered sugar
1/2 cup hot mashed potatoes, drained
peanut butter (you can use creamy or chunky)
– Boil your potatoes like you always do for mashed potatoes.
– Measure out about 1 cup of potato chunks and add to mixing bowl.
– Beat until crumbly.
– Start adding the powdered sugar. Don't be alarmed when it turns to liquid. This is normal.
– Just keep adding powdered sugar until it is thick and spreadable.
– Sprinkle waxed paper with additional powdered sugar. Make sure there are no "blad" spots. This mixture is pretty sticky and will stick to the paper. I used this handy dandy Pampered Chef pastry roller. It worked great! (My kids also like it for Pay Doh) =o)
– Take a baseball sized ball of mixture and roll out on waxed paper.
– Spread with peanut butter.
– Roll up
– Refrigerate for a couple of hours, then slice.
For the second variation:
– After mixture is thick, roll into walnut sized pieces shaping them to look like potatoes.
– Let sit on the counter for a couple of hours or refrigerate. This makes the cinnamon not get moist when you roll them in it. I'm not sure how – it's just the law =o)
– Roll in cinnamon.
Store in the refrigerator.
I'm not sure which one I liked more. I really like the taste of the peanut butter but the ones in cinnamon look so darn cool.
Everyone has seen this saying, right? It's nothing new. It's been around forever. It basically means "Ireland Forever!" Nice, right…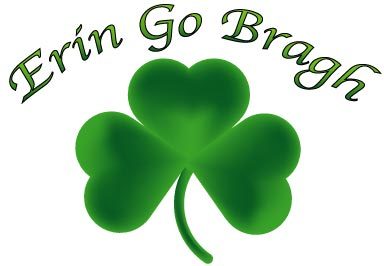 Growing up it was hard having the name Erin on St. Patrick's Day. This is what everyone did to this wonderful Irish saying…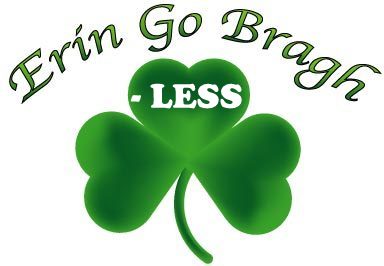 Darn kids!
Happy St. Patrick's Day! Don't forget to wear green or you'll get pinched – which, by the way, is strickly an American tradition.

And also don't forget to check out the great linky parties on my sidebar =o)
I'm also joining Kathleen and her 3rd Annual St. Patrick's Day Blog Crawl!