My daughter just turned six. She's in kindergarten and in my opinion, she's as smart as a whip. But do all Mom's say that? But I'm serious. She really is too smart for her own good sometimes =o) She's learning how to read now and it's amazing how quickly she is catching on to all the rules, etc.
At the beginning of the year I put little notes in her lunch box every day. She would come home and say "Mom, could you not do that please." Well, at least she said please. But now that she is learning to read she is asking for more notes in her lunch box. So I write little things like "have a good day. I love you" and stuff like that but they are getting a little boring in my book. So I decided to surf the web for more exciting and fun lunch box notes. And man, did I find some great ones.
I printed them all out, cut them out and stuck them in an envelope in the kitchen. So every morning when I make her lunch I pull out a new "note" to give to her. She LOVES it! And how easy is that?!
Here's what I found:
from Dealafina

from Parentella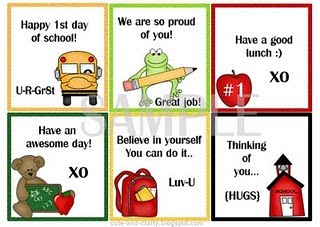 from Cute and Crafty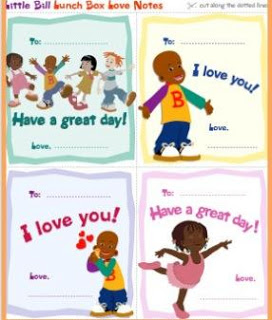 from Tip Junkie
from Get Buttoned Up
from Cap Creations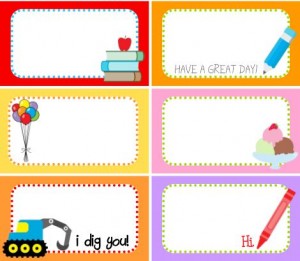 from Mama Cheaps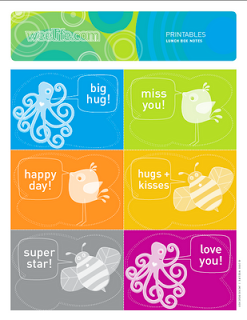 from Wee Life


Pretty cool, right?
So, my kids text. Is that bad? Not all the time but they love to send a text message to their Aunt or to a friend of mine. It's pretty cute. And I figure it's good for them to learn technology and it helps them with their reading and typing. Right? =o)
It amazes me that my just-turned-6-year-old can text so well. Here's a word for word conversation she had last night with a friend from out of town….
Ellie (my daughter): Hi this is Ellie can scott play ????? :o) :o)
Scott: yes I can play
Ellie: Yay
Scott: what are we going to play?
Ellie: scrambol
Scott: do I have to run?
Ellie: yes
Scott: oh man… how far?
Ellie: a hunjrid miyool a howr
Scott: What if I get tired?
Ellie: i dont know
Scott: can I stop and rest?
Ellie: no
Scott: what if I pass out?
Ellie: i dont know we wil call 911
How stinkin' funny is that?!?! I love how she sounds out the words. See? She is a genius, isn't she? =o)