Apparently when you are a kid, goody bags are an important part of a birthday party. (Or so I've been told.) We try to do pretty cool goody bags filled with things kids actually want. Oh sure, we could go to the dollar store and buy a bunch of "stuff". But I know with my kids, that "stuff" just goes into the garbage can and it's a waste of money. So we try to put things in goody bags that are fun or delicious. Best combination is fun AND delicious!
We made the bags out of the white lunch bags. Cool, right? I used spray paint to paint the bottom half red and then used a marker to do the line. I just love my circle punches. That's how we did the circles (duh) in the middle.
We filled each bag with a Pokemon cookie

A Pokemon Survival Kit. (Here's the best part about these kits. They were on sale for $1.49 at Safeway and Walgreens and I had coupons for $3 off 2 J&J products. That made them free! Yep, free! We got 28 of them!)
aren't they cute?

This might be the best part about the goody bags. Check out these personalized Pokemon cards I made for each of the boys at the party. I asked parents to email me a picture of their child beforehand so I could make them ahead of time. How cool is this, right? I found them here.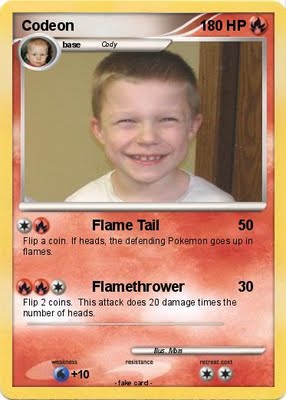 Check out the little picture in the top left corner. That's my son when he was younger. So cute!
I found red and white gumballs at Michaels (and used my 40% off coupons to buy them).

And how can you have a Pokemon Birthday Party without giving out Pokemon cards? Not possible. I bought them on ebay. 100 cards for $12.00. Pretty darn great!

Look at these cute Pokemon writing pads I found on Amazon.com

And finally, each child will have a bag of Skittles to take home too. We're playing Picku (that's Bingo Pokemon style) and these will be the "markers".
I hope they like them!
And now I have to say a big HAPPY BIRTHDAY to my son who officially turns 8 today! EIGHT!!! Where did the time go? It seems like just yesterday he was a little, tiny thing.
Thanks for letting me take a walk down memory lane =o)

I'm linking to the parties on my sidebar!