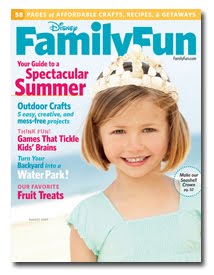 It's really no secret that we love Disney's Family Fun Magazine. You've heard of it, right? Of course you have. Well, a couple of months ago they contacted me and asked if they could include a picture of Ellie and a little blurb about our Carrot Patch Cookies that we made (from their magazine.) And look at that!
This is from the August edition and there she is. She now thinks she's famous. (Of course I agree with her.)
If you haven't heard of Family Fun Magazine (gasp) here are a few of the amazing things they have in their magazines that we have made.

How could we not love this magazine, right? And if you're not interested in buying the magazine, their website has tons of great craft ideas and recipes. So fun!
So thank you to Family Fun Magazine for sending some love our way. My daughter can't wait for school to start so she can bring the magazine in for show and tell!