I received an invitation a little while back from Tina from Mom's Crazy Cooking asking me if I wanted to participate in the Crazy Cooking Challenge she is hosting. Let's see… crazy… cooking… challenge… yes, please! I'm always game for something crazy (or is that cooking???)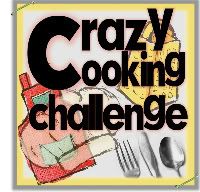 The challenge this month is Macaroni and Cheese. We were to look around blogland and find the best recipe out there. The fun part? We have to search blogland. Not the big time food sites. I loved this part of it.
I had a hard time choosing between  Mommy! I'm Hungry's recipe and this one. But after reading Jen's post saying this mac and cheese was (and I quote) "Stupid good and stupid easy," well, I just knew it was the recipe for me. And am I so darn glad I listened to Mrs. Jen B! She was not joking. This mac and cheese is amazing!!!
Jen's blog, The Misadventures of Mrs. B, is fantastic! Her recipes are wonderful. She makes all the kinds of foods I would LOVE!
Okay, so on to the Macaroni and Cheese. Her recipe was Alton Brown's recipe. Have you heard of Alton Brown? I feel like we go way back, he and I. My kids and I snuggle up together at night and watch Alton cook up a storm. We love it. So I was pretty convinced that this was going to be a good recipe.
Ingredients:
* 1/2 pound elbow macaroni
* 4 Tbsp. Butter
* 2 eggs
* 6 oz. evaporated milk
* 1/2 tsp. hot sauce
* 1 tsp. Kosher salt
* black pepper to taste
* 3/4 tsp. dry mustard
* 10 oz shredded cheddar cheese
In a large pot of salted, boiling water cook the pasta to al dente and drain. Return pasta to the pot and add the butter. Melt and toss to coat.
In a bowl, whisk together the milk, eggs, hot sauce, salt and pepper and dry mustard.
Stir into the pasta.
Add the grated cheese. But first, is there anything better than cheese? I mean really. Cheese rocks!

Cook over low heat and stir until cheese is melted and you can't take it any more, you just have to start eating it.

I doubled the recipe (of course). We're macaroni and cheese nuts in my house. We love it!
Here's the links to all the amazing recipes this month. Look at all that cheese! I'm in heaven!