I had so much fun with last month's Crazy Cooking Challenge I just had to do it again this month! And this month's theme – the ultimate chocolate chip cookie. How could I not participate in that?!?!  If you missed last month's you must check it out.  It was the ultimate macaroni and cheese.  Soooooo many great recipes!
So of course I'm participating again!  Are you ready???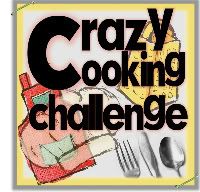 The requirements for this month were pretty simple: find a delicious cookie recipe that contains chocolate chips in it and that recipe has to be from a blog, not a major cooking site (or someone famous.)  Pretty simple right?
There was no question in my mind which cookie I was going to make.  I had bookmarked these cookies a little while ago when I saw them on Moments of Twenty and they were all I could think of.  They looked so amazing.
* 1/2 cup unsalted butter, room temperature
* 3 ounces cream cheese, room temperature
* 1/2 cup mini chocolate chips
(I first have to say that this recipe only makes 1 – 1 1/2 dozen cookies.  So, of course, I doubled it.  I mean really.  Who only makes a dozen cookies.

I

My kids can eat that in one day.  )
Cream together the butter and cream cheese.  Add sugar and vanilla and mix well.  Stir in flour.  Gently stir in chocolate chips.
Place the crushed Oreos in a bowl.  Scoop the cookies into about 1 – 1 1/2 inch balls.  The dough will be sticky but that's good.  Roll them in the Oreos to coat.
Place the cookie balls on a cookie sheet lined with parchment paper.  This is important.  I cooked a batch lined with parchment (the cookie on the right).  On the left is how they looked when I cooked them on my Silpat (which I thought was the best thing ever… until now.)
Cook in a 375 degree oven for 12 – 15 minutes or until slightly golden brown around the edges. 
Cool for about 2 minutes before moving to a cooling rack.
Store in an airtight container (assuming they last long enough to store.)  They are seriously that good!
My daughter said these are the best cookies I have ever made!  That's all I needed.  We'll be making these again often!
So another huge thanks to Tina from Mom's Crazy Cooking for organizing all of this.  What a great idea of hers!
Check out all the other AMAZING chocolate chip cookie recipes! And don't forget to vote for the
Ultimate recipe.