The other day my son said to me "Mom, we should have every Saturday dinner a fun dinner. You know, like the Aliens and race cars that we had." Bless him. I love that they want to help me in the kitchen and eat fun things.
So we decided to make something similar to our space ships but make them more Halloween-y.  So we decided on Pumpkin Joes.
They were really easy and tasted pretty darn good.
Ingredients:
* refrigerated biscuit dough
* hamburger (we used ground turkey)
* sloppy joe sauce
* orange food color
Separate the biscuit dough and then separate each biscuit in half (to make 2 circles that are half as thick.)  Press them out a little to make them bigger and thinner.  This is a great job for a helper.

Cook the hamburger and drain.  Add the sloppy joe sauce and heat through.
Add a small amount of the sloppy joe mixture to the center of one piece of biscuit dough.  Dip your finger in water and run your finger around the edge of the circle.  Top with the other circle of biscuit and seal with a fork.  Repeat with the other biscuits.
In a small bowl add a few drops of orange food coloring and mix with some water.  Paint this on the tops of each "pumpkin".

I scored little lines in the tops to make them look more like pumpkins.

Bake according to the biscuit directions.

Color pumpkin faces on them with your totally cool and now my most favorite kitchen item, food markers.  I won this fantastic package of food markers over on Sweetology.  I love them!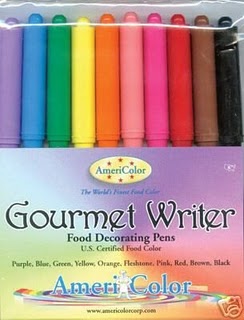 What do you think?

My kids thought they were totally fun!
Hmmmm… now what to make this weekend???

I'm linking to the parties on my sidebar!