I just love the whole "You've been elfed (or jingled, or whatever) thing."  At Halloween time we do the "You've been booed" thing with our neighbors and then at work.  It's fun.  The kids love it.  And who am I kidding, I love it.  I love walking out on the front porch and seeing a treat for me and my kids.  It brings great joy to my life.
The other day it occurred to me that it's almost December.  Wait, perhaps I didn't have the correct amount of emotion in that statement…  IT'S ALMOST DECEMBER!!!!  I'm both scared and super excited by that.  So it's almost time to start elfing (or jingling or whatever you chose to call it.)   And I found some great printables on the internet.  I mean really, hasn't everyone heard the expression "why reinvent the wheel???"  So I'm going to share them with you.
Enjoy!  And get cracking!  It's almost December!!!
This site explains about being "jingled" and has some great printables.
I found a great site that has 52 gift ideas that are simple and inexpensive.  52!!!  Head on over to Brassy Apple and see what they are up to.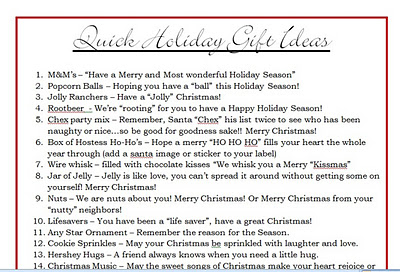 I'm linking to the great linky parties on my sidebar!