I think fudge is my weakness. Well, okay, fudge and donuts. Ummm…. fudge, donuts and fried food. Okay, fudge, donuts, fried food and diet Coke. Yeah, that's them.  Is that bad?  At least with fudge I only eat it once a year.  And yeah baby, that time of year has come!  Yipee!
I am serious when I say I love the stuff.  But not just any fudge.  It has to be awesome!  I make an awesome milk chocolate fudge =o)  And when I made my white chocolate peppermint fudge I am pretty sure I heard harp music play when I first took a bite.
So when
Tina
emailed the
Crazy Cooking Challenge
for this month I about fell over in my chair:
FUDGE
!!!  You mean I get to make fudge, eat it and then see almost 150 other fudge recipes?  Ummmm, yes please!  Sign me up!
I was so excited to search blog-land (because the recipe needs to be from blog-land) and find an amazing fudge recipe that I wanted to make.  It was so darn easy.  All I had to do was look on my
Fudge board
on
Pinterest
.  Yep, I have a
Fudge board
=o) I have been wanting to make
Aimee's recipe
for Root Beer Float Fudge ever since I saw it on her blog
Shugary Sweets
. BTW – I love her blog!!!
Ingredients:
3 cups sugar
3/4 cup butter
1 cup heavy cream
pinch of salt
3 cups white chocolate chips
1 1/2 cups marshmallow cream
3 tsp. root beer extractThis is the root beer flavoring that I was able to find.  It's super concentrated so I only used 1/2 teaspoon.
In a large saucepan, heat sugar, butter and cream until melted.  Bring to a boil and stir continuously for 4 minutes.  (I'm kind of a nut about fudge so I have to use a candy thermometer.  If you do, make sure your fudge reaches 236 degrees.)Remove from heat.  Quickly stir in white chocolate chips and marshmallow cream.  Whisk in vigorously until smooth.  Be patient, this may take a little while but it'll be worth it =o)
Pour half of the mixture into a parchment lined 13×9 inch pan.  In the remaining fudge, add root beer extract and whisk again.  Pour over white fudge.  Using a knife swirl the fudge to make a marbled affect… kind of.
Refrigerate at least 4 hours or overnight.
Let me tell you, this fudge is AWESOME!  It's so strange to bite into it and have it really taste like a root beer float!  This may be my new favorite fudge!
(Sorry white chocolate peppermint fudge.)
Enjoy!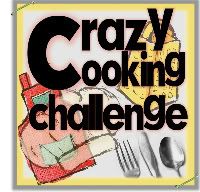 Now let's check out all the other amazing recipes. Oh yeah, and don't forget to vote for your favorite fudge recipe. (It is a challenge and all.)=o)Oh yeah – I'm number 21… just so you know =o)