I have a 7 year old daughter.  That right there should tell you (if you have a daughter) that chap stick and lip gloss is something abundant in my house!  Actually, abundant doesn't even cover it.  Let's have a look at my daughters "chap stick organizer".
I know, right?!  She loves the stuff.  So, of course, I had to see if we could make it.
I found the recipe over on
Meet the Dubiens
(great blog, by the way!)  It seemed super easy so we gave it a try.
* Vaseline
* Kool aid (any flavor)
That's it!  I know, right?!?!
Put the vaseline (or generic bland of petrolium jelly) in a microwave safe bowl and microwave for 30 seconds.  Stir and microwave for another 30 seconds.  Stir again.  The jelly stars to melt and should get soft and easier to stir as it gets hot.  But be careful!  The melted jelly is HOT!
The directions said to continue to microwave it until it melted completely and then let it cool and thicken up before adding the kool aid.  Instead I just microwaved it enough to make it easy to stir but not total liquid.  It wasn't hot so it was perfect to add the kool aid.
** NOTE: You do not want the jelly hot when you add the kool aid.  It will cook and not disolve properly!
Add the kool aid and stir and stir until the granuels are disolved.
I then added it to a ziplock bag so we could squeeze it out into the containers we bought.  I'll tell you – our trip to Michaels was a giant bust.  I wanted cute little screw top lids like
The Dubiens
found but Michales didn't have anything close.  This was all they had.
Squirt some of the goo into each container and let sit until it solidifies again.
Viola!  Homemade lip gloss.  Fun, right??!!We later found these great little containers and stickers.  How fun!
My daughter LOVED it!
Here they are in our new containers and with all the Kool Aid flavors I could find!
The Dubiens
made some very cute labels to add to the lids.  My containers weren't the right size =o( so we couldn't use them.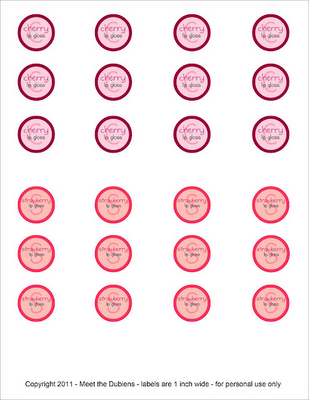 Enjoy and have fun with these!
I'm linking to the parties on my sidebar!