If I could, I would eat pita bread and hummus every day.  I love it!  I love the garlicy deliciousness of it all.  (I would, of course, sprinkle Feta all over it too and maybe some tzatziki dressing and I would be in heaven.  I might even chose this over chocolate.  Can you believe it?!?!
Flatbreads have been in existence for over 6,000 years.  And with
Stonefire Authentic Flatbreads
, it's all about authenticity, being worldly and family.
From the sponsor:  "Don't fight tradition" is a familiar saying at the Ajmera family table. And this is always referred to in regards to flatbreads, the world's oldest breads. For the family, the start of the journey in creating Stonefire Authentic Flatbreads was all about being true to the history, heritage and homage of these worldly breads.
Flatbreads are in almost every corner of the world.  From India comes Naan and Roti, from the Meditteranean comes Pita.  And the intrigue of bringing all the different shapes and textures of flatbread to North America began.
The Stonefire adventure was rooted with two unbreakable rules. Rule #1 – The flatbreads had to be utterly authentic. Only traditional baking methods and the finest ingredients would be used. Why break with tradition? Rule #2 – The flatbreads would be "preservative free" just as they were years ago.
Ingredients and the baking method is extremely important in making flatbread.  Naan is made with buttermilk and traditional ghee (clarified butter) and is made in small batches and hand stretched.  Every Stonefire Authentic Flatbread is made with natural ingredients and no preservatives.  There are no artificial flavors or colors, 0 grams of trans fat and no hydrogenated oils.  That is important to this family!
One of the things that I love about Naan bread is that it freezes great!  Just take it out a couple of hours before using it and it's perfect.  It doesn't dry out or become hardened.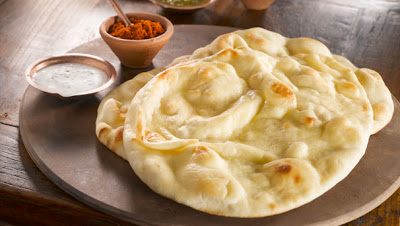 I was given three packages of Naan bread to try: Original, Garlic and Whole Wheat.  All three flavors were wonderful.  They were soft and full of flavor.  The Garlic was my favorite.  I just love garlic.  I think I could eat this bread all by itself for a snack (or a meal.)
With the Original Naan I made a steak sandwich with steak, lettuce, tomatoes and a creamy garlic dill dressing.  It was amazing!
Falafel and Hummus Naan Wrap
* Stonefire Naan bread (you can use any variety.  I used Garlic because it was amazing!)
* Hummus (either homemade or store bought)
* shredded lettuce
* diced Roma tomatoes
* Falafel balls (warmed)
I was hoping to slather tzatziki all over it but I couldn't find any at the store.  (Not happy about that but it was still so delicious!)
Sprinkle the Naan bread with water and place on a cookie sheet.  Warm up in a 400 degree oven for 2 to 3 minutes.  This makes it warm and soft(er) and wonderful.
Spread hummus on one side (or both if you love hummus).  Add falafel balls, lettuce and tomatoes.
Voila!  Easiest "sandwich" ever to make and oh, so good!
Interested in hearing more about Stonefire Authentic Flatbreads and the other amazing flatbreads they make?  You can find them on
Facebook
and
Twitter
.
Stonefore is also having a Cooking at Home For the Holidays Sweepstakes on their Facebook page.  Just like their page and enter to win 1 of 8 prizes to help you cook at home for the Holidays.
How would you like to win the same three flavors of Naan bread?  Enter on the rafflecopter below for your chance.
Giveaway is open to US residents, 18 years of age and older and ends December 6th.