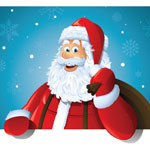 Christmas is my absolute favorite holiday.  People could argue why Christmas is important, the "true meaning".  Some people could argue that it's other things that make Christmas time special.  I'm not here to argue either.  I just love Christmas.  
I love the feeling Christmas brings.  Whether it's coming together in Church and celebrating something so much bigger than all of us, or the lights and decorations and festivities.  There is a feeling of hope this time of year.  When people come together and help one another.  A feeling of wonderment in the faces of small children.  And a feeling of warmth and familiarity for those who have traditions in their family that have been passed down for years.  
I love seeing my children's faces every morning when they look for our Elf, Zachary.  I love when they ask me questions about Santa and how he comes into everyone's house on the same night.  How they talk to Zachary and tell him about their day.  It makes my heart happy.
I found the absolute coolest thing on the internet the other day.  It's site that sends letters to children (or adults) from Santa!  Yep, you read that right… FROM SANTA!  The looks on my kid's faces when they watched their personalized videos was truly something I will never forget.  
If you don't want to send a video, there are letters from Santa out there that are wonderful (and free.)  Here are a few of them.
Here are some links to letters that are not free.  They are wonderful!
What child doesn't want a letter from Santa?!