Each month I look forward to receiving my
Secret Recipe Club
assignment.  I love looking through the blog that I am assigned and finding new recipes.  Of course, I usually gravitate towards the dessert recipes.  I kind of have a thing for desserts =o)  Plus they are so easy to take to work when we've had our fill.  Much easier than taking in a casserole.
My assignment this month was
The Savvy Kitchen
.  Amy has a wonderful blog with so many delicious looking recipes.  She tries to make mostly low-carb, low calorie or gluten free recipes to accommodate for her families dietary restrictions but adds in some "other" recipes as well for those of us who don't take care of ourselves =o)
The first recipe that caught my eye was her
Arancini (Rice Balls.)
  I'm totally making these the next time we have company.  I wanted to make them but I was afraid that I would eat the entire recipe all by myself.  And, even though I surely wouldn't say I try to eat healthy, I do know there are limits to delicious cheesy fried foods.  So, next time.
I was looking through her dessert posts (of man, yum!) and came across her Best Frosted Brownies Ever recipe and knew that was what we were going to make.  My son loves frosted brownies!
* 1/2 cup butter, room temperature
* 1 cup sugar
* 1 tsp. vanilla
* 2 eggs
* 1/2 cup flour
* 1/3 cup Hershey's Cocoa
* 1/4 tsp. baking powder
* 1/4 tsp. salt
* 1 cup mini semi-sweet chocolate chips
Creamy Frosting
* 3 Tbsp. butter, room temperature
* 3 Tbsp. Hershey's cocoa
* 1 Tbsp. light corn syrup or honey
* 1/2 tsp. vanilla
* 1 cup powdered sugar
* 1 Tbsp. milk
Preheat oven to 350 degrees.  Prepare a 9×9 inch pan (line with parchment paper like this)
Stir together butter, sugar and vanilla.  (I used my stand mixer because it was easier, but you don't have to.)  Add eggs and combine.  In a separate bowl, stir together the flour, cocoa powder, baking powder and salt.  Add dry ingredients to egg mixture and mix well.  Stir in chocolate chips.  Spread batter evenly into prepared pan.
I forgot to add the chocolate chips to the batter (I'm such a dork sometimes) so I sprinkled them on the top.
Bake for 20 to 25 minutes until brownies just start to pull away from the sides of the pan.  Cool completely on a wire rack.
To make the frosting:
Beat butter, cocoa and corn syrup together in a mixing bowl.  Add powdered sugar and milk and mix until smooth.  If it appears too thin, add more powdered sugar; too thick, add more milk.  Makes about 1 cup of frosting.
Spread over cooled brownies.
They look pretty darn good!
I thought the brownies were wonderful!  They were chewy and delicious!  They were pretty darn chocolatey (I can't believe I'm saying that like it's a bad thing!)  My son absolutely loved them!  I thought they might be better with a cream cheese frosting.  Of course this doesn't mean I didn't eat 3 of them the first day =o)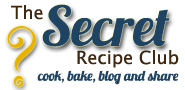 I'm linking to the parties on my sidebar.