Normally when I look at Sue's blog I sit back and think "Man, why can't I do that?!"  She is amazing and so talented when it comes to baking and decorating the cutest cookies ever.  Then I saw this post and thought "holy smokes, I can do that!"  I was so excited!  I'm always looking for fun treats to make for my kids (and some of my co-workers.)  These were perfect.
Funny Bunny Nutter Butter Cookie Pops 
Melt the vanilla bark following the directions on the package.  (I cut it up into small pieces and microwave it in 30 second bursts, stirring after each one, until it's smooth.)
Open the Nutter Butter cookies and place a blob of the white chocolate on the end of a Popsicle stick.  Place it on the inside of the cookie and place the other cookie on top to close.  Let the chocolate cool.  (This keeps the stick from falling out.)
Holding onto the Popsicle stick, dip the cookie into the melted chocolate.  Tap off any excess.  Add a pink M&M for the nose.  You can place the sticks at this point in a styrofoam block.  I just layed them on a piece of waxed paper to harden.
When the chocolate is hard, use your black food marker and draw on a cute bunny mouth.  Mine aren't as cute as Sue's but my kids loved them!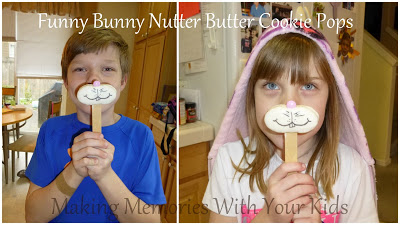 You can add a bow with a glue dot or a small dab of melted chocolate or tie a ribbon around the stick.