I can't believe it's almost July!  Where has the time gone?!?!  I also can't believe I don't really have any 4th of July posts ready.  Sheesh.  Apparently I've been too busy playing and enjoying summer break =o)  So here's our first for the year and it's a great one!
Katrina over at Katrina's Kitchen made these 4th of July Layered drinks and they are so cool!  My kids instantly wanted to make them.  And it was even a learning experience (how the drinks separate and why one stays on the bottom, etc.)
My son actually brought up a science experiment that he saw where you layer different oils.  He explained to us that the heavier and denser liquid sinks to the bottom.  So in this case, the beverage with the most sugar content will sink to the bottom.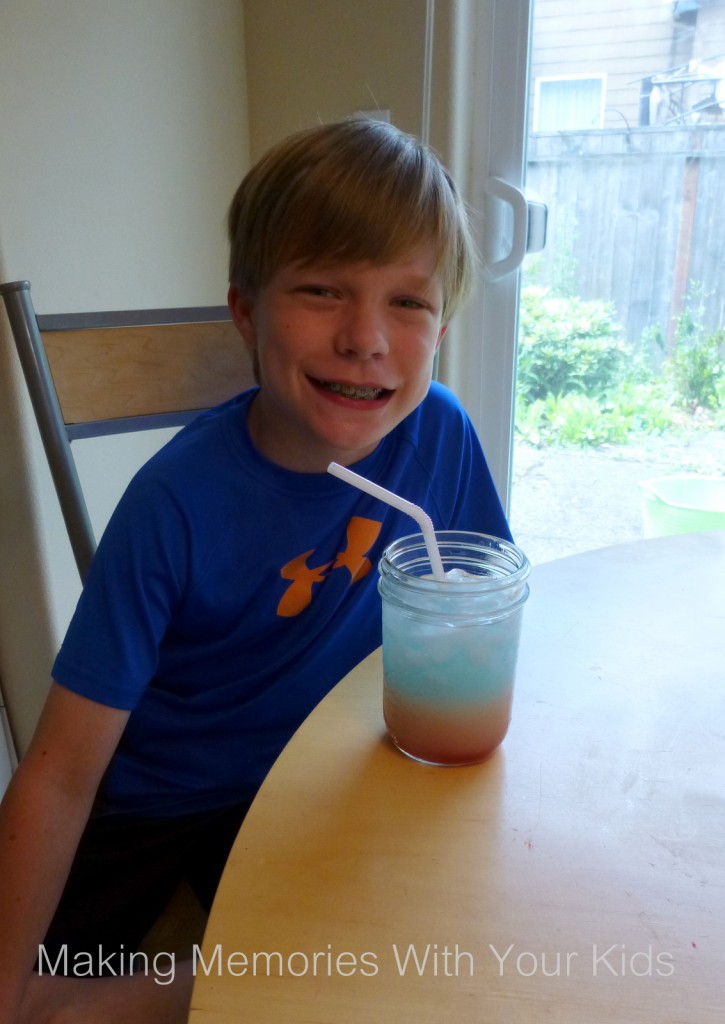 The ingredients are simple: Cranberry Juice, Sobe and Gatorade.   Why these ingredients, you ask?  It totally has to do with the sugar content of the drinks.  So if you're going to substitute one, make sure the sugar content is the same (or equal) to the color here.
Cranberry juice (or red juice) with at least 35 g. of sugar, Sobe (or other white drink) with 25 g. of sugar (around there), and Gatorade (blue drink) with less than 10 g. of sugar.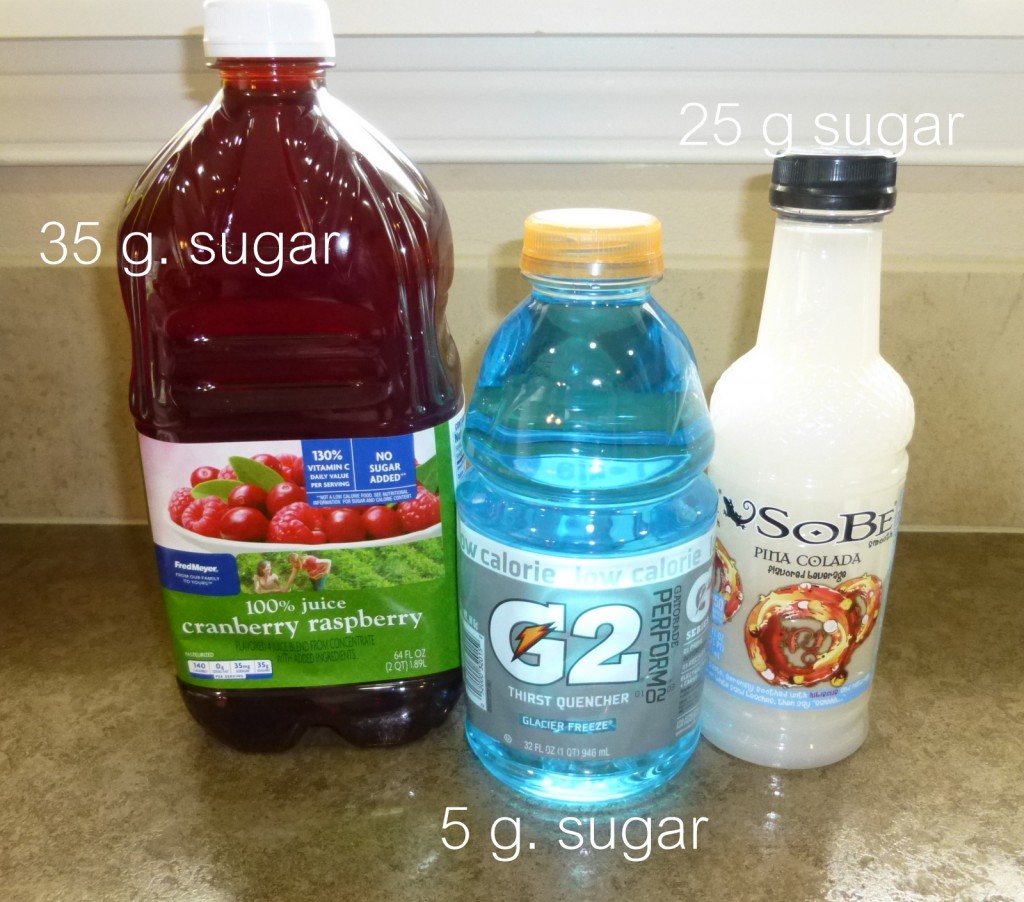 Here's the hint: SLOWLY pour the liquid in over your ice.  If it pours in too quickly, it'll mix the colors!
And there you have it!  4th of July Layered Drinks!
4th of July Layered Drinks
Ingredients
Red Cranberry Juice (35 g. or higher sugar content)
White Sobe Drink (Pina Colada - 20 - 25 g. of sugar)
Blue Gatorade (5 g. of sugar)
Ice
Instructions
Fill your glasses with ice
Fill your glass about 1/3 full with the red juice
Slowly pour in the white juice (Pouring on top of a piece of ice helps to not mix the colors as much)
Slowly pour in the blue juice
http://makingmemorieswithyourkids.com/2013/06/4th-of-july-layered-drinks/
What do you think?  Pretty cool!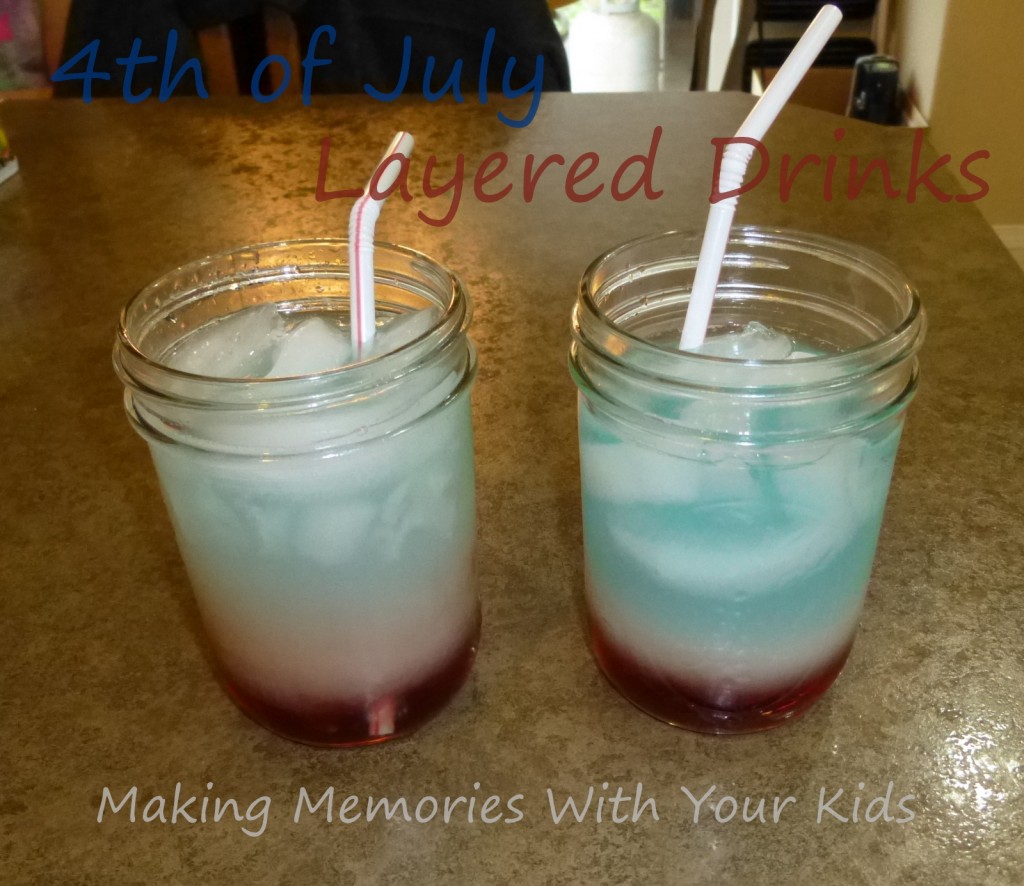 What are you going to do for the 4th?  We can never decide and always wait until the last minute to make plans.  Sometimes that's not good so I'd better get on the ball!
I'm linking to the parties listed HERE.