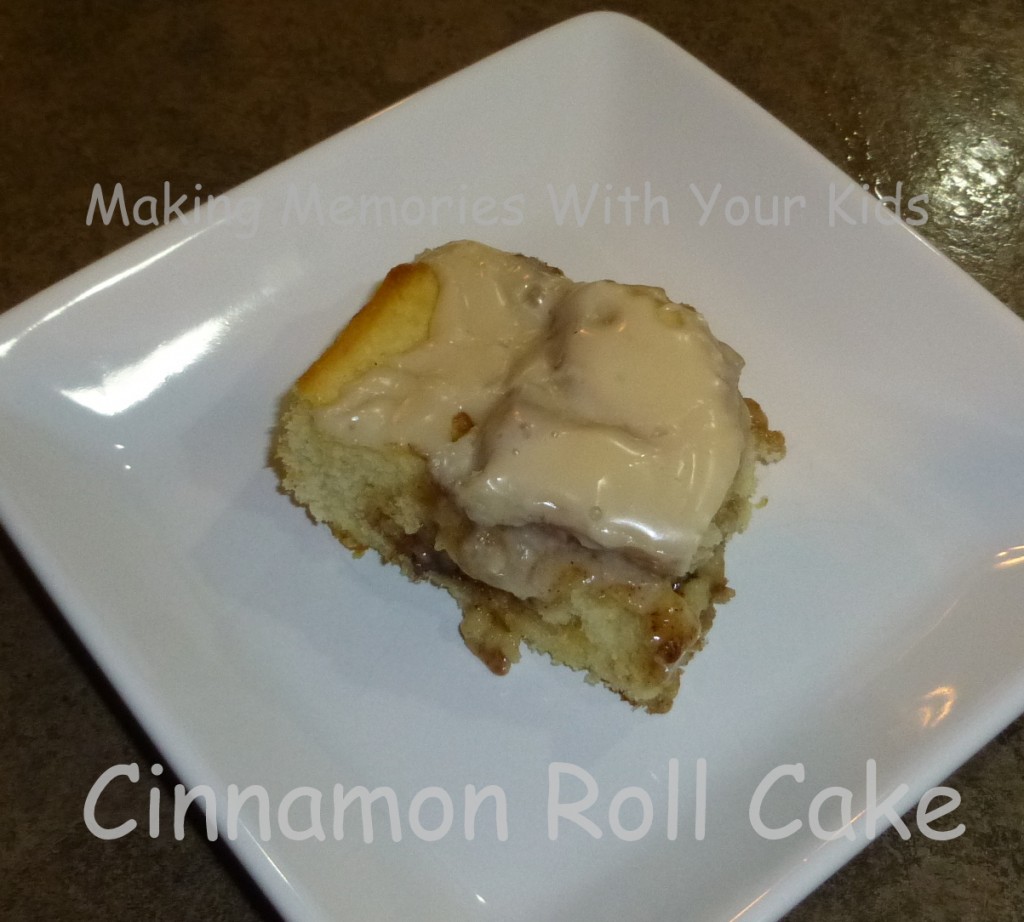 Thanks to Cookin Up North for this delicious breakfast (yes, we ate it for breakfast) treat.  And it was delicious!!!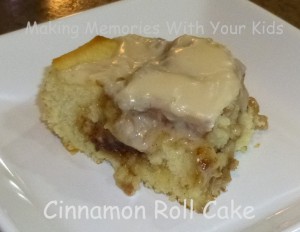 Ingredients
For the Cake

3 c. flour
1/4 tsp.salt
1 c. sugar
4 tsp. baking powder
1 1/2 c. milk
2 eggs
2 tsp. vanilla
1/2 c. butter, melted

For the Topping

1 c. butter, softened
1 c. brown sugar
2 Tbsp. flour
1 Tbsp. cinnamon

For the Glaze

2 c. powdered sugar
5 Tbsp. milk
1 tsp. vanilla
Instructions
Preheat oven to 350 degrees.
Spray a 9x13 pan with non-stick cooking spray.

For the Cake

Mix all of the ingredients except for the melted butter.
Slowly add in the melted butter and mix thoroughly.
Spread into prepared 9x13 pan.

For the Topping

Mix the topping ingredients together.
Drop by Tbsp. onto batter.
Swirl with a knife.
Bake for 28-33 minutes, until sides are golden brown.

For the Glaze

Mix powdered sugar, vanilla and milk until smooth.
Pour over warm cake.
http://makingmemorieswithyourkids.com/2013/06/cinnamon-roll-cake/
 My kids asked if we could make this when we all go to the beach in the summer.  My family is going to LOVE this!!!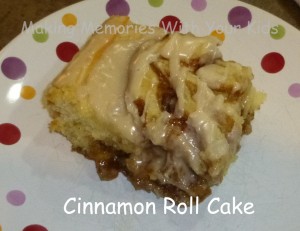 And it's so easy!
Mix the batter ingredients.  Plop on the cinnamon topping and swirl.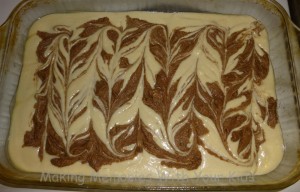 Bake until lightly browned and your entire kitchen smells like heaven.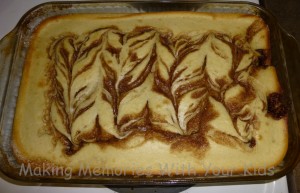 Frost and devour!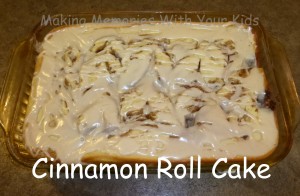 Enjoy!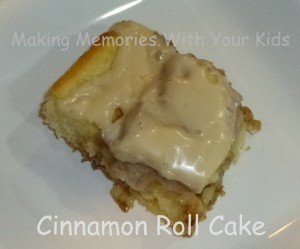 I'm linking to the parties found here.