Okay, first things first.  What do you think?  Yowza!  It's such a different look.  I feel so… fancy =o)  For my birthday my Mom gave me a blog makeover.  Yeah for me!  What an amazing gift!  And Jeni over at The Blog Maven did such a great job.  I can't even thank my Mom and Jeni enough!
Now onto the Deep Fried Pickles.  What are your thoughts on deep fried pickles?  Have you had them?  If you haven't, don't be so quick to judge.  They are awesome.  Seriously!
I first had deep fried pickles at Hooters.  Ha.  That got your attention, didn't it?  My niece had a job at Hooters and I wanted to go check out this place she was working.  Well, I'm not so sure what about think about all that (especially when it includes my niece) but one thing was for sure… their deep fried pickles were amazing!!!  I've been hooked ever since.
When I saw that Christy, over on From Glitter to Gumdrops, made Deep Fried Pickles I immediately bookmarked her recipe.  And I'm so glad I did.  They were wonderful (and super easy to make).
Source:  Slightly adapted from From Glitter to Gumdrops
Ingredients
Dill Pickle slices (you can also use spears)
1 cup buttermilk (you can make your own with 1 cup milk and 1 Tbsp. vinegar)
1 cup corn meal (I used 1/2 cup flour and 1/2 cup corn meal)
1 Tbsp. seasoning salt
1 tsp. garlic powder
1/4 cup finely grated Parmesan Cheese
vegetable oil for frying
Instructions
Dip pickles into buttermilk and then into corn meal mixture.
Place on a place and set aside.
Heat oil to about 300 degrees. You want it hot enough so that a tiny bit of flour added to it sizzles pretty good. Otherwise it'll be too cool and your pickles will soak up the oil.
Cook pickles for about 2-3 minutes, turning about half way. If you're using spears, your cooking time will be increased.
Remove and place on a paper towel.
Serve warm with ranch dressing.
http://makingmemorieswithyourkids.com/2013/06/deep-fried-pickles-and-a-new-look/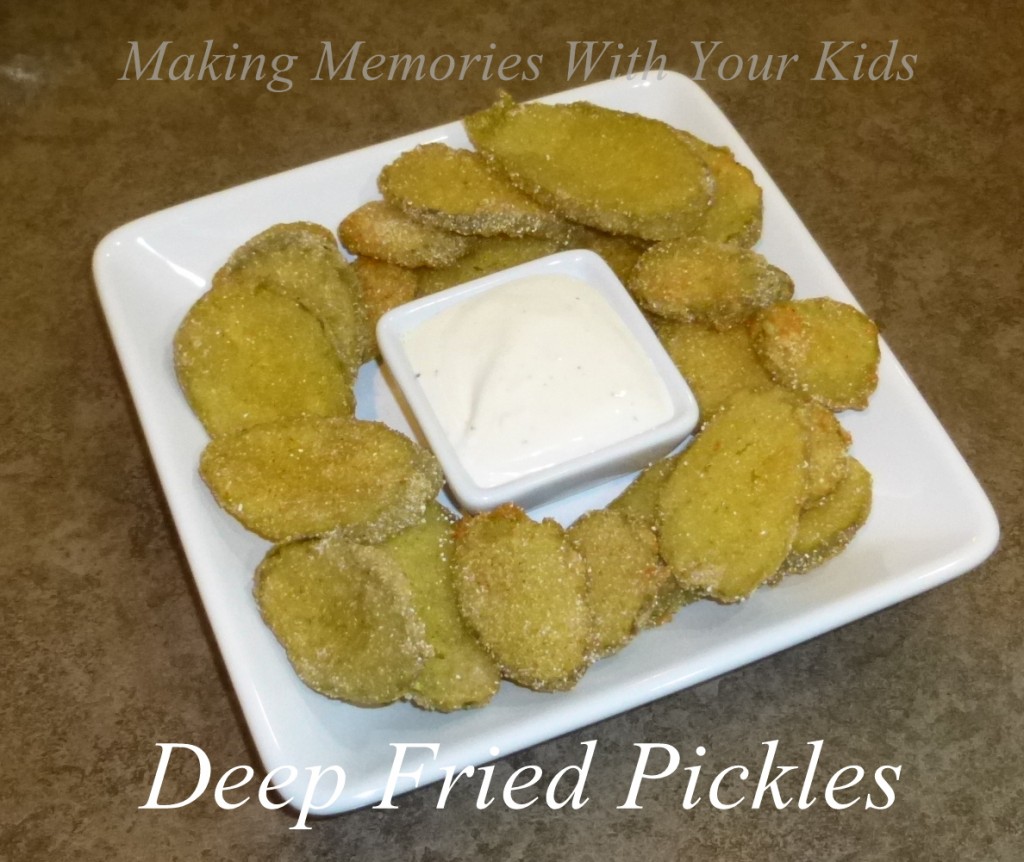 You'll love 'em, promise!
Enjoy!