It's Secret Recipe Club time again this month.  Man, what a crazy month!  Between the end of the school year (for both me and my kids), trying to get everything wrapped up at work and way too many crises to have to deal with at work and my son's birthday and Father's Day.  Holy heck.  I'm pooped!  Good thing I had to take a break for some baking therapy!
My blog assignment this month was A Couple in the Kitchen.  I wish I could tell you more about Amy but I couldn't find anything on her blog to share with you.  So instead, I'll tell you about her amazing recipes.  My absolute first choice of recipes that I wanted to make was her Asian Dumplings!  They looked delicious!  But this is a crazy time of year for me right now and I just didn't have the time to make them.  But they are book marked fro summer when my kids and I can wrap dumplings and devour them!  We can't wait.
I also added Amy's Fried Crab and Avocado Wontons to our to make list.  Yowza!  They look mouth watering!
I love macaroons but never make them.  Why, I'm not sure but I thought Amy's Mad Easy Coconut Macaroons would be great to take to work to share with co-workers.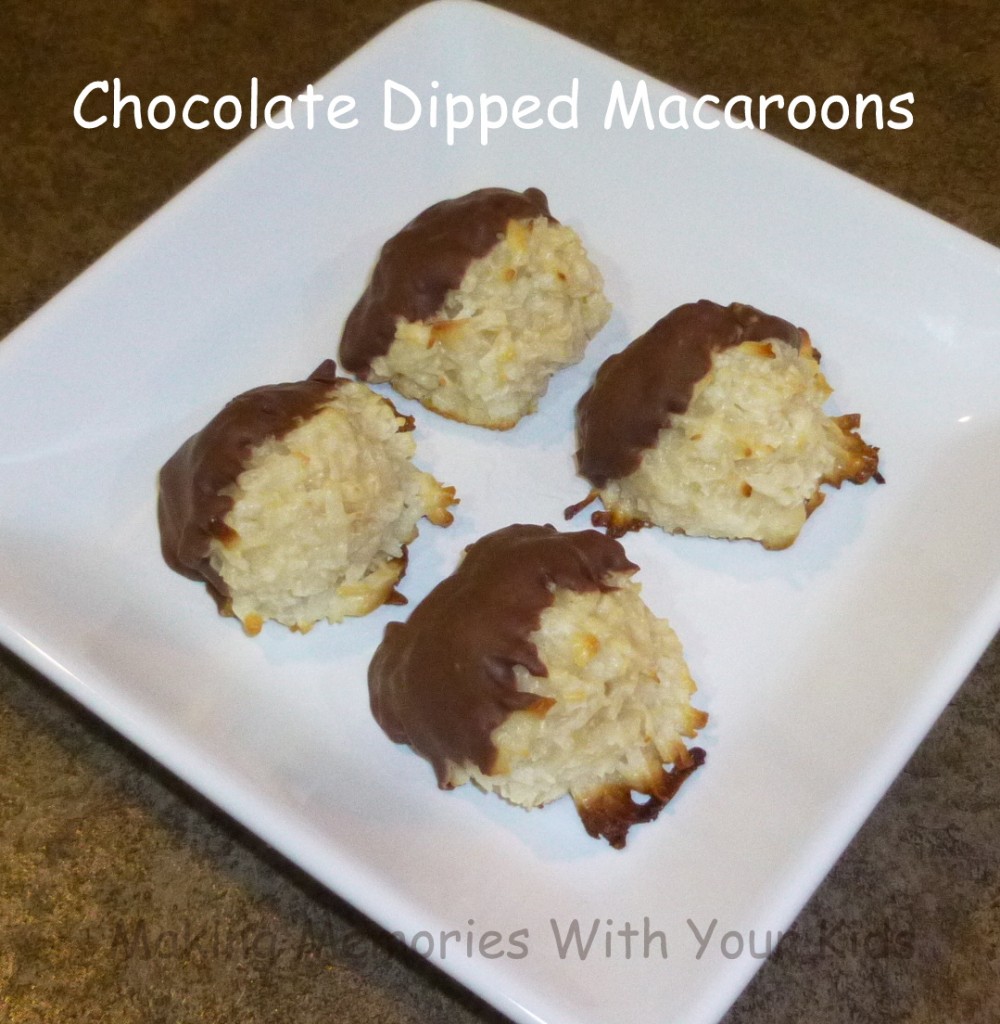 They were so moist and chewy.  They were perfect!
I dipped mine in milk chocolate but you surely don't have too.  They have a ton of flavor without it.  But seriously… isn't everything better dipped in milk chocolate???
Ingredients
2 (7 ounce) packages sweetened coconut flakes
1 can (14 ounces) sweetened condensed milk
2 tsp. vanilla
1 1/2 tsp. almond extract
1/2 cup flour (this wasn't in the original recipe but I was a little worried they would flatten out too much. So add it if you want)
Milk chocolate chips or dipping chocolate
Instructions
Preheat oven to 350 degrees.
Line cookie sheets with parchment paper.
In a mixing bowl, combine milk and extracts, mix well. Add coconut and stir until combined.
I used my medium scoop to scoop out coconut mixture onto lined cookie sheets.
Bake for 8-10 minutes or until lightly browned.
Remove from baking sheets and cool on parchment lined cooling racks.
When completely cooled, dip into melted chocolate.
Let cool on parchment paper.
Devour!
http://makingmemorieswithyourkids.com/2013/06/mad-easy-macaroons-secret-recipe-club/