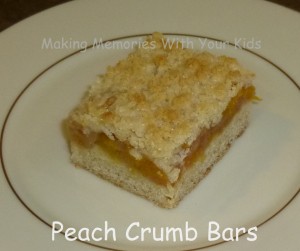 I never know what to give to my Dad for Father's Day.  He has everything and always says to me "don't spend your money on me."  So I bake for him.  And he LOVES it!  He's one of my favorite people to bake for.  He's always so appreciative and says wonderful things about my baking.   It's a win, win, right?!
For Father's Day this year I wanted to make him something I knew he would drool over.  He loves our Sour Cream Pound Cake but we wanted to make something different.  And he LOVES peaches!  So when I saw this, I knew it was on the to make list for Father's Day.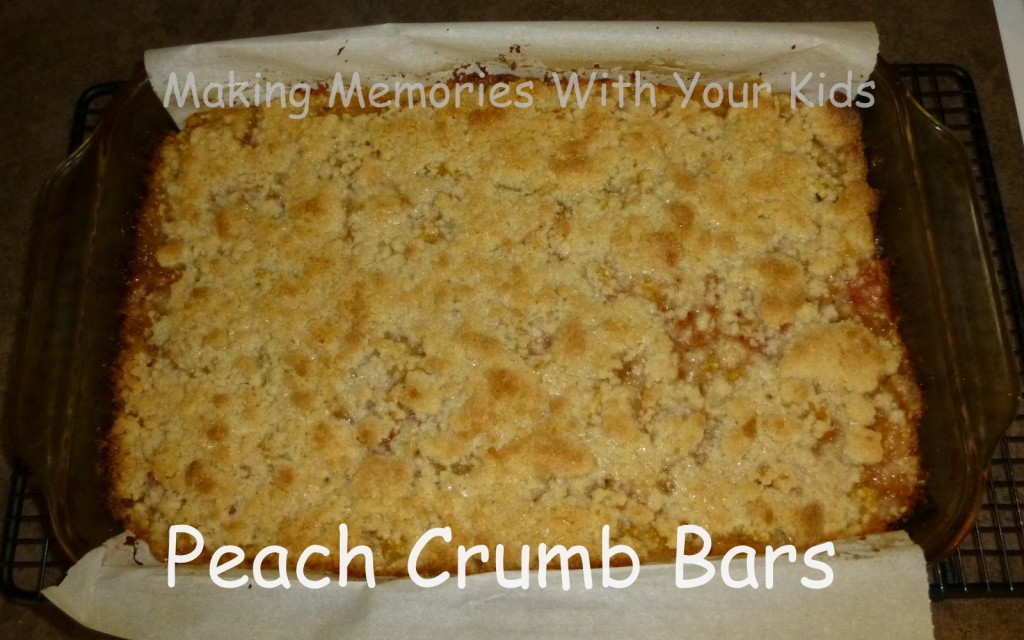 Since I'm new to cooking with peaches I wasn't quite sure how to peel them.  I tried with a knife and holy cow.  That took forever.  Then I called a friend and she said to quickly boil them and then the skins come off easily.  So…. I put an "X" on the bottom of the peach and placed them in boiling water for about 45 second.  Then quickly transferred them to a bowl of ice water.
Then the skins peeled off, just like that.  Who knew????
Doesn't it look so summer-y?
And then add another delicious layer and you have heaven in a pan!
Thank you to Sweet Pea's Kitchen for this recipe!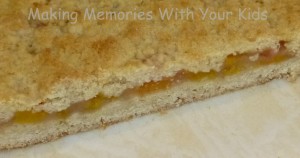 Ingredients
For the Crumble:

3 cups all-purpose flour
1 cup granulated sugar
1 teaspoon baking powder
1/4 teaspoon salt
1/4 teaspoon ground cinnamon
1 cup (2 sticks) unsalted butter, cold
1 egg, lightly beaten

For the Peach Filling:

5 cups diced peaches (about 7 peaches, peeled)
2 tablespoons lemon juice
½ cup all-purpose flour
1 cup granulated sugar
¼ teaspoon salt
½ teaspoon ground cinnamon
¼ teaspoon ground nutmeg
Instructions
Preheat the oven to 375 degrees. Spray the bottom and sides of a 9-by-13-inch pan with non-stick cooking spray. Put a long piece of parchment paper in the bottom of the pan, letting the parchment extend up the sides of the pan and overhang slightly on both ends. (This will make it easy to remove the bars from the pan after they have baked.) Spray the parchment.

For the Crumble:

In the bowl of a stand mixer fitted with the paddle attachment combine flour, sugar, baking powder, salt and cinnamon on low speed. Add the butter, toss with a fork to coat with the flour mixture. Add egg and mix on medium-low speed until the texture resembles coarse cornmeal, with the butter pieces no larger than small peas. Pat half of dough into the prepared pan. Place reserved half aside. Place the pan and the remainder of the dough in the refrigerator while you prepare the filling.

For the Peach Filling:

In medium bowl, gently toss diced peaches and lemon juice together; set aside.
In a separate small bowl, mix together the flour, sugar, salt, cinnamon and nutmeg. Pour over the peaches and mix gently.
Spread the peach mixture evenly over the crust. Crumble the remaining dough over the peach layer.
Bake in preheated oven for 45 minutes, or until top is slightly brown. Cool completely on wire rack then place in the refrigerator to chill before cutting into squares. Store in an airtight container in the refrigerator.
http://makingmemorieswithyourkids.com/2013/06/peach-crumb-bars/
It smelled so amazing!  I'm not even a big peach fan but this was to die for!  Perfect for my peach lovin' Dad for Father's Day.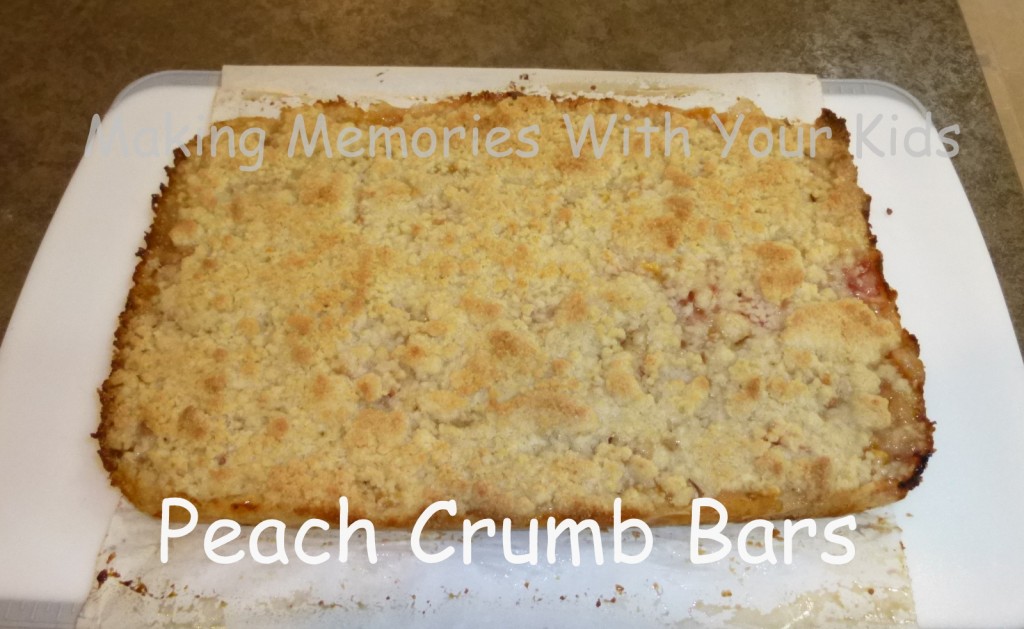 My Dad loved them!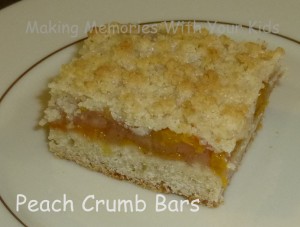 ENJOY!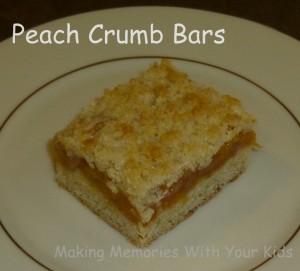 I'm linking to the linky parties HERE.