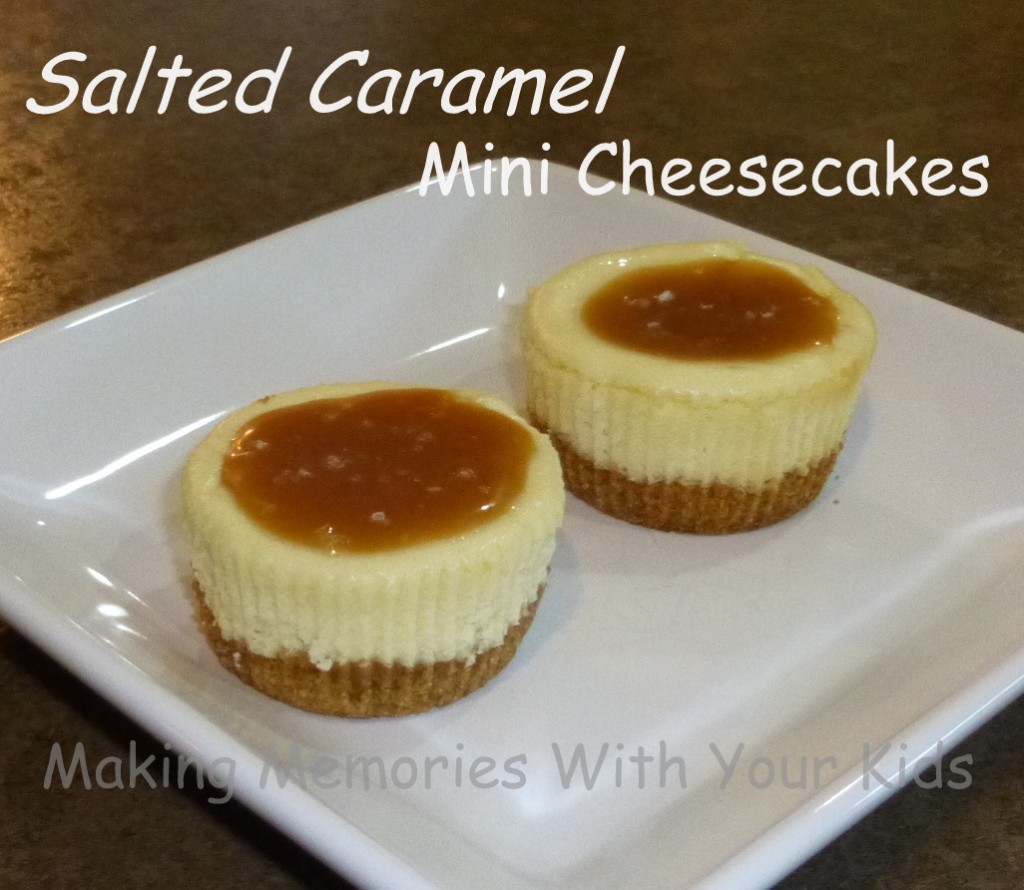 I don't even know what to say about this recipe.  How about I start with… It's Delicious!!!!  But I don't even think that covers it.  It's beyond delicious.  What's that word?  Freaking awesome?
The mini cheesecakes are amazing and then topped with our homemade Caramel Sauce and then sprinkled with course sea salt?  Holy heck!  I could have eaten 4 in one sitting.  Let's just say I didn't… for appearances sake.
I actually made the cheesecake part of the recipe gluten free.  I was going to a potluck at work.  It was the last day of work and all the counselors in the district were getting together to talk about our Flight Team.  (That's the team that is called in when there is a tragedy/accident/disaster.)  It's always fun to get together with the other counselors and exchange stories and get advice and debrief, but the topic for the day was a tough one.  Our little town has experienced some major tragedies this past school year.  And desserts make everything just a little better, right?  Oh come on, a little bit, right?
One of the counselors in the district is gluten free and because I think she's so amazing, I wanted to make sure she got a treat too.  So I made a couple of mini cheesecakes without the crust and exchanged the 3 Tbsp. of flour in the recipe with gluten free flour.  It was easy and they tasted wonderful.  And an added bonus, she loved that she was able to eat dessert too.
Anyways, on to the recipe…
Don't they look wonderful?  And mini.  Enough said, right?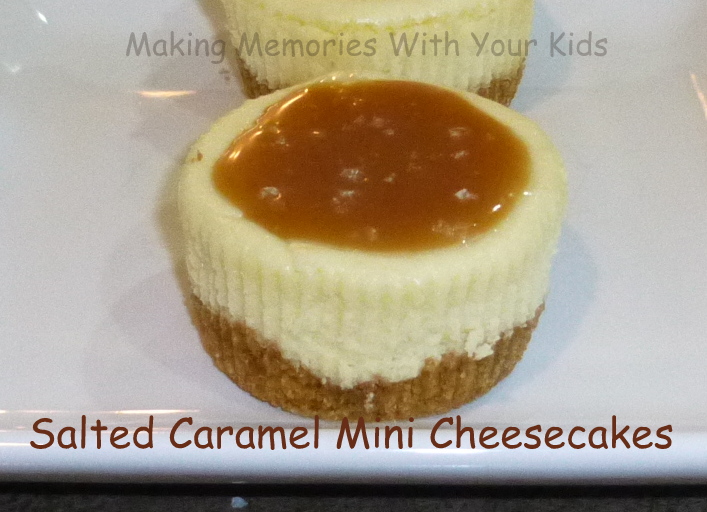 I should have doubled this recipe so I could have put some in the freezer for later.  They were that good.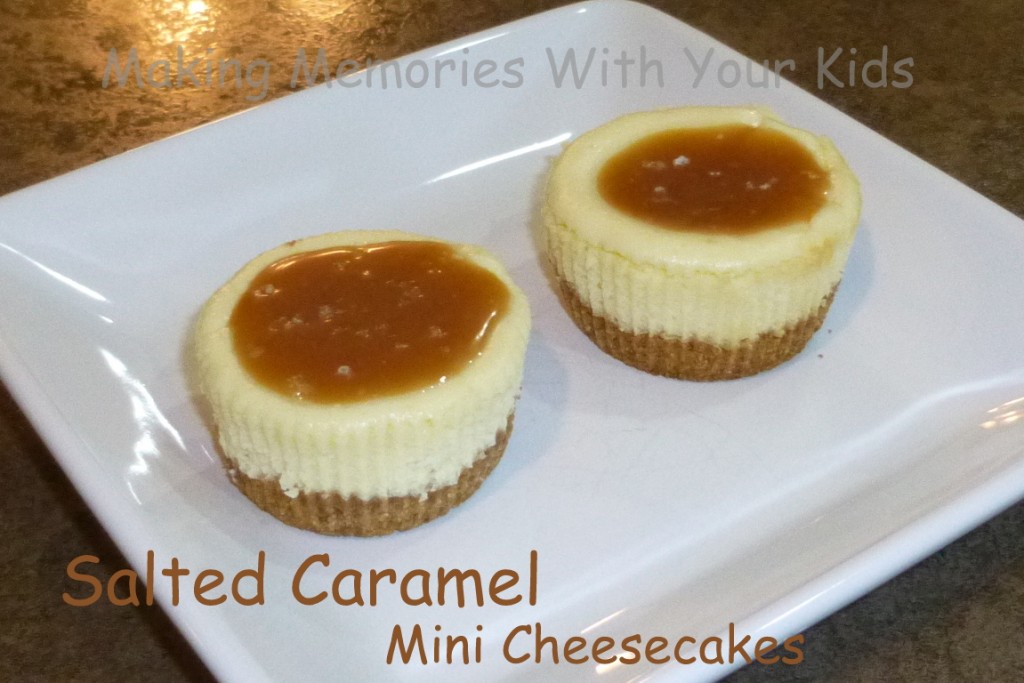 Thank you to Cooking Classy for this recipe.  It is delicious!
Salted Caramel Mini Cheesecakes
Ingredients
2 1/4 cups finely crushed graham crackers (from about 18 sheets)
3 Tbsp. sugar
7 Tbsp. salted butter, melted
4 (8 oz) pkg. cream cheese, softened
1 1/2 cups sugar
3 Tbsp. all-purpose flour (I used gluten free)
4 large eggs
2 tsp. vanilla extract
1/2 cup sour cream
1/2 cup heavy cream
Salted Caramel Sauce
Instructions
Preheat oven to 350 degrees.
In a mixing bowl, whisk together crushed graham crackers with 3 Tbsp. sugar. Pour in melted butter and stir mixture until evenly coated. Divide graham cracker mixture among 24 paper lined muffin cups, adding about a heaping Tbsp. to each. Press mixture into an even layer. Bake in preheated oven 5 minutes. Remove from oven and allow to cool while preparing filling.
In a small mixing bowl, whisk together 1 1/2 cups sugar with 3 Tbsp. flour until well blended.
In another mixing bowl, add softened cream cheese and pour sugar mixture over top. Blend mixture on low speed until smooth. Mix in eggs one at a time and blend on low speed, while scrapping sides and bottom of bowl and mixing just until combined after each addition. Add vanilla, sour cream and heavy cream and mix just until combined. Tap mixing bowl against counter top about 30 times to release some of the air bubbles.
Divide mixture among muffin cups filling each cup about 2/3 full. Bake in preheated oven 20 - 23 minutes, centers should still jiggle slightly, don't over bake (if they begin to crack they are starting to become over baked).
Remove from oven and allow to cool 1 hour. Cover loosely with plastic wrap and transfer to refrigerator and chill 2 hours. Serve chilled with a spoonful of Salted Caramel Sauce or plain or with any other amazing topping.
http://makingmemorieswithyourkids.com/2013/06/salted-caramel-cheesecake-cupcakes/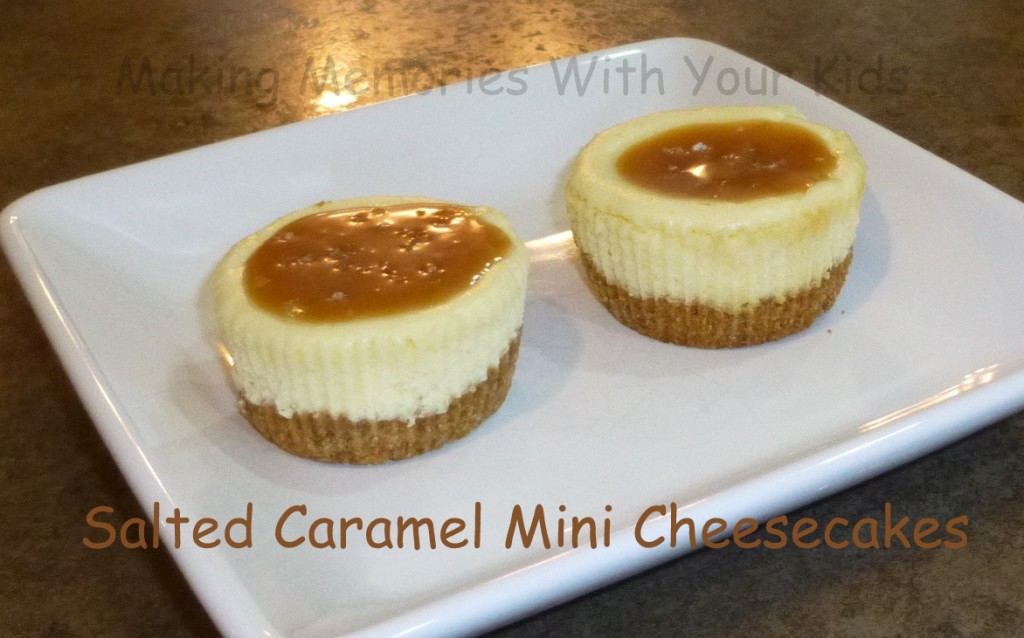 Enjoy!
I'm linking to the parties located HERE.