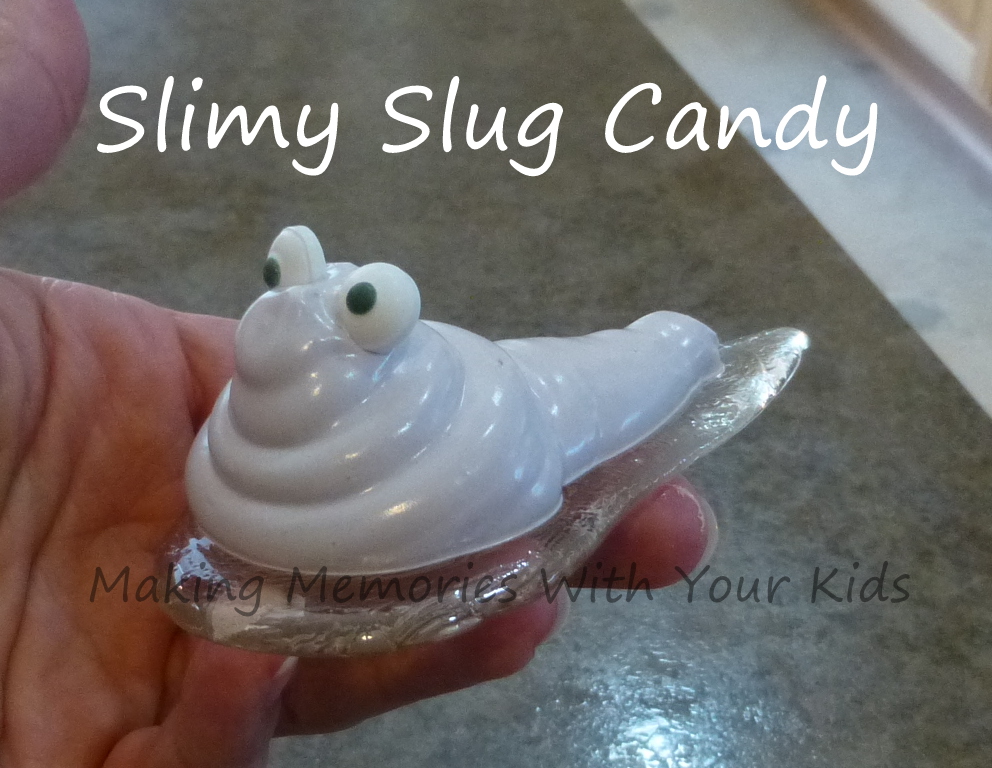 I pinned this recipe quite some time ago and put it into my "Fun Food Ideas" board.  I mean, seriously, of course I was going to make it.  They are adorable!  And with the movie Turbo coming out, I figured it was the perfect time to surprise my kids.  My son wants to see Turbo badly.  I'm not sure if it's because of the snails or the story or just because he loves to go to the movie, but either way, I'm in.  It looks pretty cute.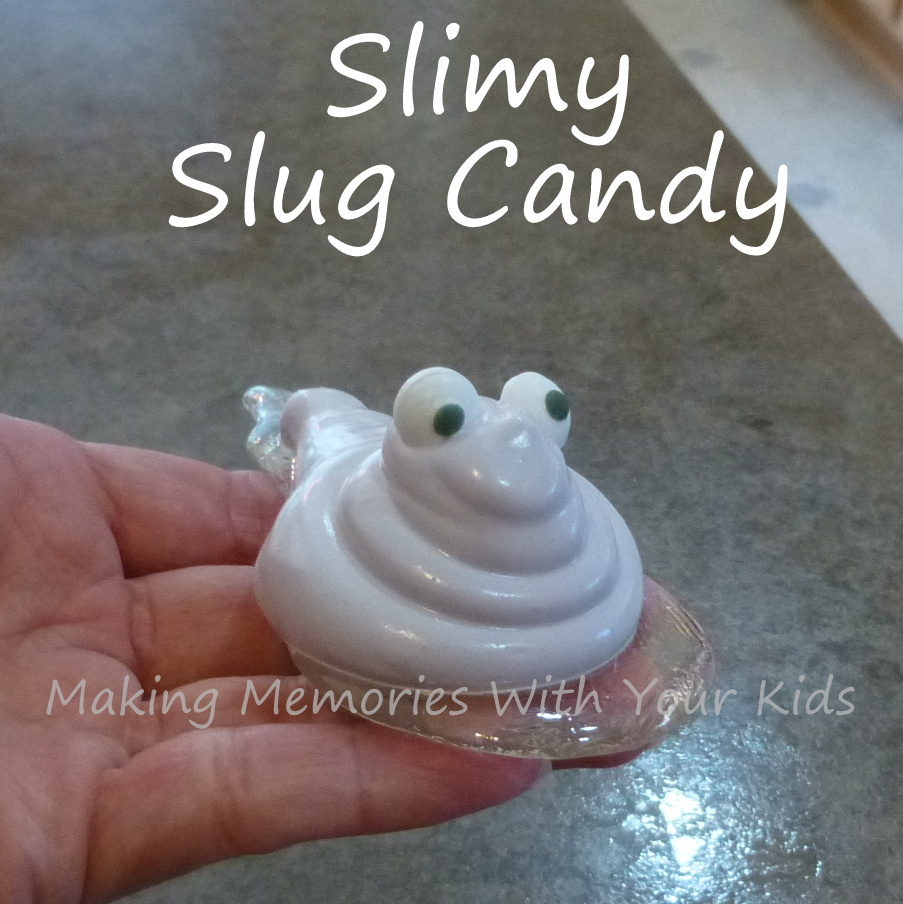 I know, I know, these aren't snails.  They are slugs.  But we live in Oregon where you might think the state animal is the beaver, but anyone who lives here knows, it's the slug.  They are everywhere.  When I was in high school someone dared me to lick one.  Gross, right?  Well, of course I did.  I mean, someone dared me too.  Did you know the slime from a slug is kind of an anesthetic?  I can verify this because when I licked said slug, my entire mouth went numb.  It was a little scary at first because I thought there was a very good chance that I might have poisoned myself.  Serious.  The things we do.
Well, I wouldn't encourage you to lick a real slug (although I kind of think you haven't lived until you do.)  But if you would prefer not too, here's a slug you CAN lick.  And it's much better tasting.
The slime trails are easy to make.  Mine surely aren't perfect, but I don't shoot for perfection.  (At least that's what I'm going to write here.)
I've always wanted to make my own marshmallow.  Who knew I'd be making slugs out of it.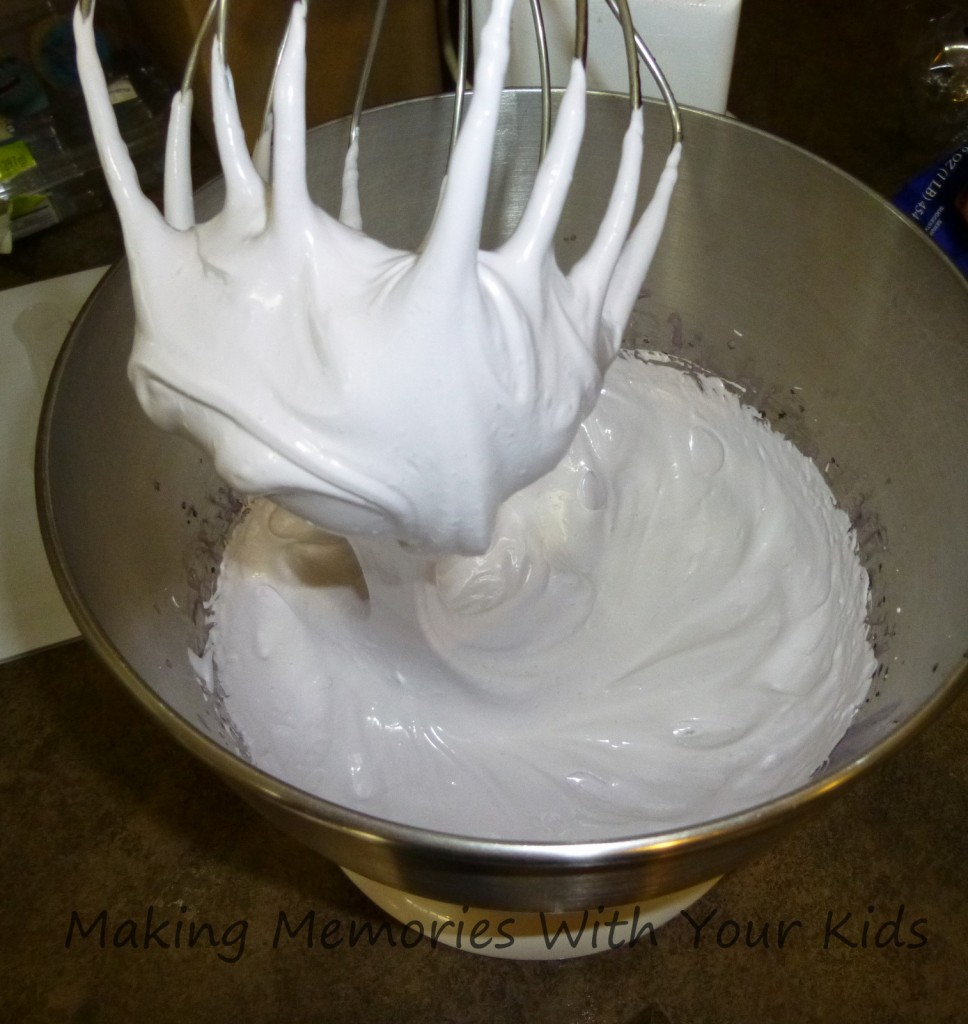 YUM!
They kind of look like slugs, right?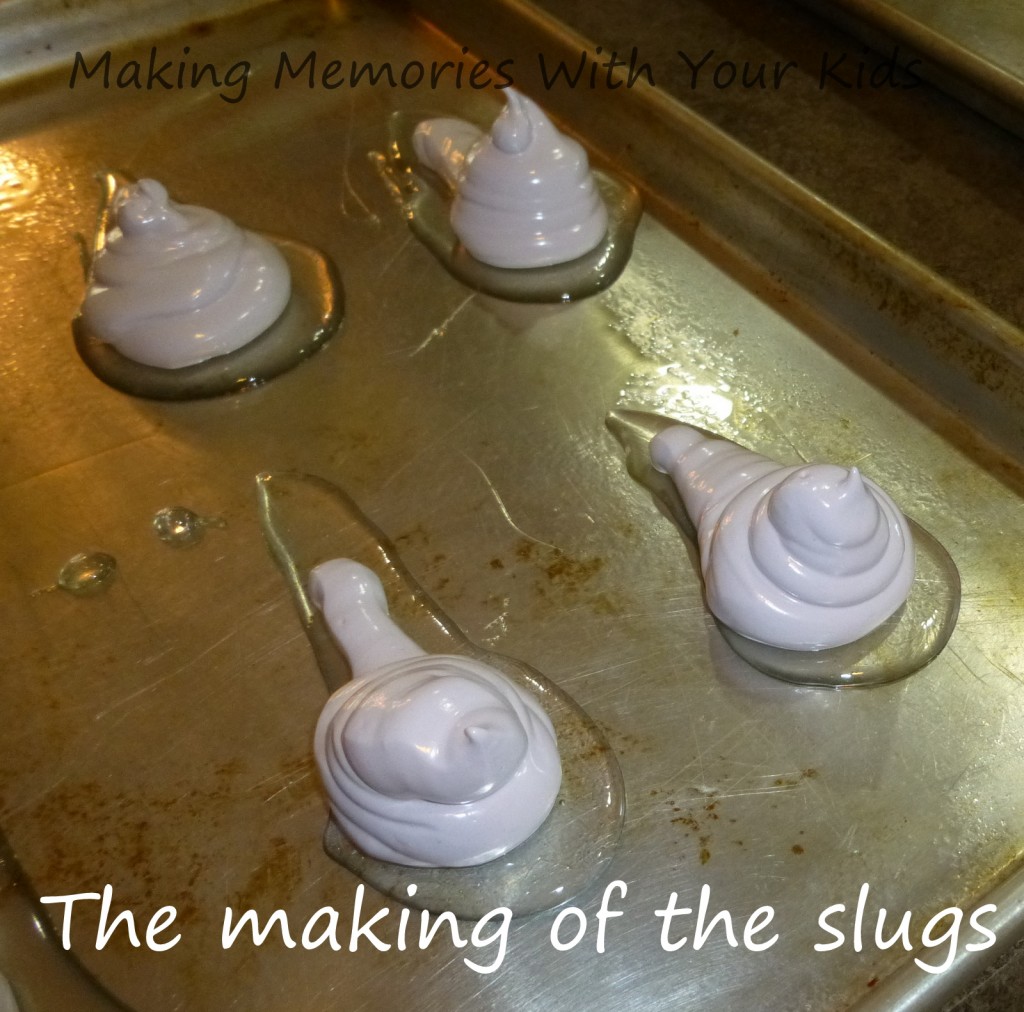 And with eyes?  Totally!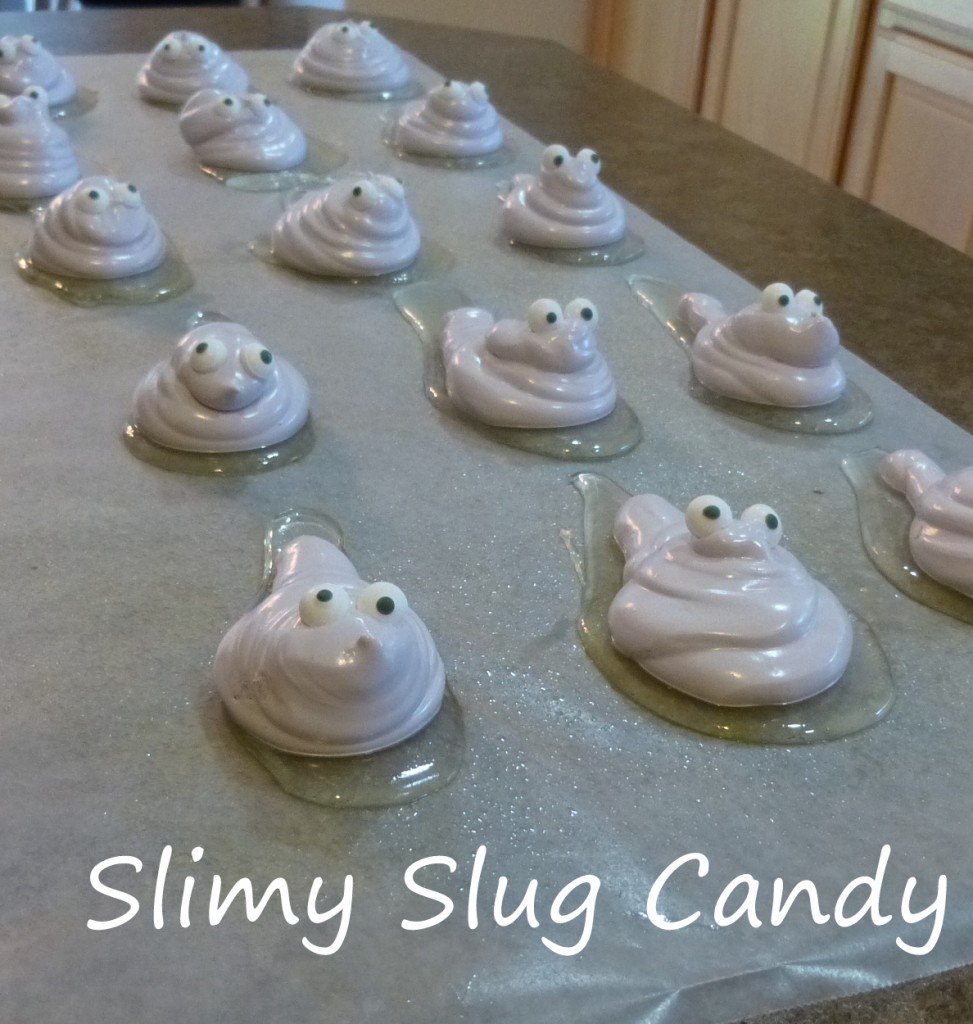 Ingredients
For the Slime

1 cup sugar
1 cup light corn syrup
1/2 cup water
1 package of "Invisible" Kool-aid (I couldn't find this so I used raspberry flavoring)

For the Slugs

1 packet of Knox gelatin
1/3 cup cold water, for gelatin
1/3 cup water, for candy (her recipe called for 1/4 cup but I felt it was too dry)
1 cup sugar
1 packet of Kool-aid (any color/flavor you prefer) (I would use 1/2 the packet)
Candy eyes
Instructions
For the Slime

Prepare a few baking sheets for the candy by spraying them lightly with a non-stick spray.
In a saucepan combine sugar, syrup, and water and bring to a boil on medium heat. While stirring it frequently let it boil until it reaches hard crack stage. (300* on a candy thermometer) When it has reached this stage pull it off of the heat and quickly stir in your kool-aid packet or flavoring.
Working quickly, (it hardens fast!) scoop a large spoonful onto the pan and drag it out about 4" this creates your slug trail. Continue this process until you have used all your candy or filled your sheets.

For the Slugs

In a mixing bowl sprinkle gelatin over 1/3 cup cold water. Allow gelatin to soften.
In a small saucepan, combine 1/3 cup water and sugar, and stir over medium-high heat until sugar is dissolved. Boil sugar until temperature reaches the soft-ball stage (238 degrees). Remove candy from heat and quickly stir in your Kool-aid. Pour the candy into the softened gelatin. Using an electric mixer, beat on high (as if you were making whipped cream) until soft peaks form and the marshmallow mixture holds shape, 8 to 10 minutes.
Transfer marshmallow mixture to a large ziplock bag and cut about 1/4" off of one corner. (It has to be used immediately)
Pipe your marshmallow directly onto the "slime", starting at the tail. Make sure the body is fat. You might want to practice but you'll get the hang of it quickly!
Let the slugs cool/set for about 30 minutes and then place eyes on the top. They will stick.
There you have it! Slimy Candy Slugs!
http://makingmemorieswithyourkids.com/2013/07/slimy-candy-slugs/
My kids came home from Science Camp and LOVED them!
My son had a staring contest with his.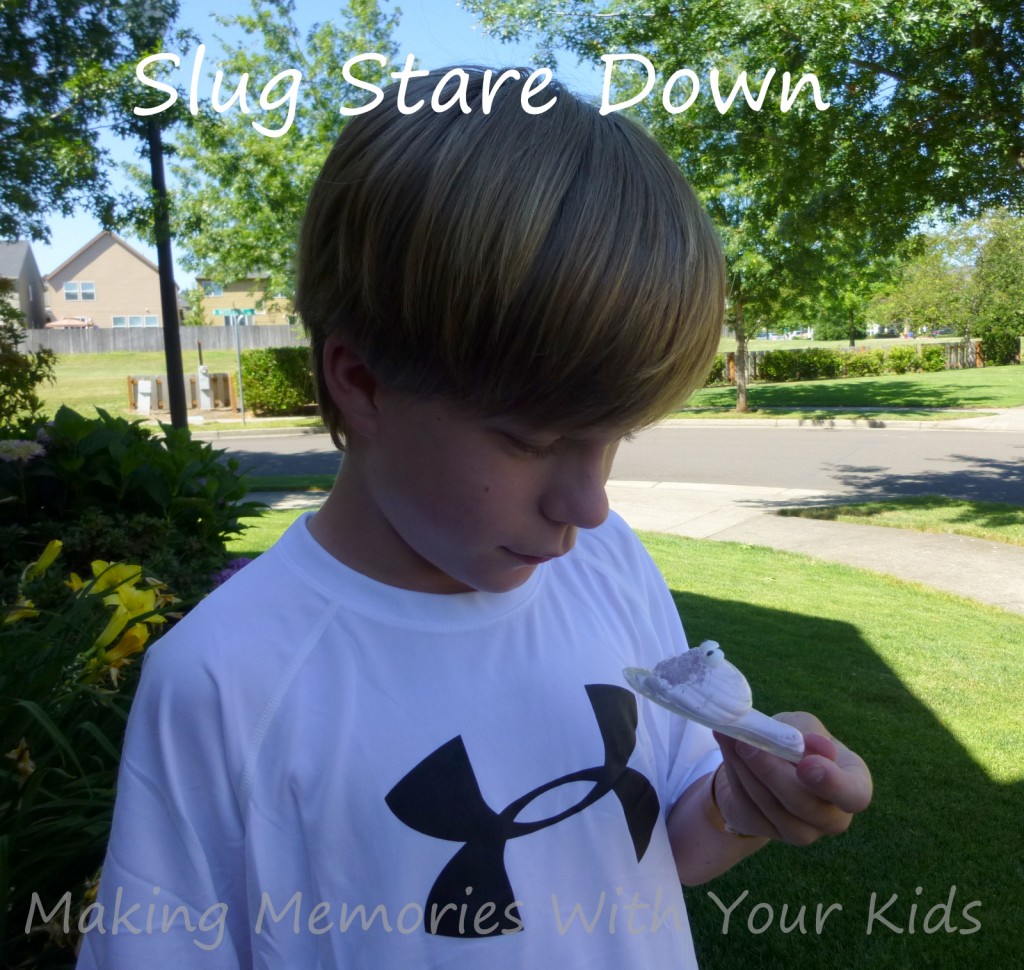 Guess who won?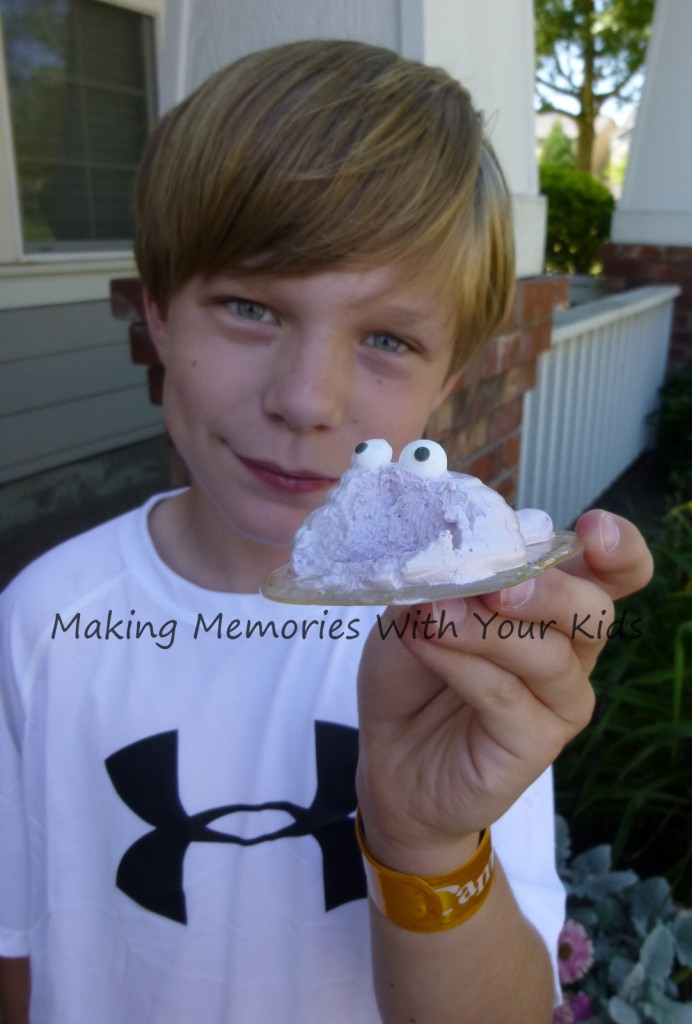 The verdict?  So much fun!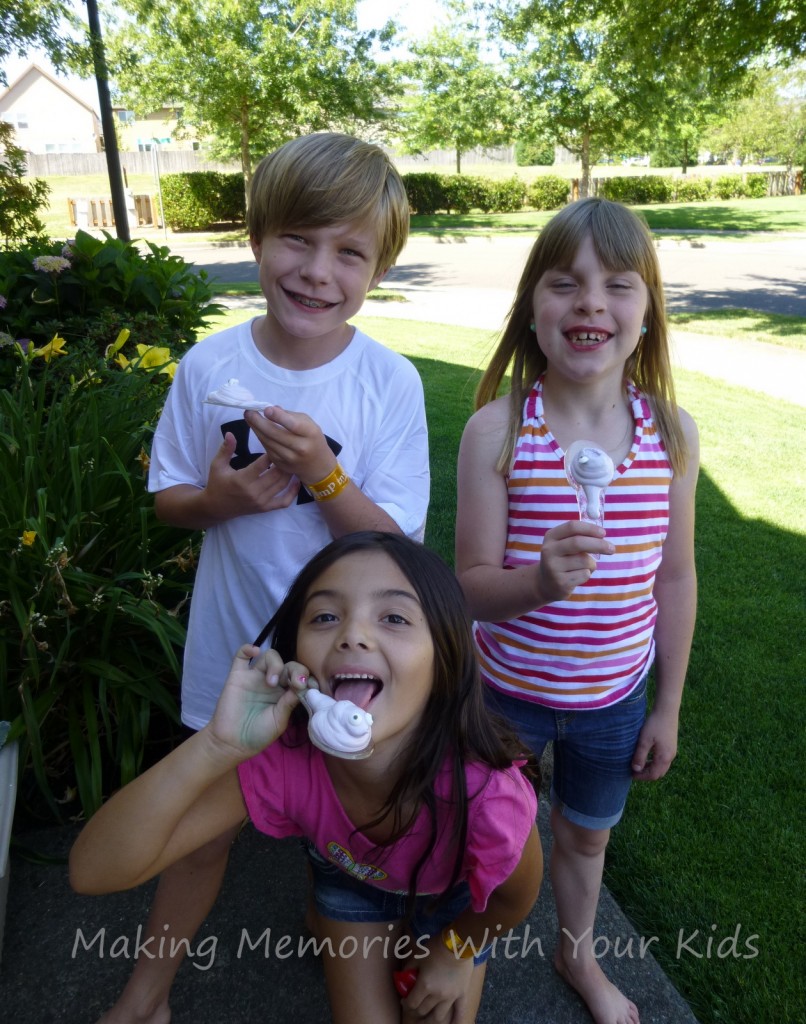 This poor fella is a little lopsided.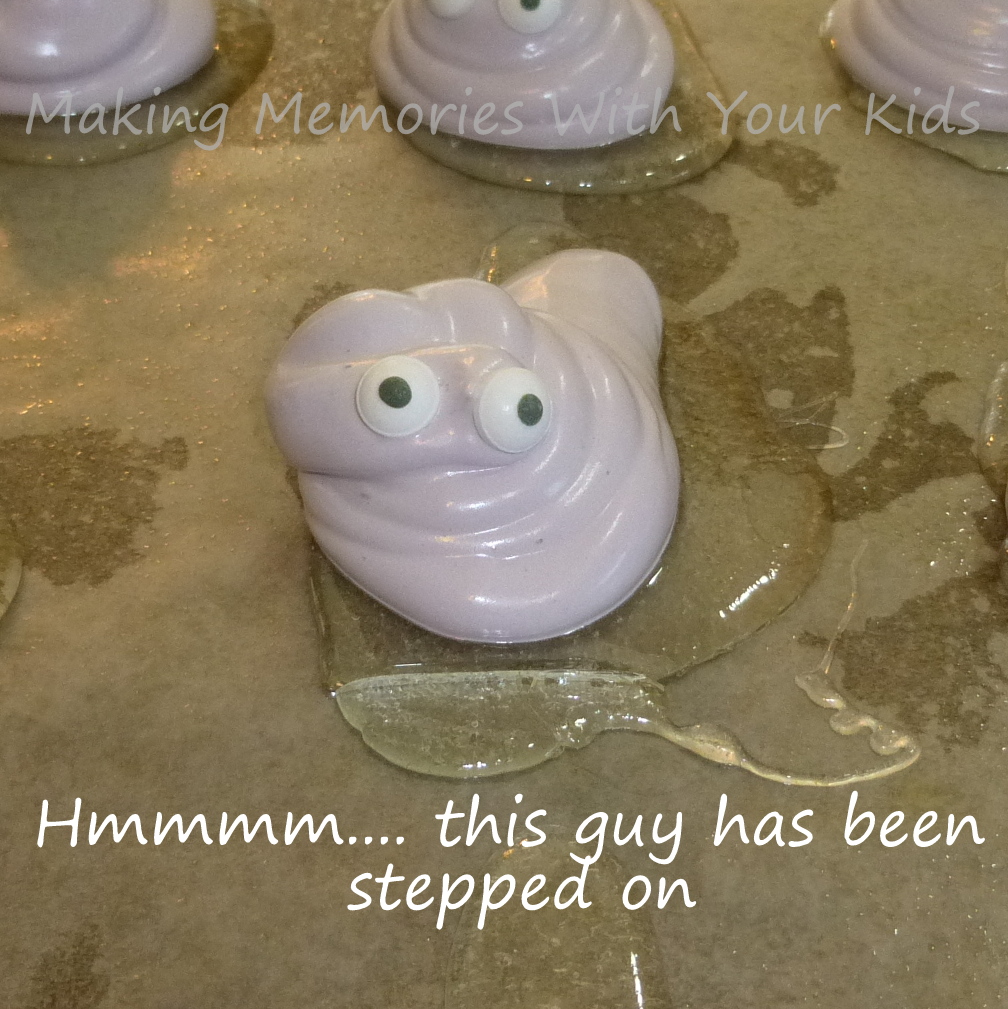 NOTE: No slugs were harmed in the taking of photos.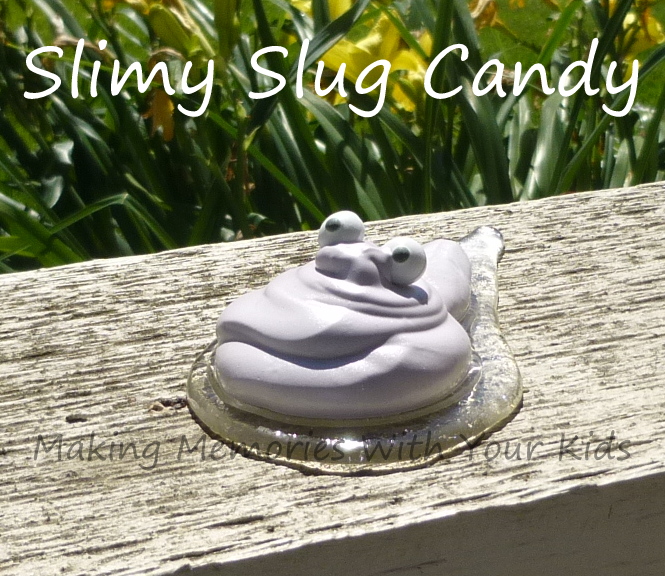 I'm linking to the parties located HERE.