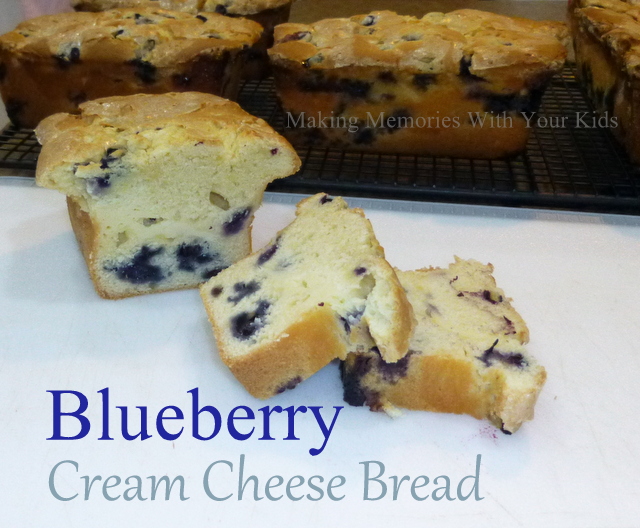 Every summer my Dad rents a big house at the beach and my brother, sister and I meet him there and have a great (and relaxing) long weekend.  We love it!  It's something my kids and I look forward too every year.  Life gets so busy these days.  It's nice to have some quality time together with family and sit and eat and talk.
About a month or so before we leave I start thinking of all the treats I'm going to bake.  I love cooking for people who appreciate it, and my Dad definitely appreciates it.  So I think and think and try to come up with some desserts that he would enjoy.  His absolute favorite is our Sour Cream Pound Cake.  But after a couple of years of making the same thing, I decided this year I was going to bring different treats.  I hope they don't mind.
The first thing I made to bring is this amazing Blueberry Cream Cheese Bread.  We've made this recipe before but without the blueberries.  Instead we added Cinnamon Chips.  Can you say AMAZING!  You can see that recipe HERE.  But my Dad gave me these delicious (and fresh) blueberries from his garden and I wanted to use them.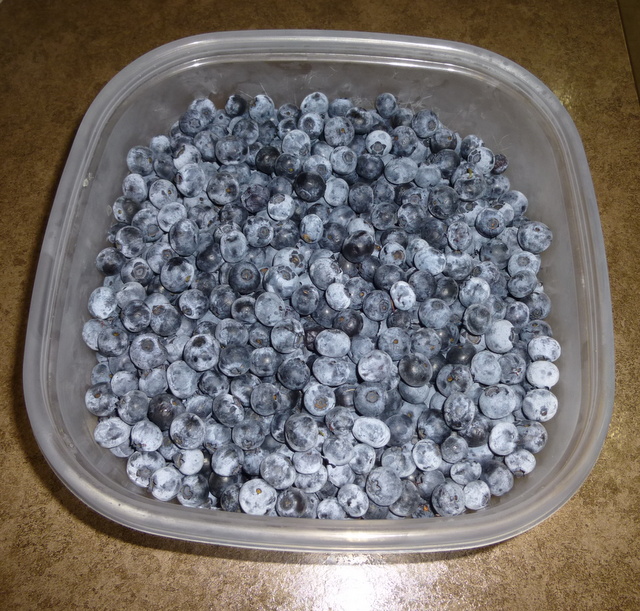 NOTE:  I doubled the recipe and baked them in 4 small loaf pans and one medium loaf pan.  I thought the smaller loaves would be easier to take out each day and I just love mini loaves.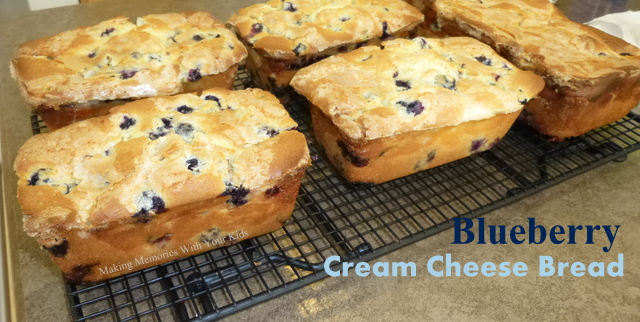 Make sure you read all of the directions before you start because there are quite a few steps.  But don't let that discourage you.  They are easy steps and oh, so worth it!
Blueberry Cream Cheese Bread
Ingredients
For the Bread

1/2 cup butter
1/2 cup sugar
1/4 tsp. salt
1 tsp. vanilla
2 egg yolks
1 1/2 cups flour
1 tsp. baking powder
1/3 cup milk
2 egg whites
1/4 cup sugar
1 1/2 to 2 cup fresh blueberries

For the Cream Cheese Filling

8 ounces cream cheese, softened
1/2 cup sugar
1 Tbsp. flour
1 egg

For the Glaze

2 Tbsp. sugar
1/2 tsp. vanilla
1 tsp. water
Instructions
Make the cream cheese filling first. Beat all of the ingredients until smooth. Set aside.
Make the glaze. Mix all ingredients and set aside.
In a large bowl, cream the butter and sugar together until light and fluffy. Add the vanilla and mix. Add the egg yolks (the whites will be used later so save them!) and mix well. Alternate adding the flour and baking powder and the milk. Mix after each addition.
In another bowl, add the blueberries and about 1 Tbsp. of flour. Gently stir to coat.
In another bowl, beat the egg whites until soft peaks form. Add the 1/4 cup sugar, 1 Tbsp. at a time, until egg whites are stiff. Fold the egg whites into the batter mixture. Gently fold in the blueberries. Stir.
Pour half of the batter into your prepared pans. Spread the cream cheese mixture over the batter and then top with the remaining batter. (You will have a cream cheese layer right on the middle. YUM!)
Bake in a 350 degree oven for 55 - 60 minutes.
Let cool completely before removing from pan.
http://makingmemorieswithyourkids.com/2013/08/blueberry-cream-cheese-bread/
 You will LOVE this bread.  It's super moist and almost tastes like a buttery pound cake.  Then add the layer of cream cheese filling and oh, man.