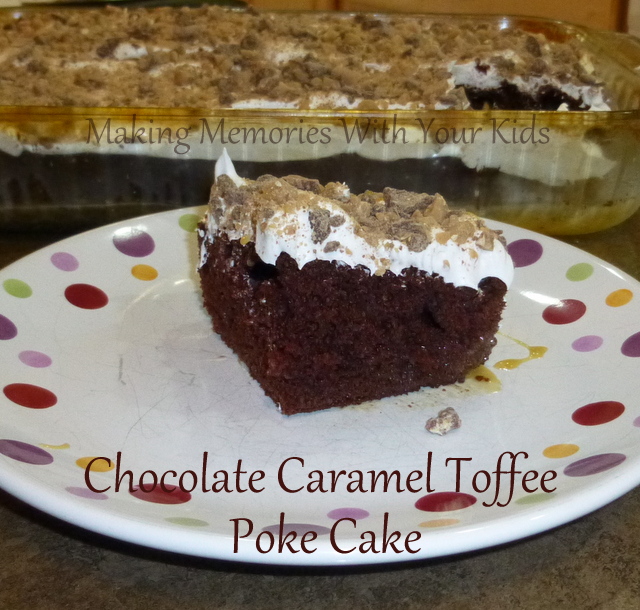 Poke cakes seem to be the thing right now.  I'm seeing them all over Pinterest and they all look so good.  Weren't they huge in the 70's?  Or was it the 80's?  And maybe they involved Jello.  I can't remember.  I never really got into the whole poke cake thing.  I think I always thought pouring liquid over cake would make it mushy and gross so I shied away.
After months of seeing them everywhere, I caved.  And what the heck was I thinking not making this sooner!  How can you go wrong with cake, sweetened condensed milk, caramel, whipped cream and Heath bits?  That's like a marriage made in heaven.
I'm so glad I finally made one of these creations!
Next time (oh yes, there will be a next time!) I am going to put more holes in the cake and closer together.  I loved the gooey parts!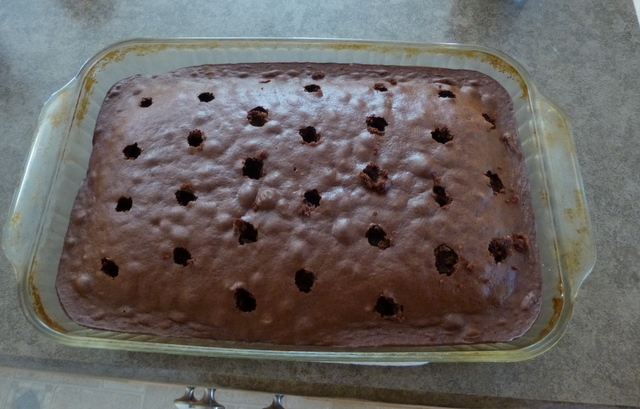 Look at all that goodness poured on top.
Heaven, right?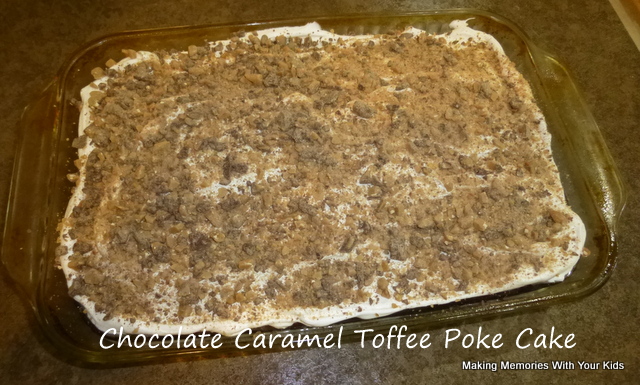 Recipe source: Iowa Girl Eats
Chocolate Caramel Toffee Poke Cake
Ingredients
1 box Chocolate Cake Mix (plus ingredients called for on back of box)
14oz can sweetened condensed milk
12oz jar caramel topping
8 oz container Cool Whip
1/2 of an 8 oz. bag of Heath Toffee Bits
Instructions
Make the cake following the directions on the box. (Bake in a 9x13 pan.)
Allow to cool slightly then use the bottom of a wooden spoon to poke holes halfway through cake, all over.
Drizzle sweetened condensed milk and caramel topping on top then let cake cool completely.
Spread cool whip over cooled cake then top with heath bits.
http://makingmemorieswithyourkids.com/2013/08/chocolate-caramel-toffee-poke-cake/
I make a lot of desserts.  I try them all, of course, but I don't necessarily eat a lot of them all.  I usually get tired of them quickly after making them.  It's strange, I know.  But this dessert?  Yeah.  I ate A LOT of it.  It was amazing!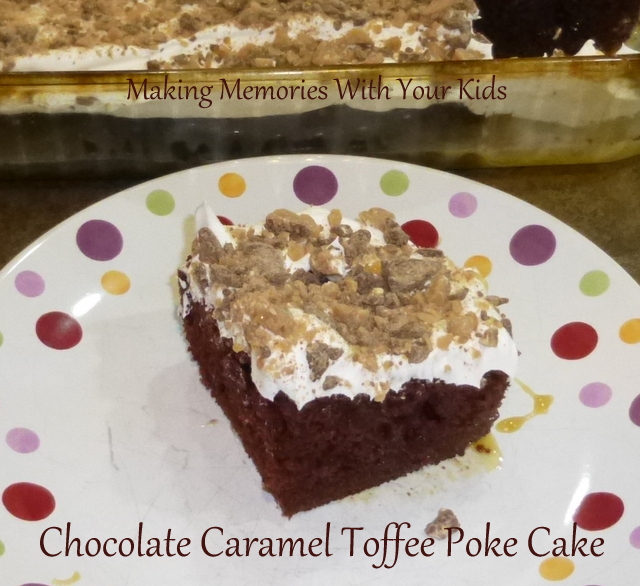 I'm hooked on this whole Poke Cake thing.  Now which one will I make next???
I'm linking to the parties located HERE.