I'm having one of those days.  You know.  The ones where the kids are all too loud and the arguing is about sending me over the edge.  Holy smokes!  As much as I love summer vacation, some days I want to pull my hair out.
I have my kids all summer.  Let me rephrase that.  I have my kids ALL FREAKING SUMMER LONG.  They don't really go to friend's houses because we've always been the house.  Everyone comes here.  And normally that's pretty cool.  I get to see what the kids are doing and make sure they are all appropriate.  (Because seriously, some of the stuff that comes out of their friend's mouths floors me!  Where do they learn this stuff?!?!)   But this is one of those days that having everyone here is driving my nuts!  So… I'm making cookies.  Because cookies make me happy.
My son absolutely loves everything Oreo.  I think he got that from me because I'm right there with him.   I've  had these Hershey Cookies'n'Creme Drops in my cabinet for a little while and I wanted to use them.  I thought I had 2 bags of them.  Huh.  I'm thinking my son discovered them and gobbled them up.  So, we made due with just one bag.  (This recipe would definitely be better with 2 bags.)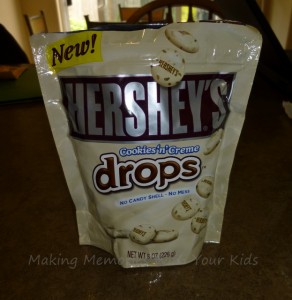 I was looking for a good chocolate cookie recipe and found this one on Baking Bites.  I changed it up just a little bit, adding the Hershey Cookies'n'Creme Drops and white chocolate chips instead of Oreo cookies and dark chocolate chips.
These were delicious.  My son loved them and my co-workers gobbled them up pretty quickly.
Chocolate Cookies and Cream Cookies
Ingredients
2 cups all purpose flour
1/2 cup cocoa powder
1/2 tsp salt
1 tsp baking soda
1/2 tsp baking powder
1 cup butter, room temperature
3/4 cup sugar
3/4 cup brown sugar
2 large eggs
1 tsp vanilla extract
1 bag of Hershey Cookies'n'Creme Drops
1 bag white chocolate chips
Instructions
Preheat oven to 350F. Line a baking sheet with parchment paper.
In a medium bowl, sift together flour, cocoa powder, salt, baking soda and baking powder.
In a larger bowl, cream together butter and sugars. Beat in eggs one at a time, followed by vanilla extract. With the mixer on low speed, stir in the flour mixture, mixing just until no streaks of dry ingredients remain. Stir in white chocolate chips and Hershey drops.
Drop 1-inch balls of dough onto prepared baking sheet, allowing a little room for cookies to spread.
Bake for 9-11 minutes, until cookies are set at the edges.
Cool on baking sheet for 2-3 minutes, then transfer to a wire rack to cool completely.
http://makingmemorieswithyourkids.com/2013/08/chocolate-cookies-and-cream-cookies/
And yes, these cookies made the day a little bit better.
I'm linking to the parties located HERE.