This month my Secret Recipe Club assignment was White Light on Wednesday.   I've been following Julie's blog for some time now.  'Cause it's awesome!  Julie loves to cook, bake and eat.  She's obsessed with bread, she has a great sense of humor, and always has chocolate chip cookie ingredients on hand.  I think she is a long lost cousin of mine 🙂  So I was pretty pleased when I found out it was her blog I was going to stalk  make something from.
It was tough to narrow it down to just one recipe.  Did you know Julie has an entire index on her blog devoted to bacon recipes?!  We love bacon!
Her Wedge Salad with Homemade Blue Cheese Dressing was the first thing I picked out.  It looked amazing!  But then I saw her Hissy Fit Dip and decided to make that.  But then I realized I'd eat the entire thing myself and figured that wasn't a good idea.  Then I found her Red Lobster Cheddar Bay Biscuit Knock Off recipe and knew that was going to be it.  I am also obsessed with bread and they looked wonderful!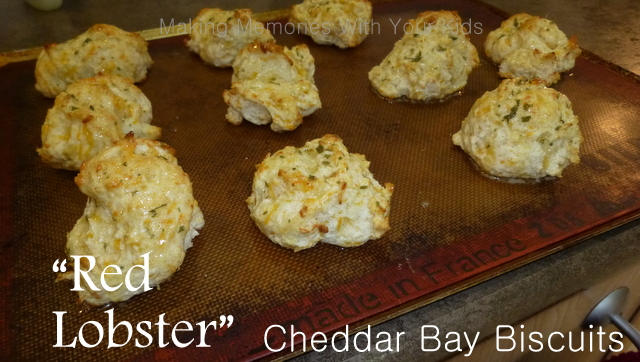 I'll be honest, I've never had Red Lobster's Cheddar Bay Biscuits so I can't tell you if they are the same.  And I'm not a big Bisquick fan so I wasn't totally sure what I was getting myself into.  But holy heck!  They were awesome!  Seriously AWESOME!  The melted garlic butter brushed on top pushed these biscuits "over the top".  They were crispy and buttery on the outside and soft and cheesy on the inside.  They are my new favorite dinner roll to make (and I've made them twice in the past week!)
My confession, though, I doubled the cheese.  'Cause I love cheese.  But you don't have too.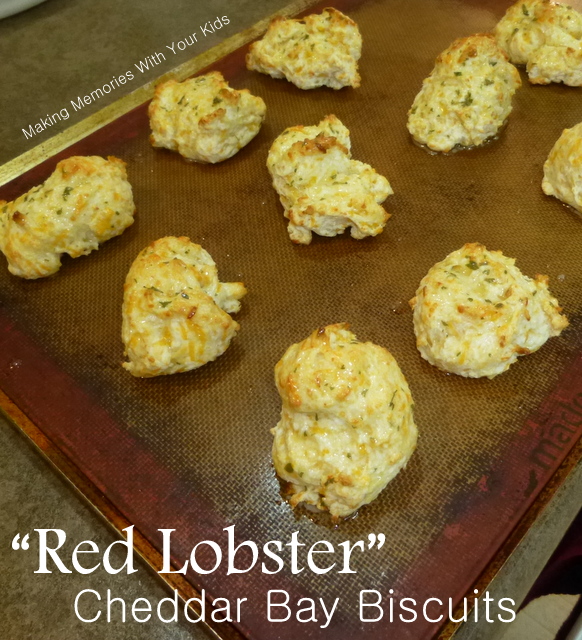 Don't they look mouth watering?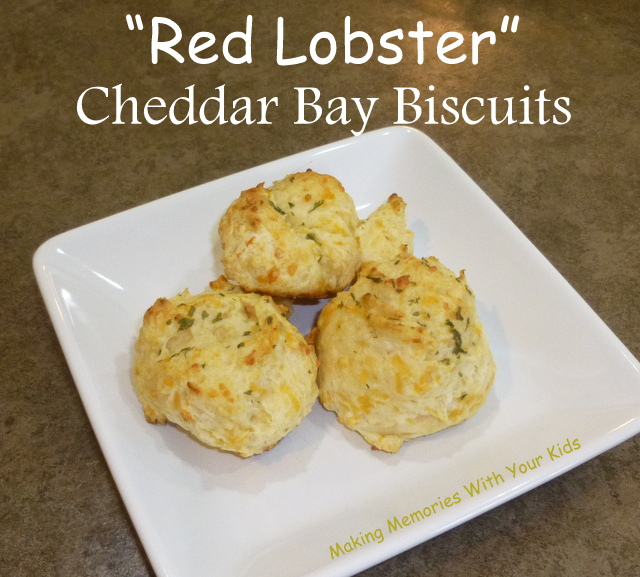 A friend said they tasted just like Red Lobster's.  That was good to hear.  All I know?  I loved them!
Knock Off Red Lobster Cheddar Bay Biscuit
Ingredients
2 cups Bisquick
2/3 cup milk (add a little more if it's too dry)
½ cup shredded cheddar cheese (I used 1 cup)
¼ cup butter, melted
¼ teaspoon garlic powder
¼ teaspoon dried parsley
Instructions
Preheat oven to 400 degrees F.
Mix Bisquick, milk, and cheddar cheese until a soft dough forms, then beat vigorously for 30 seconds. Drop by rounded spoonfuls onto a greased cookie sheet. You don't have to worry about shaping them, biscuits will retain their shaped through out baking.
Bake 10 to 12 minutes.
Mix melted butter, garlic powder, and parsley. Brush generously over warm biscuits before removing the from the cookie sheet. Serve warm.
http://makingmemorieswithyourkids.com/2013/08/knock-off-red-lobster-cheddar-bay-biscuits/