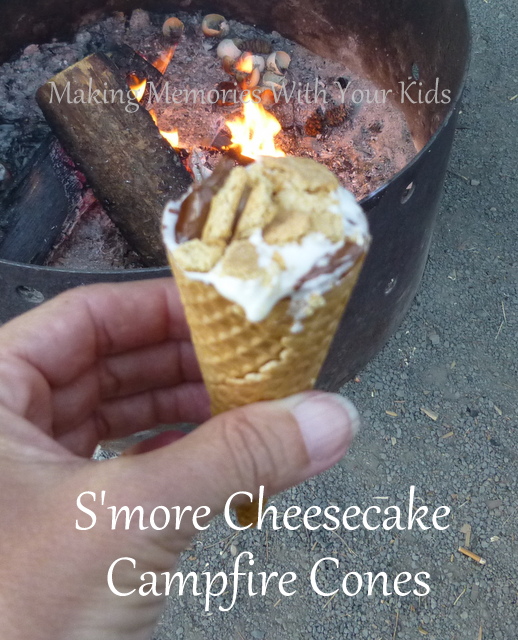 My kids and I just returned from our final camping trip of the summer (sad sigh.)  This is where I wish I had a little camper so we could camp more than just 3 months each year.
Over the years I've figured out what camping meals are good ones, and which ones are just a ton of work.  I don't really like the ton of work ones.  When we go camping I want to relax too, not cook and clean all day.  Sheesh.  Am I right?!?!
I've also seen a ton of Campfire Cone recipes out there in blogland.  They vary from s'more mixings (marshmallows and chocolate) to fruit and nuts and all sorts of interesting concoctions.  But I wanted to do something more than just the traditional s'more.  So, what did I do?  I added a cheesecake twist to it of course.
I made the cheesecake filling at home before we left and put it in a tupperware bowl and in the cooler.  This will make it easier when you are camping and you don't have to mix it all up.
Simple enough, right?  Sugar ice cream cones, marshmallow cheesecake filling, chocolate chips and crushed graham crackers.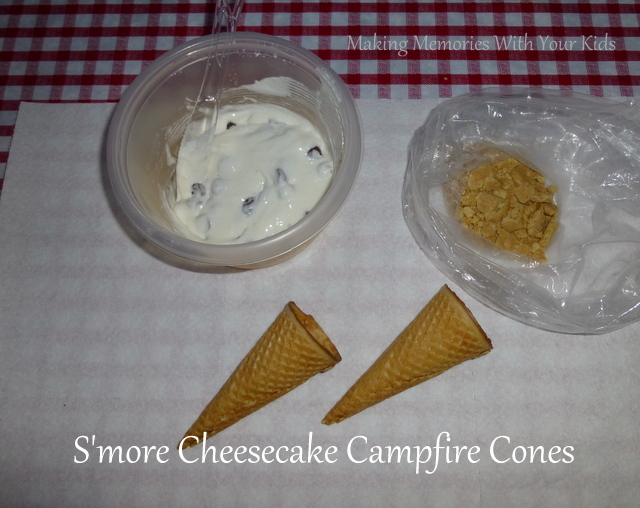 Fill your cones up with the marshmallow cheesecake filling and then top with crushed graham crackers.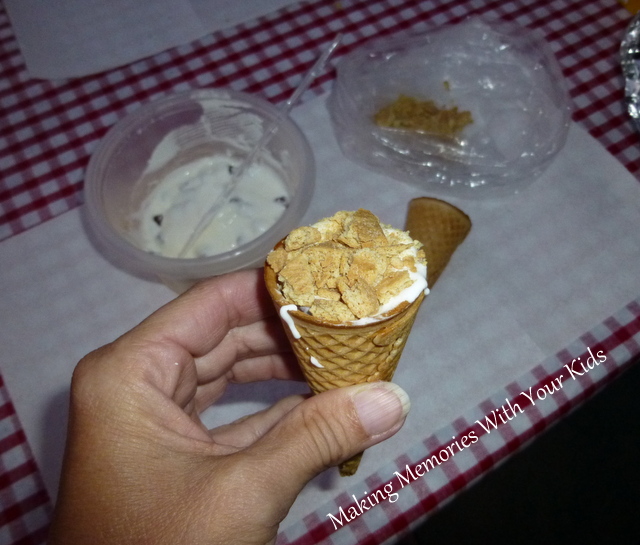 Wrap your cone in aluminum foil, then wrap a wet paper towel around the foil and wrap in foil again.  The wet paper towel prevents the cone from burning.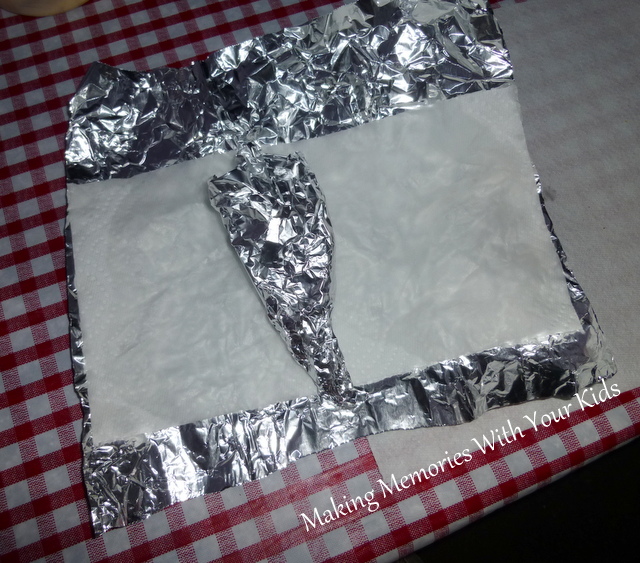 Now place either near your hot coals or on a campfire grate and wait.  Make sure you turn them every so often to get them nice and hot all the way through.
The chocolate melts and the marshmallow cheesecake gets all gooey and absolutely sinfully delicious!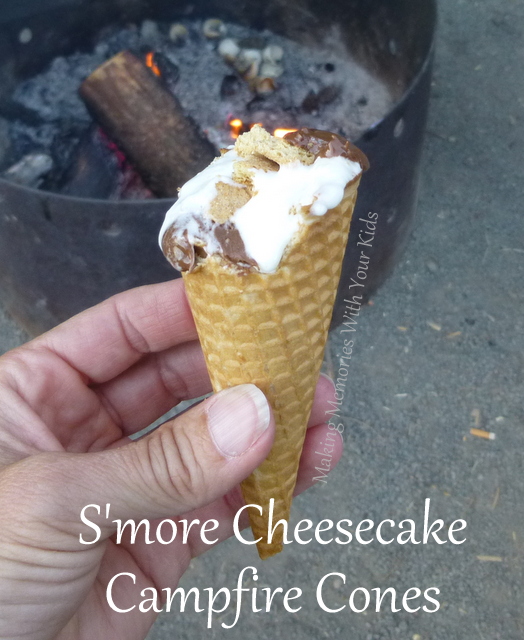 I loved the crushed graham crackers on top too.  They stayed crunchy and added a nice texture and flavor.  It tasted like you were eating a s'more only WAY better.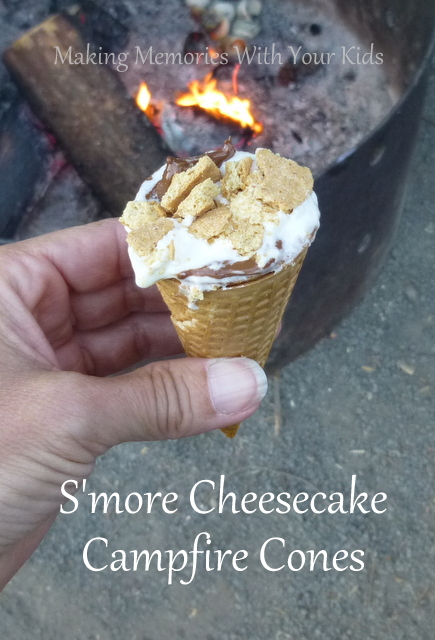 We've made a lot of pretty delicious campfire desserts, but these just might be my favorite!  They were amazing!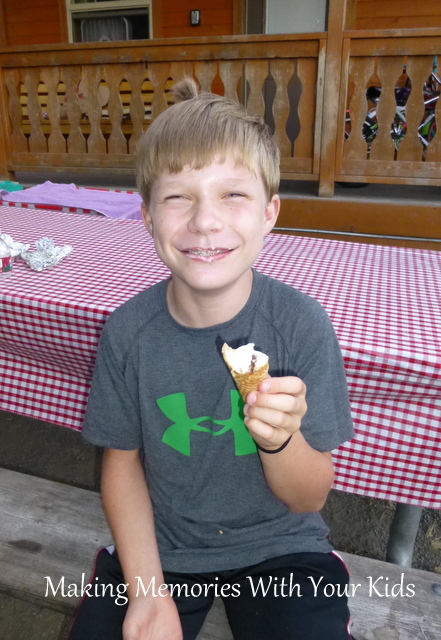 S'more Cheesecake Campfire Cones
Ingredients
Sugar cones
Milk chocolate chips

For the Filling

3 ounces cream cheese, softened
6 Tbsp. sugar
1 7 ounce jar Marshmallow Creme
Instructions
For the filling

Mix the cream cheese, sugar and marshmallow creme in a bowl. You can do this ahead of time and take it with you (much easier!)

For the Cones

Mix your milk chocolate chips in your cheesecake filling.
Fill each cone with filling.
Wrap in aluminum foil
NOTE - If you wrap a wet paper towel around the cone after you wrap it in foil and then wrap another layer of foil on it, the cones won't burn.
Place on your fire grate and cook for about 5-7 minutes (depending on the heat of your fire.) Rotate a couple of times.
http://makingmemorieswithyourkids.com/2013/08/smore-cheesecake-campfire-cones/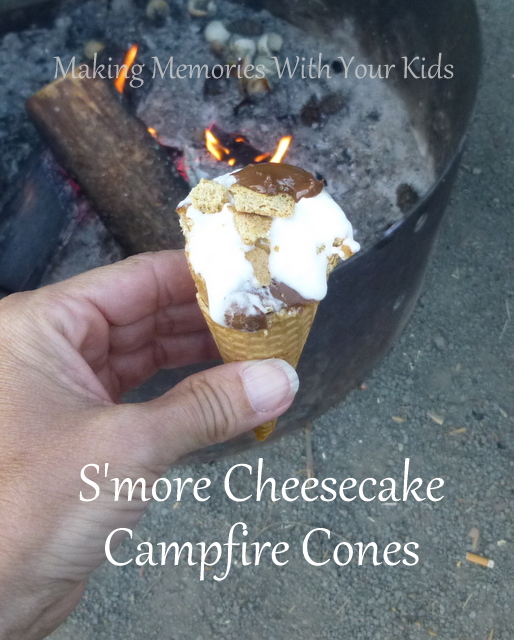 It's a shame we're not going camping again until next June.  We might have to buy a fire pit to put in the backyard just so we can make these.