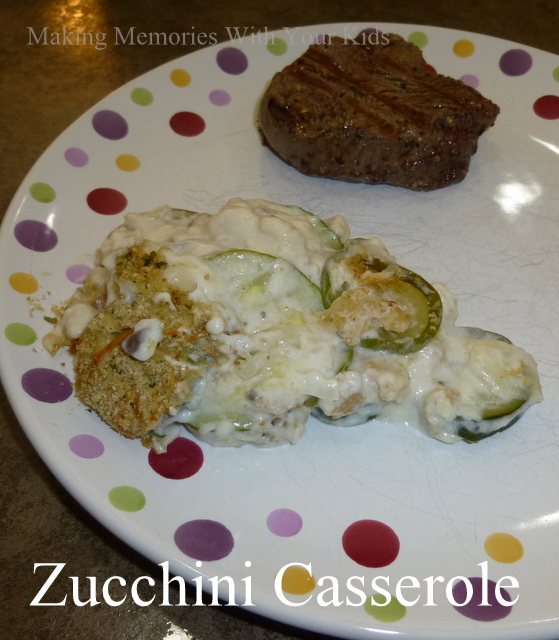 Here's another absolutely delicious zucchini recipe for you.  I posted 2 different recipes.  The first is the recipe I made.  Oh so delicious!  The second recipe is the Weight Watchers version if you don't want as many calories but you still want to try this dish.  Go for it.  Seriously!  It's amazing!
I found the Weight Watchers version all over Pinterest.  It looked so good I wanted to make it, except I substituted some of the ingredients.  I probably should have made the Weight Watchers version since I ate so much of this!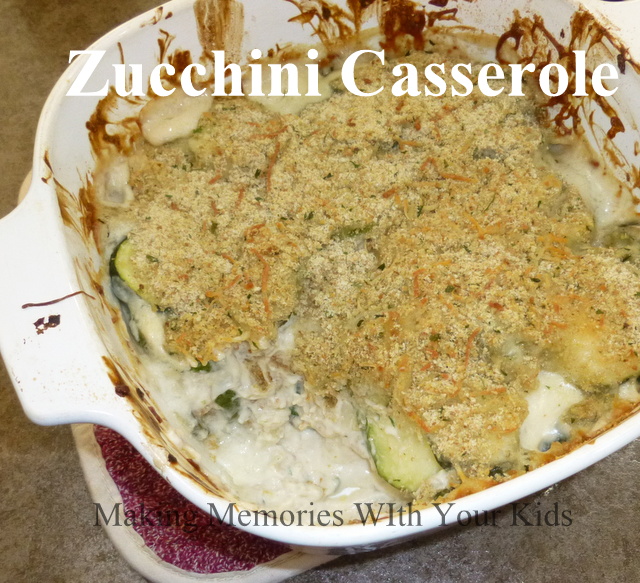 Ingredients
2 Tbsp. butter
4 medium zucchini, sliced
1/2 cup sweet onion, chopped
1 can cream of mushroom soup
1 cup sour cream
1 cup mozzarella cheese
1/2 cup Italian Bread Crumbs
Instructions
Preheat oven to 350 degrees
In a large saute pan, add 2 Tbsp. butter and melt. Add the sliced zucchini and chopped onion. Saute for about 3 minutes. Stir. Cover and cook for an additional 5-7 minutes.
In a casserole dish, mix the sour cream, cream of mushroom soup and 1/2 cup of cheese.
Slowly stir in the zucchini and onions.
Sprinkle the remaining 1/2 cup of cheese on top and then bread crumbs.
Bake for 30 minutes
http://makingmemorieswithyourkids.com/2013/08/zucchini-casserole/
Here's the recipe for the Weight Watchers version.
Zucchini Casserole - Weight Watchers
Ingredients
3 ½ tablespoons light butter, divided
4 medium zucchini, sliced into 1/4" slices
½ cup diced onion
½ cup shredded carrots (optional)
10.75 oz can of 98% fat free Cream of Mushroom Soup
½ cup fat free plain Greek yogurt
2 cups Pepperidge Farm Herb Seasoned Stuffing Mix, divided
Instructions
Preheat the oven to 350.
In a large saute pan or skillet, bring 2 tablespoons of butter over medium heat until melted. Add the onion, zucchini, and carrots and saute for 3-4 minutes. Cover the pan and cook for an additional 5-6 minutes until the zucchini and summer squash are tender.
Remove the squash mixture from heat and stir in the cream of mushroom soup, yogurt, and 1 ¼ cups of the stuffing until well combined. Transfer the mixture to a 2 QT casserole dish.
Melt the remaining 1 ½ tablespoons of butter in a medium bowl and combine with the remaining ¾ cup of stuffing mix. Sprinkle the stuffing across the top of the zucchini mixture in the casserole dish.
Bake for about 30 minutes and serve warm.
http://makingmemorieswithyourkids.com/2013/08/zucchini-casserole/
You can read more about the nutritional information HERE on Emily Bites.
ENJOY!