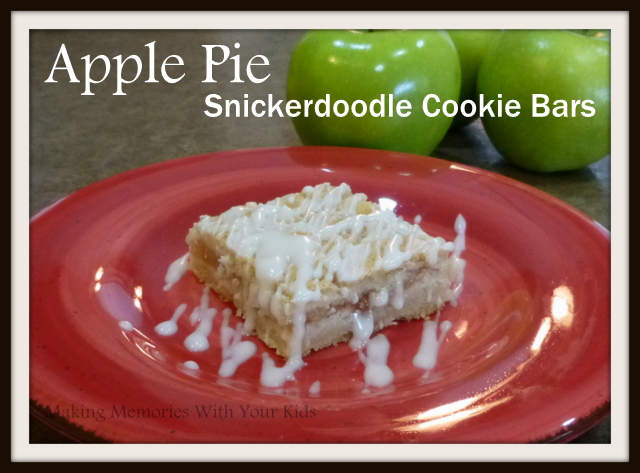 Can you say "perfect combination"?  Apple pie meet snickerdoodles.  Heaven!
I knew these bars were going to be good but when I took them out of the oven and smelled their apple cinnamon-y goodness, I knew I was in trouble.  I wasn't going to work for 2 days.  2 days of being alone in the house with these bars.  It was good.  Well, yes it was.  It was purely delicious!  But, so much for cutting back on calories.
I changed up the recipe just a little bit.  Shaken Together made them in an 8×8 pan.  8×8?  I would have that gone in about 2 days.  So I made them in a 9×13 pan and added frosting.  Because, if you know me at all you know my thought that frosting makes everything better.
You could use any type of pie filling.  I think my Dad would go ga-ga over peach Peach Pie Snickerdoodle Cookie Bars.  But I'm an apple pie fan so that's what we chose for this round.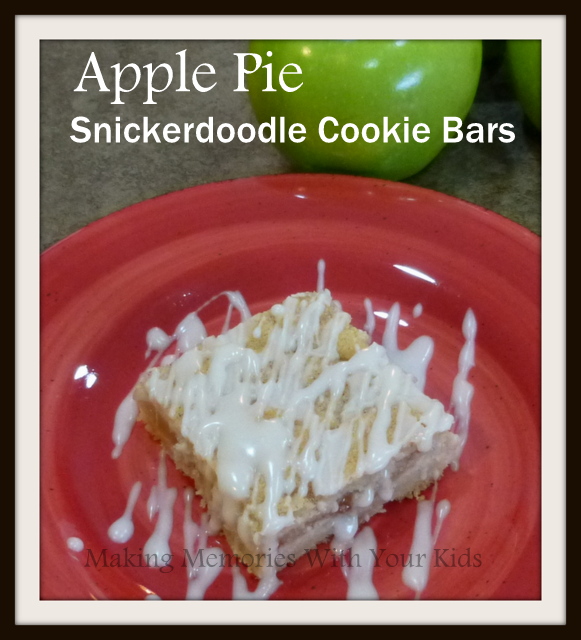 And were they good!  (That's a statement, not a question.)  The cookie was a nice change from pie crust.  Don't get me wrong, I love pie crust, but the cookie added a great flavor and with the cinnamon and sugar – delish.
Enjoy!
Apple Pie Snickerdoodle Cookie Bars
Ingredients
Two 16.5 oz. Pillsbury Sugar Cookie Dough (or make your own)
1 can apple pie filling
1/4 cup sugar
4 tsp. cinnamon
1/2 cup powdered sugar
1/2 tsp. vanilla
2-4 Tbsp. milk (depending on how thick you want your frosting)
Instructions
Preheat oven to 350 degrees.
Line a 9x13 inch baking dish with parchment paper. Spray with non-stick cooking spray.
Press 1 and 1/4 of the second tube of the cookie dough into the bottom baking pan.
Combine the cinnamon and sugar.
Sprinkle 2/3 of the cinnamon sugar over the cookie dough.
Spread the apple pie filling over the cookie base.
Take small amounts of the remaining cookie dough, flatten it slightly and place over the pie filling. It will not cover the pie filling completely.
Sprinkle with the remaining cinnamon sugar mixture.
Bake until the cookie dough is baked and slightly golden brown, about 35-40 minutes.
Allow bars to cool.
Add the vanilla to the powdered sugar and mix well. Slowly add some milk until it is the consistency that you want to pour on the bars. You don't want it too thin. Pour over bars and let sit for a little while to set.
http://makingmemorieswithyourkids.com/2013/09/apple-pie-snickerdoodle-cookie-bars/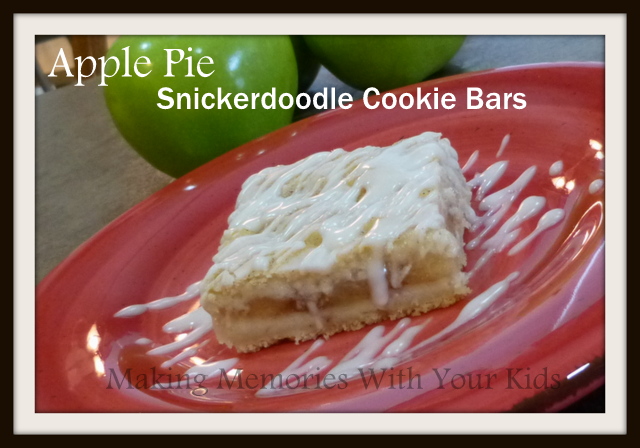 We're partying at the linky parties found HERE.