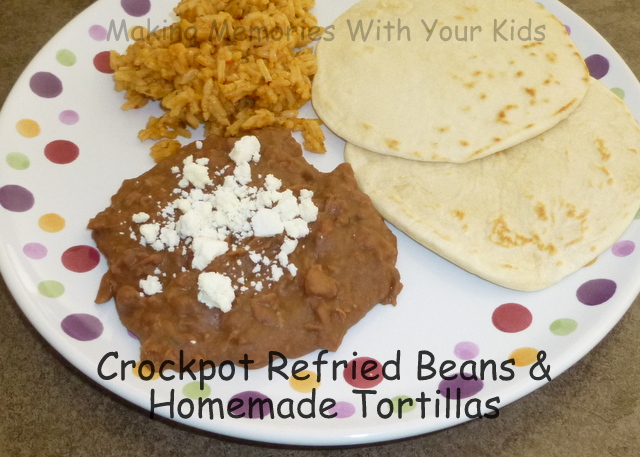 I'm pretty sure I could eat Mexican food every day.  We have some of the best authentic Mexican restaurants in the town that I live in.  Authentic Mexican food, not American Mexican food.  There's a huge difference.  And when the weather starts to change and it gets cooler outside at night, I just feel like cooking in my crockpot.  I love it.  There's just something about coming home from work and having the house smell amazing.  And all the work is done when you get home.  Bonus!
This is one of those "why didn't I make these sooner" recipes.  Both were delicious and made the perfect meal, along with some Mexican Rice.  I found this recipe on Frugal Living NW.  I love that site for couponing but who knew they would have recipes too.
Refried beans are so easy to make and so healthy.  They are basically spices and beans.  You can add meat to them if you want to make it more of a meal, but without is great too.  I could eat them by the bowlful!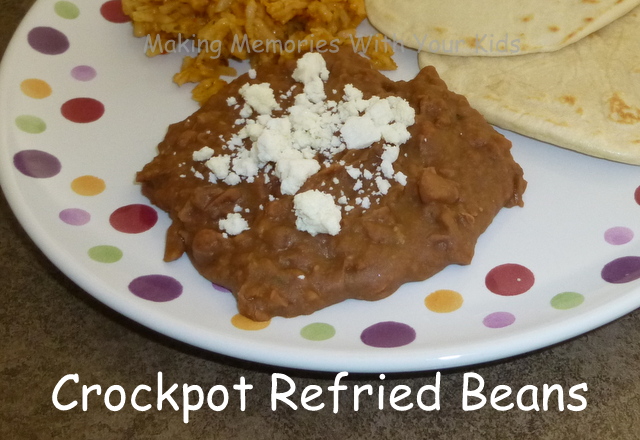 Of course I took the pictures before I loaded my plate with guacamole and sour cream.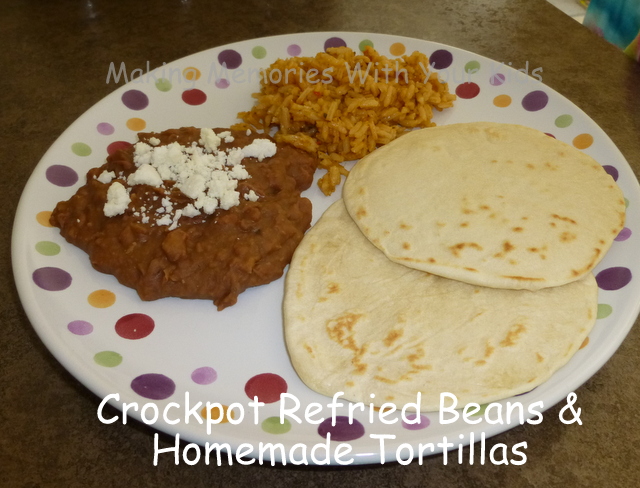 Ingredients
1 lb. pinto beans
water
3-6 cloves garlic
1 T. chili powder
1 t. oregano
1 T. cumin
salt to taste
2 slices thick cut bacon
Cotija Cheese (optional)
Instructions
Wash your beans and sort through them to make sure there's not anything in there you don't want to eat. I bought pretty high quality beans so this wasn't an issue. But you never know.
Cover the beans with about 3 inches of water and let soak overnight.
Rinse the beans and pour them in your crock pot. Cover with about 2 inches of water. (You could also use chicken stock to add more flavor.)
Lay 2 (or more) pieces of uncooked bacon over your beans.
Add all of your spices and cook on low heat for 12 hours or more. (I cooked mine for about 18.)
If you like your beans whole, then you're done!
Otherwise, mash up your beans with a potato masher. The bacon will be so cooked that it will just mash up right with your beans.
If your beans are too thick, add a little water or chicken stock to thin.
Sprinkle with Cotija cheese.
Serve with warm tortillas.
http://makingmemorieswithyourkids.com/2013/09/crock-pot-refried-beans-and-homemade-tortillas/
You can't have beans without tortillas.  A friend of mine makes torillas all the time and they are so good.  So my daughter and I thought we'd give it a try.
So darn easy!  I'm hooked!  And it's the perfect job for a little helper in the kitchen.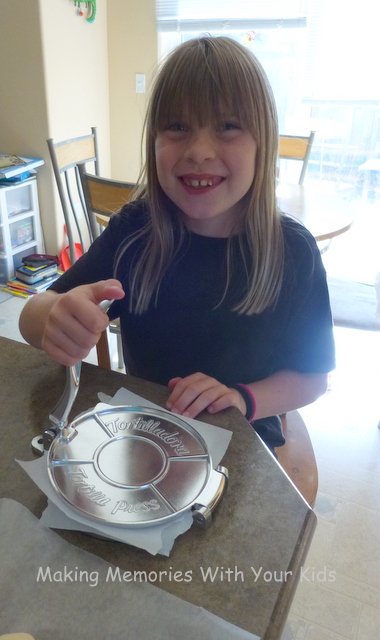 Don't they look good?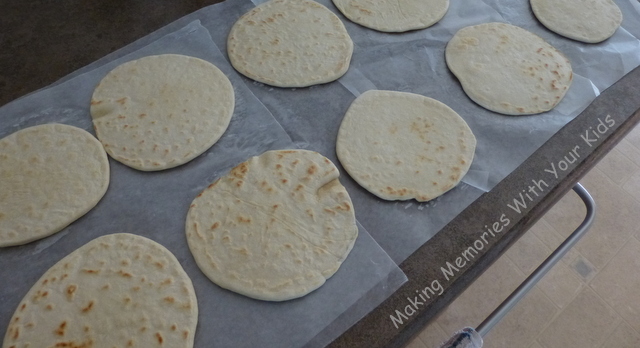 Ingredients
4 cups all purpose flour
1 tsp. salt
2 tsp. baking powder
2 Tbsp. lard or shortening
1 1/2 cups water
Instructions
Whisk the flour, salt, and baking powder together in a mixing bowl. Mix in the lard with your fingers until the flour resembles cornmeal. Add the water and mix until the dough comes together; place on a lightly floured surface and knead a few minutes until smooth and elastic. Divide the dough into 24 equal pieces and roll each piece into a ball.
Using a tortilla press, place one ball of dough on a piece of parchment paper and then on your press. Cover with another piece of parchment paper. Press down until desired thickness.
Preheat a large skillet over medium-high heat. Place tortilla into the hot skillet, and cook until bubbly and golden; flip and continue cooking until golden on the other side. Place the cooked tortilla in a tortilla warmer; continue rolling and cooking the remaining dough.
If you don't have a tortilla press, you can roll the dough out with a rolling pin.
http://makingmemorieswithyourkids.com/2013/09/crock-pot-refried-beans-and-homemade-tortillas/
The best part?  They freeze great (both the beans and the tortillas) so I can just take out a container of beans and some tortillas and leave for work.  BY the time lunch rolls around the beans are thawed and I have a great, protein packed lunch.
We're linking to the parties HERE.