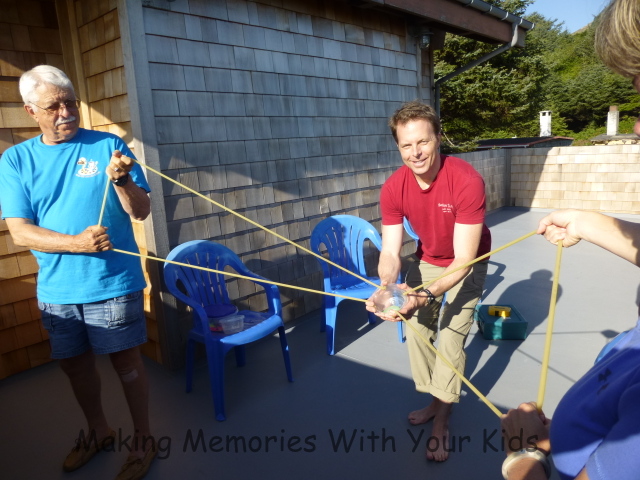 I don't care how old you are, this one is a MUST for everyone.  Because what do you do when you're bored?  Why, launch water balloons, of course.  At least if you're in my family you do.
I remember years ago when my brother came home from college for a break.  We all went to the beach for the weekend and he pulls out this contraption.  Immediately my Mom is nervous.  Because with my brother, you never know.  (This is the guy who built a potato shooter using CO2.  It was both awesome and scary.)  But he pulls out this thing and starts filling up water balloons.  He takes us out tho the balcony that over looks the beach and says "here, hold this right here."  He proceeds to show us how to launch water balloons 100 plus feet onto the beach.  It was awesome!  We laughed until we almost peed.  Seriously.
Fast forward to this summer, almost 20 years later.  I called my brother up and asked if he would make a water balloon launcher for my kids.  We were all heading to the beach again and I thought this would be the perfect "craft" for us all to do.
Super simple to make.  You'll need about 12 feet of surgical tubing and a sturdy (thick) plastic bowl.  That's it.  Oh yeah, and as endless supply of water balloons.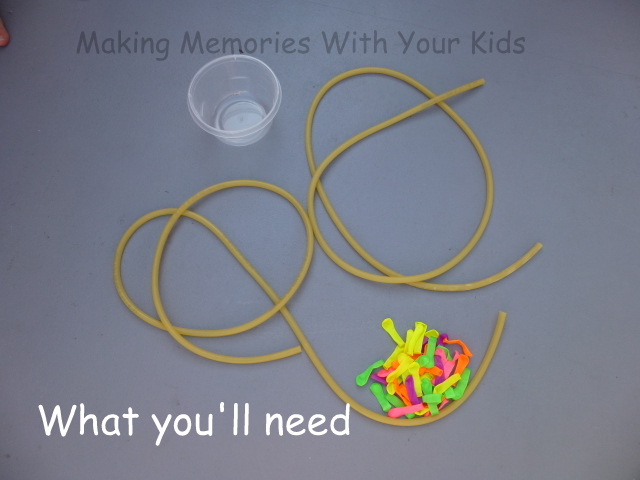 You'll also need a drill and a couple of matches.
Drill 4 holes in the plastic bowl (two on each side) like this: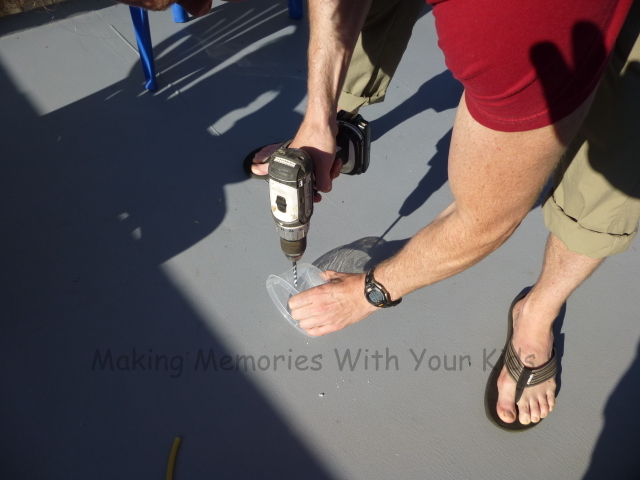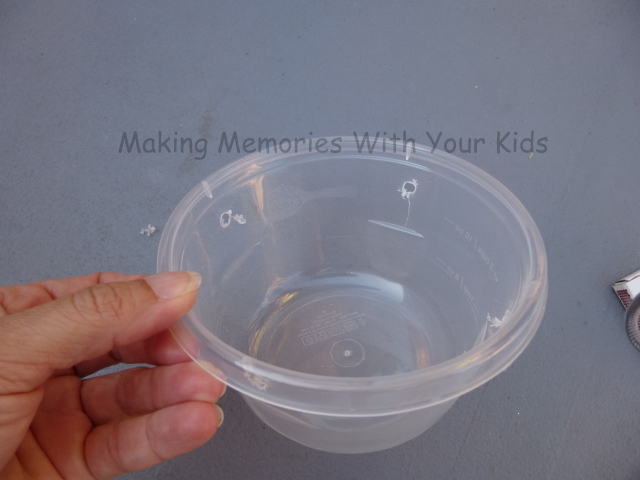 Light a match and insert the lit match into each hole to melt a little bit of the plastic.  This step is important because the plastic will cut the tubing if it has sharp edges.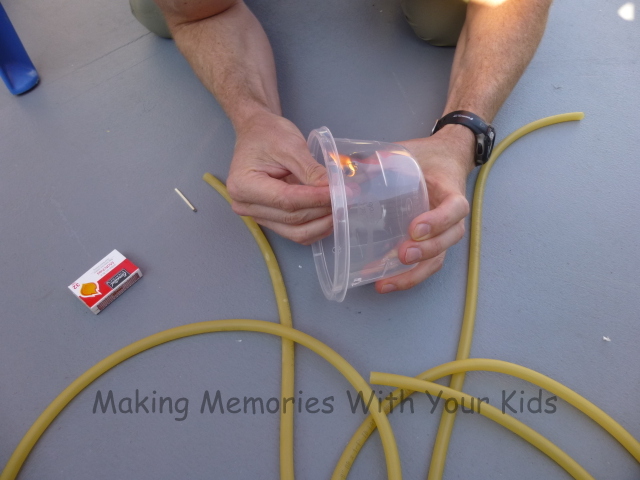 Cut the surgical tubing in half and tie the tubing into the bowl like this: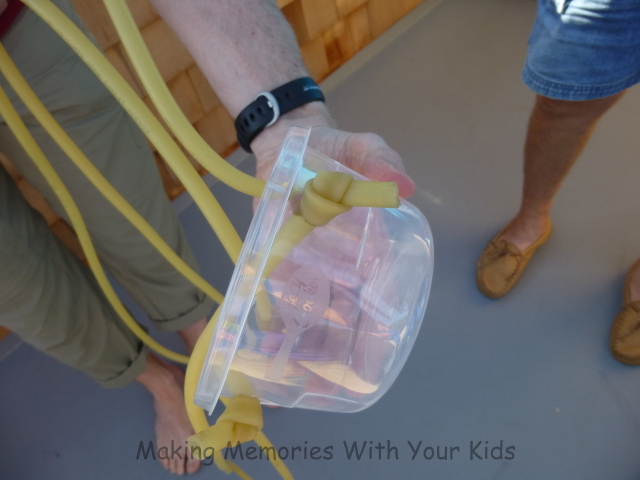 Fill up your water balloons and get ready for the fun!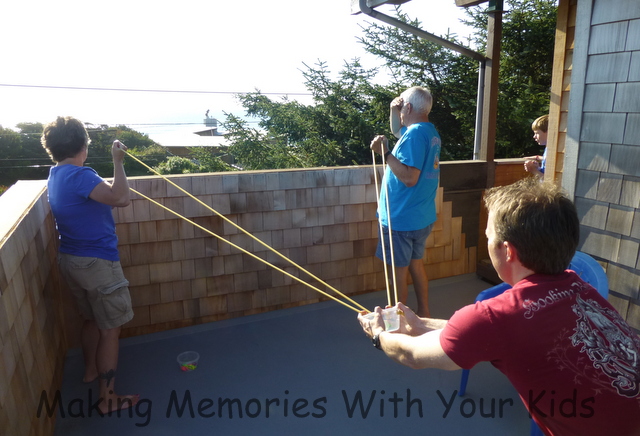 Yes, we launched them from the deck.  The lot across the street was empty and then there was the beach.  They sailed across the lot!
Two people need to hold onto the tubing.  (Turn your head just in case the tubing breaks – which it never has – but we're all about safety in my family.)  One person pulls back…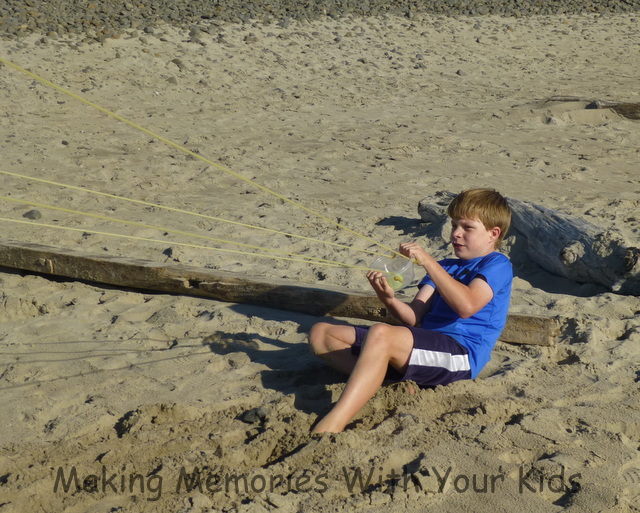 And, holy smokes!  Look out!  That sucker flies!
We decided to take it to the beach to see just how far we could launch them.  Even my Dad had fun!
I'm not sure who had more fun with this, my kids or all the adults!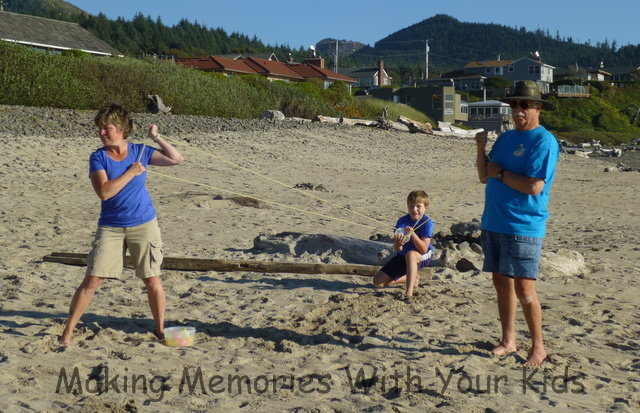 Do you see the blur of red?  That's the water balloon flying through the air.
We made a launch line so we could see who could launch them the farthest.  My brother won, of course.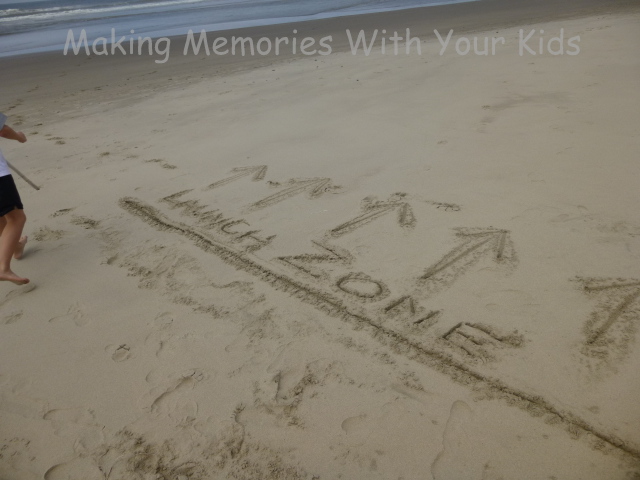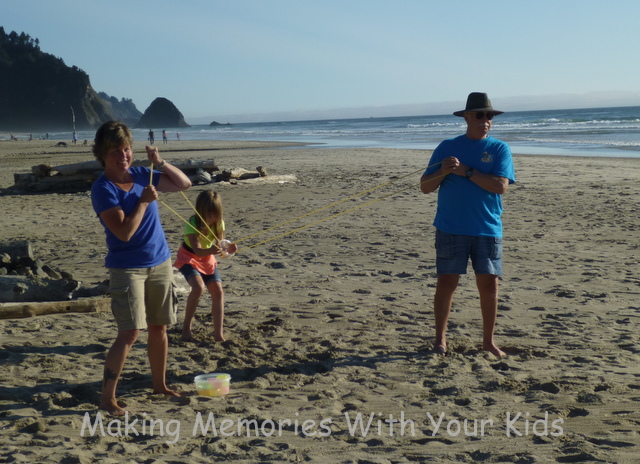 Note – don't try to catch them.  They hurt like the dickens when they hit your hand.  (This was one of those hand to forehead moments for us adults.)  But the splat mark was pretty cool.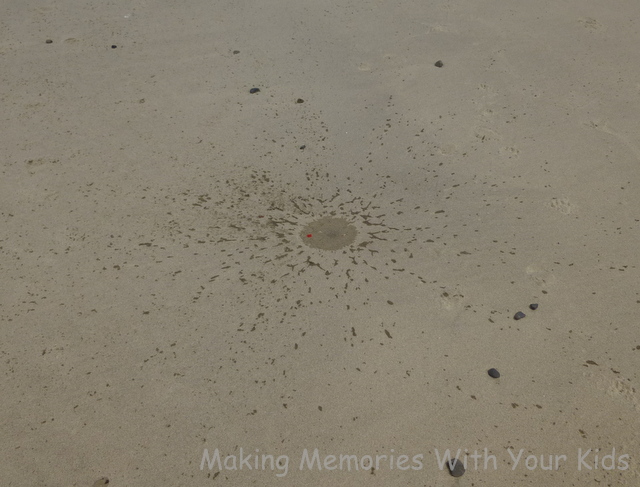 And yes, we picked up all the little balloon pieces.  My family has been going to the beach since I can remember and we always clean up after ourselves!  We love the beach and want to keep it the way God intended.
 ENJOY!!!
We're linking up to the great parties located HERE.