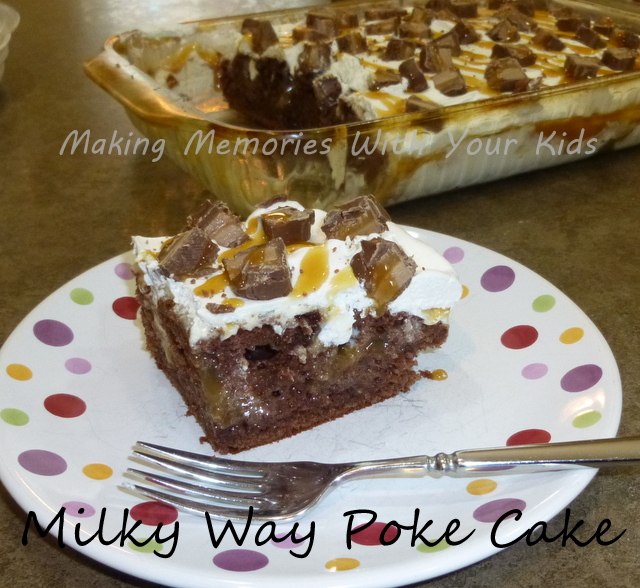 I think I might have a thing for Poke Cakes now.  After making out Chocolate Caramel Toffee Poke Cake, I am sold!  And when I saw this one over on Chef in Training, holy heck.  It sounded amazing.  So…. I made it, of course.
We had a big family trip to the beach over the summer and my sister requested something with chocolate and caramel.  Well, this has chocolate and caramel… and a whole lot more!
It was easy to make and the nougat filling in it is awesome!  It adds more flavor to the cake than just sweetened condensed milk.  ANd perfect for little helpers!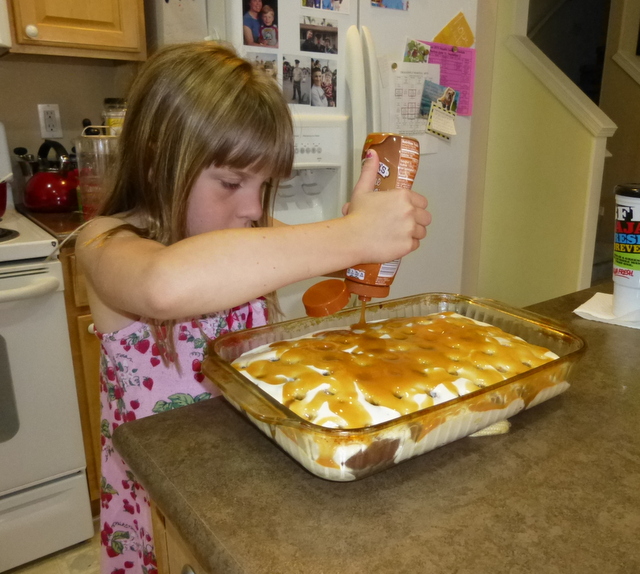 My daughter loved helping with this cake.  So many things to dip her fingers into.
We had to cut into it before we even left for the beach.  My kids said we should try it to make sure it's good.   Taste testers, you know.  For the good of the others.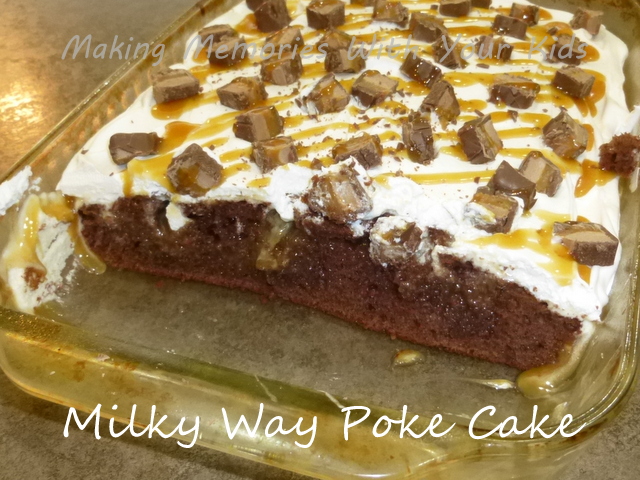 Yep, delicious!  The nougat filling and caramel and whipped cream together?  It was like eating a Milky Way candy bar except better!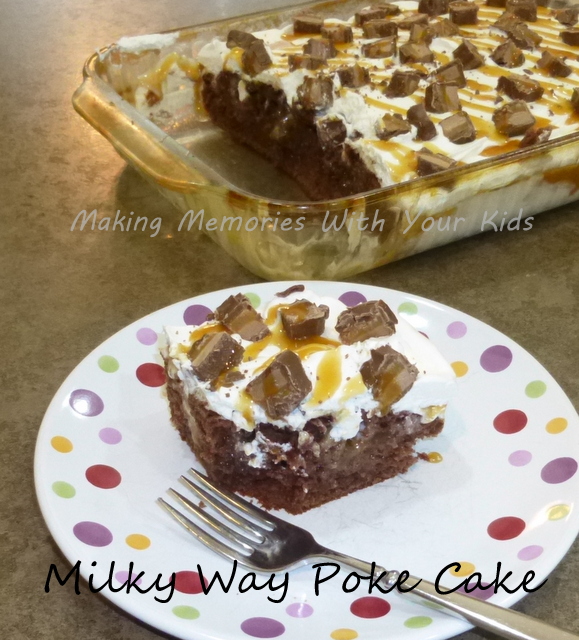 Ingredients
For the Cake

1 box chocolate cake mix and the ingredients it calls for

For the Nougat

1/4 cup butter
1 cup sugar
1/4 cup evaporated milk
1 1/2 cups marshmallow creme
1 tsp. vanilla

Other Ingredients

1 bottle of caramel sauce
3 Milky Way candy bars
1 8 oz. tub of Cool Whip
Instructions
Bake cake according to directions in a 9x13 pan.
Let cake cool for about 5 minutes.
While cake is cooling, make the nougat filling. Melt butter in saucepan over medium heat. Add sugar and milk, stirring constantly until sugar is dissolved. Bring to a boil and stir for 4 minutes. Remove from stove and stir in marshmallow cream and vanilla. Mix until smooth.
Poke holes in cake with the handle end of a wooden spoon. I poked a lot of them because I like all that gooeyness inside the cake.
Evenly pour over cake and and into the holes in the cake.
Next, evenly pour caramel topping into the holes in the cake.
Let cake cool completely.
Once cake is cooled completely, evenly spread thawed cool whip over the top of cake.
Sprinkle chopped Milky Ways over the top of cool whip.
Store in fridge until ready to eat. Store any leftovers in fridge.
http://makingmemorieswithyourkids.com/2013/09/milky-way-poke-cake/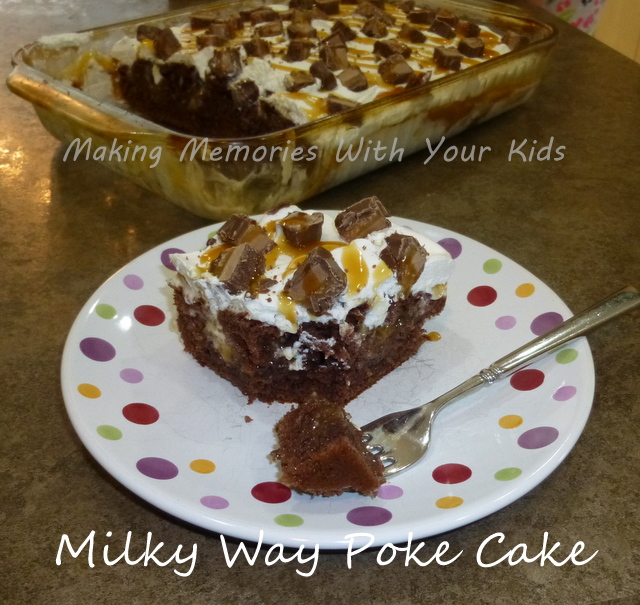 We're linking to the parties located HERE.