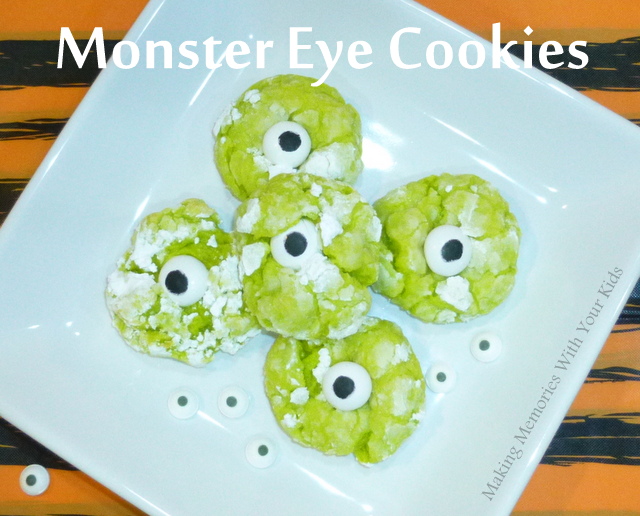 It's almost October and you know what that means… Halloween!  We love Halloween!  Over the years we've made some pretty fun Halloween treats.  (You can check them out HERE.)   I saw these cookies over on Lil' Luna and I knew my kids would love them.  They are so dang cute!  And so easy.
The recipe is similar to our St. Patrick's Day Crinkle Cookies (which I have to admit I liked more.)  But aren't these fun?!
I used a neon green food color to get this color green.  I thought it looked like the Grinch.  Either that or Mike Wazowski from Monster's Inc.
My kids loved the cookies.  They are more of a cake than a cookie to me.  And with the candy eye?  Perfect.
We tried the candy eyes from Wilton.  The problem with them is that when I took the cookies out of the oven and pushed an eyeball into them, there wasn't any give to the cookie.  The eyes just sat there on top of the cookie.  So I found some Candy Corn M&Ms in my pantry and used my edible writer to make the pupils.  Voila!  Eyeballs.
The M&Ms worked great as eyes.  They melted slightly on top of the warm cookie so they didn't fall off.   Do they look like monster eyes?
These poor monsters are a little jaundiced.  Ha!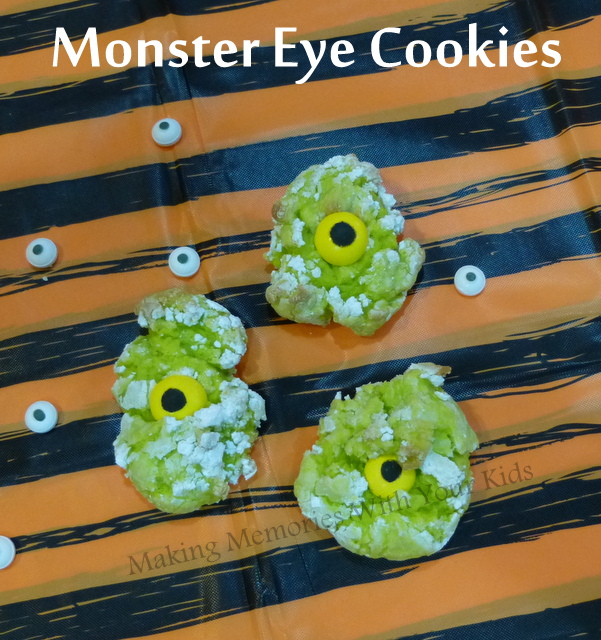 Ingredients
1 Yellow Cake Mix
1/2 cup butter softened
1/2 tsp. vanilla
1 8 oz. bar cream cheese softened
1 egg
green food coloring (I used neon green)
powdered sugar
candy eyeballs
Instructions
Beat butter, vanilla, egg and cream cheese until fluffy.
Mix in cake mix. Add green food coloring until it's the color you want.
Chill for 30 minutes.
Roll into balls and dip in a bowl of powdered sugar.
Bake at 350 for 10-12 minutes. While warm push eye balls into the center or all over the cookie.
http://makingmemorieswithyourkids.com/2013/09/monster-eye-cookies/
I took them to work and my co-workers loved them.  They said they were soft and buttery and not too sweet.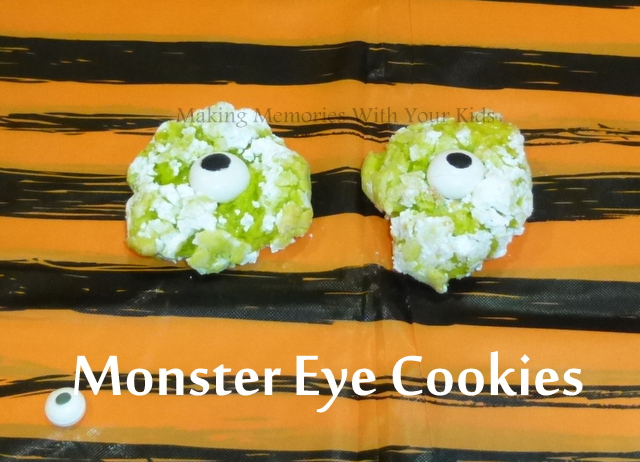 Get ready for the Halloween excitement to start in our house!  I can't wait!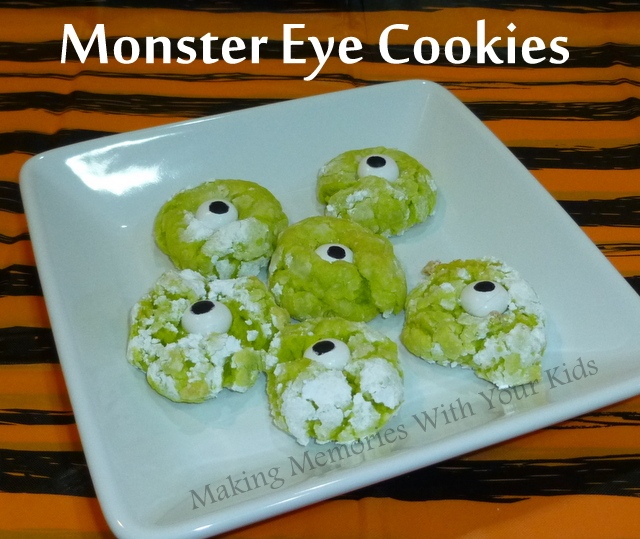 We're linking to the parties found HERE.