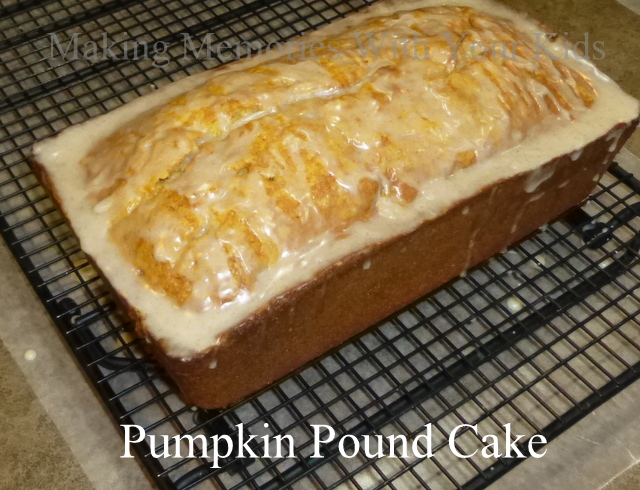 Here's another amazing pound cake recipe!  I can't resist pound cake.  Now that it's fall and the rain has started, this seemed like the perfect recipe to make.  And since it came from Danielle's site HUGS & COOKIES XOXO I knew it was going to be a good one!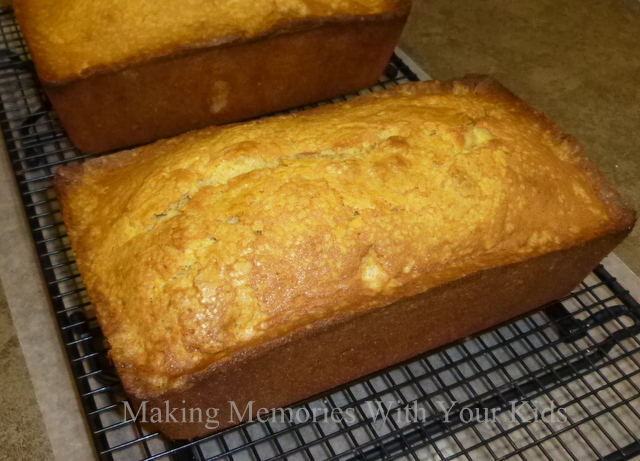 It was delicious and it turned out perfectly (yeah!)  The cake was dense and super moist with just a hint of pumpkin flavor.  I added a simple glaze over the top which I thought was perfect.  (Doesn't everything need a glaze???)  And with addition of cinnamon to the glaze, it brought out the spices in the bread.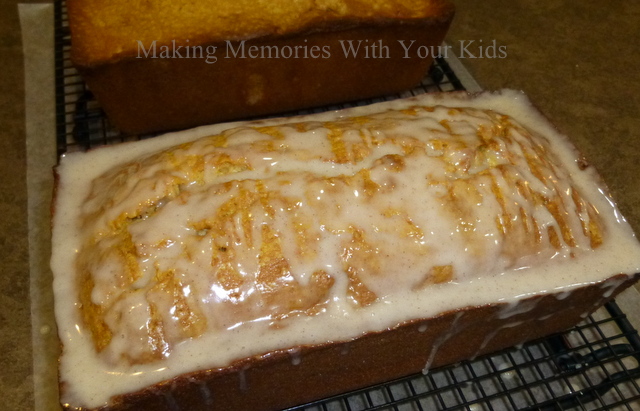 Can you see how moist it is?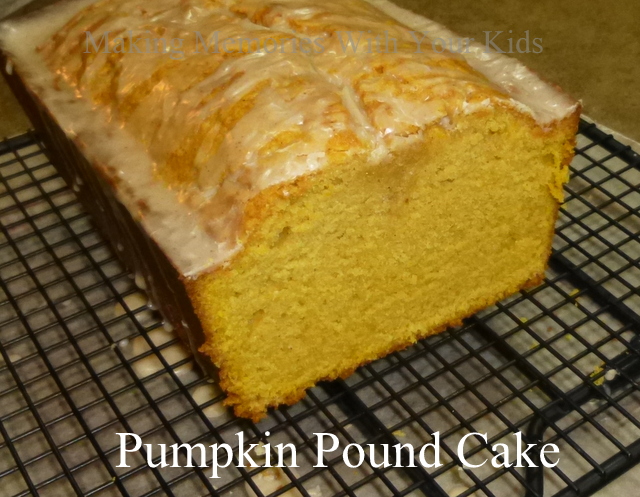 Ingredients
1 1/2 cups butter
2 3/4 cup sugar
6 eggs
1 tsp. vanilla
1 cup canned pumpkin
3 cups flour
3/4 tsp. cinnamon
1/2 tsp. baking powder
1/2 tsp. salt

For the icing

1 cup powdered sugar
1 tsp. cinnamon
1/2 tsp. vanilla
milk (add enough to make it the consistency you want.) Add 1 Tbsp. at a time.
Instructions
Preheat the oven to 325 degrees.
Grease 2 9x5 loaf pans. I use the non-stick cooking spray with flour and it works great.
Cream butter and sugar. Add eggs, one at a time. Add vanilla and pumpkin and mix well. Add dry ingredients and mix just until blended.
Pour into prepared pans and bake for 60 - 70 minutes or until a toothpick comes out clean.
Cool for 10 minutes and then remove from pans.
Stir together the ingredients for the icing, slowly adding the milk and stirring after each Tbsp. added. Pour over loafs and let set.
http://makingmemorieswithyourkids.com/2013/10/pumpkin-pound-cake/
I had every intention of taking this to work to share with my co-workers.  But my Dad came over to visit the day I made them so I gave him one.  And then my kids and sliced into the other one and that was the deciding vote.  It was too dang good to share.  (Is that bad???)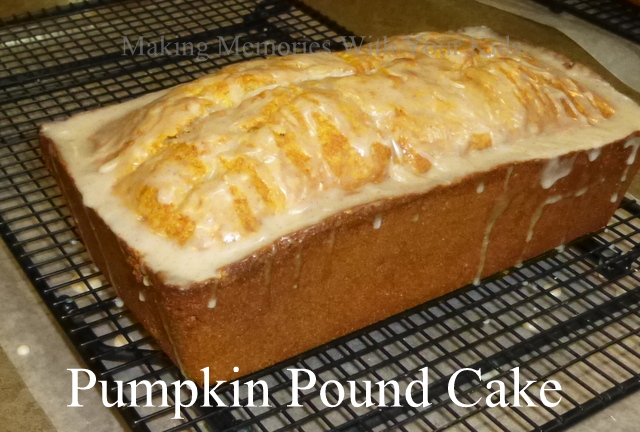 We're linking to the linky parties located HERE.