This has been a crazy month!  It seems like Halloween came and then we got slammed with too much to do for my liking.  So here it is, Secret Recipe Club day and I'm late.  LATE!  I'm never late.  Ugh!  But somehow I messed up my foot over the weekend so I've been trying to take care of that and get ready for our big Holiday Craft Bazaar this coming up Saturday.  So I apologize to Debbi, our SCR host and to Debra from Eliot's Eats (this month's assignment.)  But I'm here.  Finally!
So, like I said, my assignment this month was Eliot's Eats.  Debra, the author, is a high school administrator so her blog is a personal and private thing to her.  She doesn't have a lot of personal information in there and, as a middle school counselor, I can completely relate to that.  She writes about food, travel and life's adventures with her husband and her cat, Eliot.
When I saw her Biscoff No Bake Cookies, I was sold.  I am totally in love with Biscoff.  And No Bake Cookies have always been one of my favorite cookies.  But Biscoff No Bake Cookies?  I had to try them!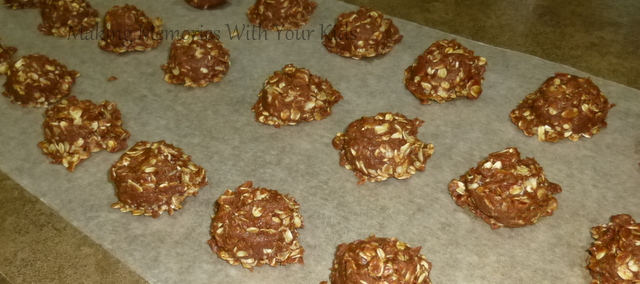 I made half the batch like the directions said, but I added cocoa powder to the other half of the batch (I devided the ingredients in half) so see the difference between no chocolate and chocolate.  I'm a pretty huge chocolate fan.
I loved them both!  The flavor of the biscoff is amazing and doesn't need anything else with it.  But I'm a little partial to chocolate so I liked those as well.  If you want to add cocoa powder, follow the directions below but add 4 Tbsp. of cocoa powder to the sugar mixture and bring to a boil  Voila!  Chocolate Biscoff No Bake Cookies.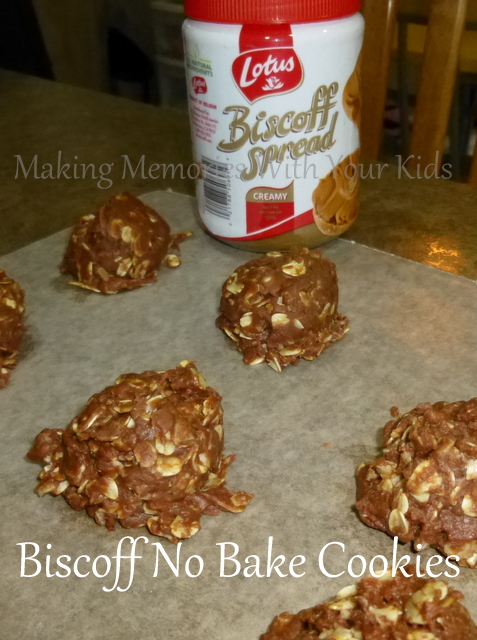 Ingredients
1 cup sugar
1/2 cup 2% milk
1/2 cup coconut oil
pinch of salt
3/4 c. Biscoff spread
1 tsp. pure vanilla extract
2 cup old fashioned oats
1 c. pretzels sticks, broken into small pieces
Instructions
In a large sauce pan over medium high heat, bring sugar, milk, coconut oil and salt to a boil. Boil for 1 minute. Remove from heat, add Biscoff and vanilla, and whisk until smooth.
Fold in oats and pretzels. Let cool enough that the mixture starts to hold together, about 3 minutes.
Drop onto parchment or waxed paper and let cool completely.
Enjoy!
http://makingmemorieswithyourkids.com/2013/11/biscoff-bake-cookies/