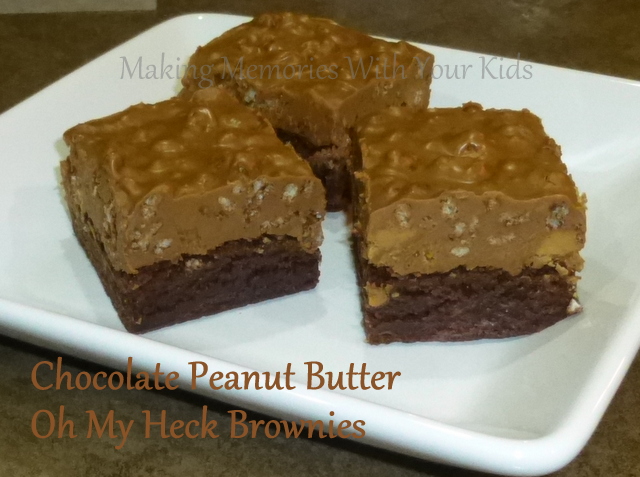 When I found these brownies on Pinterest they were called Better Than Crack Brownies.  Since I, personally, have not tried crack, I can't say if they're better than crack.  Thank goodness, right?  I like my teeth and my sanity.  So I really didn't want to call them that.  Plus, I didn't want to tell my kids and their friends "hey kids, try these better than crack brownies."  I could just hear it.  "Mom, what's crack?"  That's a discussion I'll have with them when they get a little older.
Anyways… so I changed the name.  Chocolate Peanut Butter just doesn't cut it, though.  These are sooooooo much better than that.  They are AMAZING!  But, and I can't even believe I'm saying this, they are so darn sweet.  But that's just me.  When I took them to a pot luck at the Martial Arts Academy one of the other parents are 3 of them.  He said they were pure heaven.
Look at that fudgy layer on top.  Holy heck, right?!?!  Thus, the name – Chocolate Peanut Butter Oh My Heck Brownies.
Chocolate Peanut Butter Oh My Heck Brownies
Ingredients
Brownie mix - family sized box 9x13
Ingredients to make the brownies (oil, eggs and water)
1/2 cup chopped Butterfingers
1 cup chopped Reese's Peanut Butter Cups
3/4 cup milk chocolate chips
3/4 cup butterscotch chips
1 1/2 cups creamy peanut butter
1 1/2 cups Cocoa Pebbles cereal
Instructions
Make your brownies according to box.
Remove brownies from oven and set aside.
In a saucepan, add milk chocolate chips, butterscotch chips and peanut butter. Heat over medium low heat and stir until melted and smooth.
Add crushed candy and cereal.
Stir until blended.
Pour over the brownies and spread out to make it even.
Refrigerate until the topping hardens and cut into squares.
Store in the refrigerator.
http://makingmemorieswithyourkids.com/2013/11/chocolate-peanut-butter-oh-heck-brownies/
We found this recipe over on Leene's Sweetest Delights.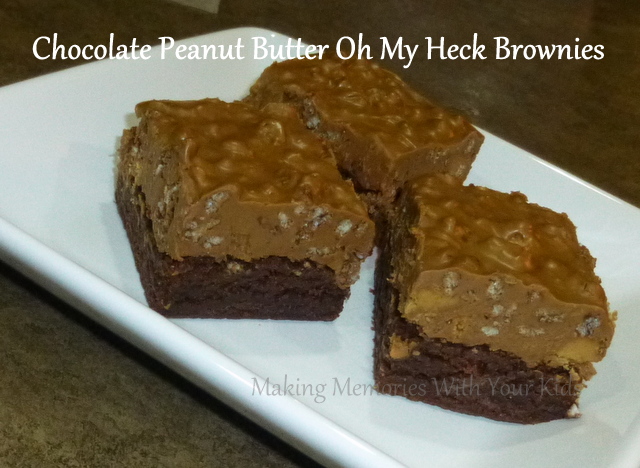 They were wonderful.  The Butterfingers and Cocoa Crispy cereal gave the fudgy, peanut butter layer some crunch to it and the brownies, well, they're brownies, which are my favorite.  You will love them!  I promise!
We're linking to the parties located HERE.